Features
Scoob!: Where to Watch the New Scooby-Doo Movie
The latest Scooby-Doo movie, Scoob!, is available for pre-order on video-on-demand. Here's how to watch!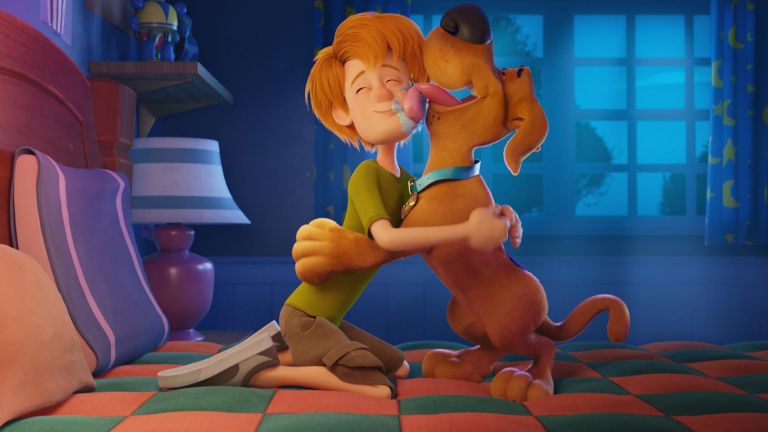 Zoinks! There's a new Scooby-Doo movie that you can watch at home. Yep, following in the footsteps of Trolls World Tour, Warner Bros. will release the Scooby Gang's latest adventure for home viewing with families trapped in quarantine. As of Friday March, 15, Scoob! becomes available for download on video-on-demand platforms.
The film, which comes out of Warner Bros. Animation (the studio behind The Lego Movie and its many sequels), appears to be a soft-reboot of Scooby-Doo lore with flashbacks to the origins of its heroes. Meeting as children on an apparently chilly Halloween night, Scoob (Frank Welker) and Shaggy (Will Forte) befriend Fred (Zac Efron), Daphne (Amanda Seyfried), and Velma (Gina Rodriguez). Together they become fast friends with a mystery to solve. From there the film jumps to the characters as young adult amateur detectives… but what if their next case doesn't involve an old man hidden behind a mask, but something that's truly out of this world?
It's a new take on characters created over 50 years ago in 1969. Here's how to watch.
Scoob! Release Date: How to Watch
WB's Scoob! is available on VOD in the U.S. as of Friday, May 15. At a pricetag of $24.99, you can download it for rental on Amazon, YouTube, FandangoNOW, or Google Play.
It currently does not have a release date in the UK.
Will Scoob be on Disney Plus?
No. Scoob! is a Warner Bros. production, so it won't stream on their biggest competitor's service. At some point down the road, it will likely land on HBO Max, but for now, the only way to watch it is via VOD platforms.
Putting Scoob! on VOD is a canny move by Warners. Like Universal Pictures before them with the Trolls sequel, this Scooby-Doo movie had already spent millions of dollars over recent months preparing audiences to expect a new adventure with those meddling kids in May. To move dates would also require spending a lot more money on raising awareness about the film's new release date.
There is also the continued uncertainty about how long movie theaters will actually be closed due to the coronavirus pandemic. While the indie studio behind the Russell Crowe adult thriller, Unhinged, has just made their intentions public of being the first major wide release in theaters in months come the Fourth of July weekend, the truth of the matter is there is still a lot of ambiguity on how many theaters will be open in July, particularly in the two biggest North American markets of Los Angeles and New York City.
With that said, WB is being much more cautious with its previously intended summer 2020 releases, hoping to keep most of them in theaters for their benefit, as well as their exhibition partners in theater owners. Christopher Nolan's Tenet is still technically slated for a mid-July release, Wonder Woman 1984 is still hoping to play in the summer months, albeit August now instead of June, and Lin-Manuel Miranda's In the Heights was pushed by Warners from June 2020 to June 2021. Still, it's nice to see their animated adventure meant to entertain families will be able to give them some comfort this May.
I just hope it'll be as much fun as Scooby-Doo Zombie Island was when I was growing up.