Reviews
Run Review: Sarah Paulson Terrifies as Mommie Dearest in Hulu Movie
Sarah Paulson redefines motherly love in the new Hulu thriller, Run.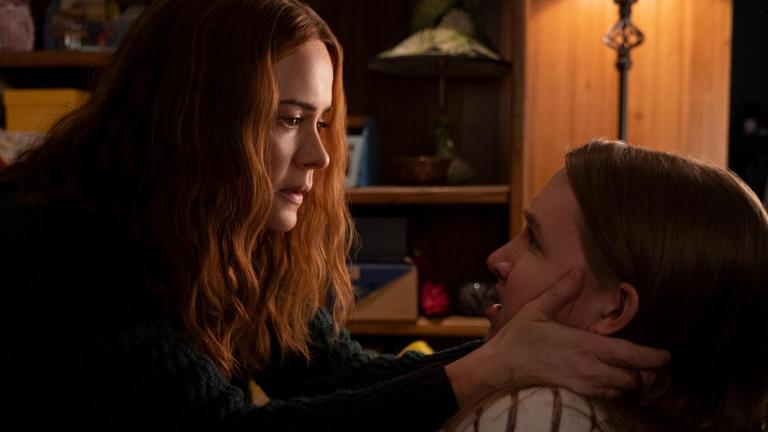 Chloe Sherman (Kiera Allen), the protagonist of Run, is a differently abled teenage girl who lives a quiet, reclusive life with her mother Diane (Sarah Paulson) at their rural home in Washington State. Bright, talented and home educated by the devoted Diane, Chloe has been plagued by illness literally since birth: diabetes, asthma, and cardiac arrhythmia are among the issues she deals with daily, not to mention being confined to a wheelchair due to the loss of use of her legs.
Nevertheless, mother and daughter seem to lead a relatively happy life, even if mom sidesteps her requests for an iPhone and Chloe is disappointed that she has not heard back yet from Washington State University regarding her college application. But one day Chloe discovers something that doesn't quite make sense, and suddenly realizes that her life with Diane–who literally controls her daughter's carefully calibrated life from the moment she wakes up until the second her head hits the pillow at night–is not quite what it seems.
Run is the second feature film from director and co-writer Aneesh Chaganty, whose debut film was 2018's Searching (Chaganty penned both with producing partner Sev Ohanian). The latter film, made for less than $1 million, was set entirely on computer screens and smartphones and was surprisingly successful, creating a pervasive sense of dread while keeping audiences off-balance with a twisty, unpredictable storyline.
With Run, Chaganty forgoes any sort of formal experimentation with the film's format in favor of a straight thriller and a somewhat more linear narrative. While Searching was an exercise in keeping the story's turns unexpected, Run pretty much lays its cards on the table not very far into its first act. Chloe has led an extremely cloistered (if comfortable, at least as far as she can tell) life with her mother, but it takes just one slip-up on Diane's part for her now-mature daughter to pull on a thread that she was never intended to touch.
The rest of the movie proceeds more or less as you might expect it to, and in that sense Run is also a rather more conventional thriller than Searching. But it's also a hell of a lot of fun on a basic B-movie level, thanks to Chaganty's expert control of tone, his superb crafting of suspense sequences (including a doozy right in the middle of the picture) and excellent work from Paulson and Allen in what is essentially a two-hander.
Paulson is, of course, a master at this point of playing women whose intensity and passion can either come from righteousness or derangement, and Run is an impeccable showcase for her always impressive talents and presence. The breakout here is Allen: just as Searching was the first mainstream Hollywood thriller to cast an Asian-American actor (John Cho) in the lead, Run is the first in decades to feature a real-life wheelchair user as the main character. But aside from her remarkable physicality in the role, Allen is engaging, empathetic, and believable as a resourceful young woman who abruptly learns her life is a lie.
There are hints that the film could go deeper into the psychology of motherhood and the dynamics of a parent/child, but Chaganty and Ohanian don't get very far down that road. They instead focus on the mechanics of a taut, propulsive thriller and succeed tremendously, even when a few script holes and some degree of implausibility rear their heads in the third act. Run doesn't flag for its tight 90-minute running time and keeps the audience hooked, even within its relatively tight setting of the Shermans' house (plus two forays to outside locations). Torin Borrowdale's Hermann-esque score also goes a long way toward maintaining the Hitchcockian vibe that Chaganty aims for.
Lionsgate Films was behind the production of Run and handed it off to Hulu at some point, as one release date after another became untenable during the past eight COVID-ravaged months. That was probably a smart move, as Run is a relatively small film that could benefit from being readily available to homebound audiences looking for their thriller fix. And they could certainly do a lot worse: with Searching and now Run, Chaganty proves himself exceptionally adept at psychological suspense and smartly paced thrills. We'd tell you to run to see it, but you can watch right at home instead.
Run premieres on Hulu this Friday, Nov. 20.