Features
John Cho interview: "I wouldn't say no to Bond!"
John Cho chats to us about his new movie, the secret to looking young, and 'texting on a laptop'...
If you're not already familiar with John Cho by name, there's a good chance you'll recognise his face. In addition to the Harold & Kumar and Star Trek films he's best known for, the veteran actor has appeared in a wide variety of movies and TV shows over his 20 year career. With Searching – a clever, innovative feature directed by first time filmmaker Aneesh Chaganthy – not only does Cho graduate to leading man status, he becomes the first Asian-American to headline a contemporary thriller.
Like Unfriended, Searching – which has Cho's David Kim on a desperate search for his missing daughter – tells its story through computer screens and smartphones, and that's where our conversation began…
Searching marks a rare case of the film in computer screens gimmick working. The most recent example prior to this is Unfriended, which was produced by Timur Bekmambetov (who also produced this movie). Did you go back and watch Unfriended to give yourself a better idea of how the gimmick might work?
I did. I watched Unfriended before I said yes to our movie, and I still turned Aneesh down initially. I looked at Unfriended and while I thought it was good and I liked it and I thought it worked I said I don't want to do that performance. The rules are very different, and it's quite static. If I had one complaint about the movie, as an experience it didn't feel cinematic. I told Aneesh that it didn't feel like a movie as I know it, and that he should move on to someone else. He did not take no for an answer and wanted to meet again, and when we met he explained to me that the difference was that there was going to be two cameras in our movie. One was going to be on my face – the webcam – and the other camera would be my point of view. And that point of view 'camera' was going to behave like a normal cinema camera and do zooms and pans and everything else that we're accustomed to and that it would feel like a movie as I know it.
With all the technical challenges involved in making this movie, what was the weirdest piece of directing you were given?
There was one day when I and Debra Messing were working on the same day, which didn't happen all the time. We were scheduled to shoot our scenes simultaneously, so we were in separate rooms with earpieces in for audio, and we were talking to one another electronically as we do in the movie. But the image started out as big, and it didn't work, because when you do a regular facetime call that size doesn't work because you start to look at different parts of her face, and when the camera is that close it looks like I'm looking from one corner of the room to the other corner of the room. It looked artificially wide. And so we had to shrink her to the size of a dime, so that I would look at one spot.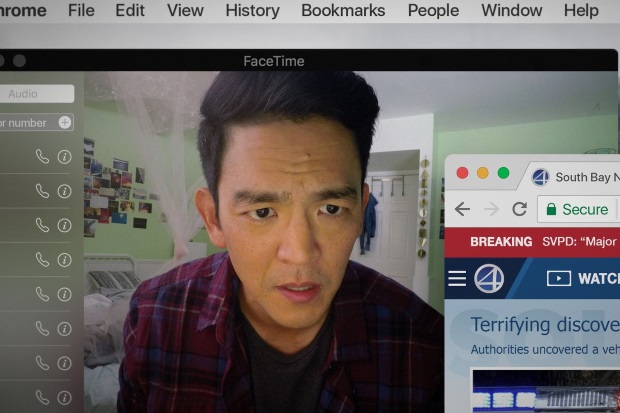 What's more of a challenge, acting with green screen or acting against a computer screen?
For me, it's the latter. The real difference with what we did in Star Trek versus this was the proximity of the camera. To some extent that's a generational difference. Michelle La who plays Margot said that she was quite comfortable addressing a phone camera or a webcam. The mere presence of a web camera makes me uncomfortable. It just causes me to freeze up. I've gotten used to a film camera, and even with the big green screen on the Enterprise the camera is not inches away from your face. That distance is disconcerting for a person with my advanced age.
I'm not sure if you get told this a lot, but you do not look 46…
I'm afraid I'm accruing all my years and I'll get a line in the sand and it'll all catch up.
If you could let me know what creams you're using right now so that I'm prepared for my later life that'd be great.
I'll tell you my secret… Scotch!
Has making this movie affected how you utilise technology?
Making the movie increased my relationship with technology a little bit. I got familiar with things that I wasn't aware of. The thing I was very aggressive with Aneesh was making sure that everything was plausible. Coming in I was a bit of a Luddite and I was very suspicious that a person could lean on a computer that much. I'm a person who thinks of a computer as a second resort, not a first resort. As an example, I said "do people text on computers?" Because I use my phone to text. And Aneesh very gently said "everyone does it except you John", and I was assured of that. And now I prefer to do my texting on my laptop.
One of the best things about this is that we're watching an Asian-American family on screen but their racial identity never comes up. This is not to say that roles which are a little more explicit in that regard aren't a good thing, but is getting to a stage where it's just there the ultimate goal for you?
I've been thinking recently that this is a movie from the future, in a sense that it's really past the moment that we're talking about it. And it behaves as though this is all normal. So the plot doesn't depend on culture or ethnicity. It just happens to be an Asian-American family but they're specific and lovingly drawn. That is what I'd like to do more of going forward. When I was a younger actor I tried my best to avoid stereotypical roles. That's what Asian male roles were when I started. So I was very proud when I would book a role that was written white, because it meant that I had gamed the system. But then as I got older I started to think that it was a shame that that was my choice, and it'd be great if there were really rich characters that were written Asian on the page. This is an example of it. I'm really interested in exploring culture as well, but this is an example of a refreshing difference.
Crazy Rich Asians is a film that explores the culture and it's already a huge hit at the box office. Similar could be said of Black Panther earlier this year…
This year in particular backs up something which I've been thinking for a long time which is that the numbers say that movies with people of colour do very well at the box office. Secondly, it's becoming increasingly clear that the studio tracking data does not track people of colour as well as they do white folk. Thirdly, it's been my belief that having characters that look different and that are underrepresented actually make your film stand out in the marketplace and that people tend to root for those films and to root for those actors. I've certainly found that to be the case with the Harold and Kumar films. It could have been two white guys but because we're Korean and Indian people had an extra layer of affection because they knew that Indians and Koreans don't typically get screen time and certainly don't get screen time in stoner movies.
#StarringJohnCho was a big social media movement a couple years ago. Are there any roles which caught your eye? I think I saw one with you as Bond…
I wouldn't say no to Bond! That seems like a good gig. My dream gig is to do a Western. I'd love to do a Shakespeare play. The list is long. I'd like to do a heist movie. I'd love to crack a safe on screen.
I know that you're friends with Justin Lin. If he ever does another Fast And Furious film, those movies normally have a heist element to them these days…
I'll send him a text. With my laptop!
In preparing for our chat I read an interview where you say that you've never done an interview where someone hasn't asked you a question about representation and diversity. We didn't break that streak (sorry!), but I guess when that doesn't happen, you'll know that things have changed.
I'm never bothered by it because I realise the need to discuss it, but I am bothered that the need itself exists. I look forward to the day when all the firsts are done, and I look forward to being overexposed and overpaid.
John Cho, thank you very much!
Searching is out in UK cinemas on 31st August.