Features
Rollerball: James Caan Was the Good Sport in a Bad Game
James Caan was the all-American leader who learns how the American dream is rigged in Norman Jewison's classic sci-fi dystopia: Rollerball.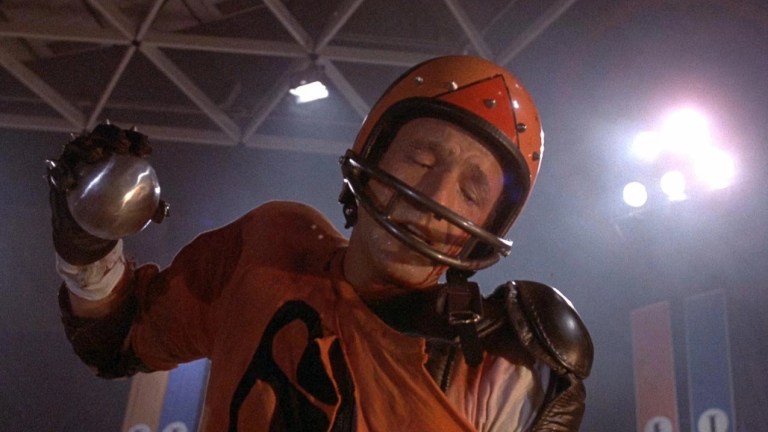 Norman Jewison's 1975 dystopian sports allegory, Rollerball, looms large as an icon of cult filmmaking, but its power in the science fiction pantheon is grossly underestimated. The film has the force of a deeply personal vision from its director, and the full support of a nuanced performance from the late James Caan as Jonathan E., aka the star Rollerballer.
Prior to redefining movie gangsters in The Godfather, Caan executed a game-changing role in Brian's Song. He played Chicago Bears running back Brian Piccolo against Billy Dee Williams' Gayle Sayers, his rival and roommate in an era when Black and white players did not share rooms. They bond over much more than a mutual love of football; the Emmy-winning 1971 ABC Movie of the Week about the terminally ill rookie was a cultural event on TV. 
"When I was casting Rollerball, I was looking for an actor who was tough and athletic, and I couldn't think of anyone else other than Jimmy, who could put on a pair of roller skates and hang on to a motorbike," Jewison told Variety shortly after Caan's death at age 82. "I don't think he'd ever roller-skated in his life, but he was fearless. I think he later got into rodeos, which was hilarious since he was a kid from the Bronx. But he was an intense guy."
Best known for his tough guy roles in one of the most versatile acting careers in screen history, Caan was an athletic actor with dance training who knew very well how to be a team and troupe player. He could also be a solitary force of nature. Francis Ford Coppola has said the reason Sonny Corleone is so brutally massacred at the tollbooth in The Godfather is because it felt like that was the only way the audience could accept the character's death.
In Rollerball, corporations designed the central sport to eliminate exactly that kind of individual accomplishment.
The Setup
When Rollerball was shown at a 1970s political fundraiser, congressional leaders asked Jewison when the film takes place. The director told them maybe 30 or 40 years in the future, but some in the U.S. Senate wondered if the time was already here.
Jewison's feature motion picture was based on screenwriter William Harrison's short story, "Roller Ball Murder," which first appeared in the September 1973 issue of Esquire. Jewison's estimation for the story would set Rollerball in the year 2018, although the date is never specified in the actual film. In its story, nations have been replaced by corporations, which have ended war but keep citizens docile with legal drugs and all-too-real reality TV.
"I don't mean to resist," Caan's Jonathan E. tells his team's corporate sponsor. "I'm just trying to understand."
Rollerball takes place after the "Corporate Wars." It follows a violent era when countries went bankrupt and dissolved, and major corporations took over the deeds. The populace are now residents of six corporate city-states: Transport, Food, Communication, Housing, Luxury, and Energy. War and poverty have been eliminated, but not racial bias or gender inequality. Comforts are doled out by corporate overlords.
Executives make up the ruling class, who live in abject decadence. They take what they want and destroy whatever annoys them, like nature, which we see as privileged partygoers incinerate cumbersome oxygen-giving trees with atomic flame-throwing pistols.
Celebrity athletes like Jonathan E. make up a provisional privileged class. All their needs and desires are taken care of with sex, drugs, and luxury housing on demand. But they can also have anything taken away at any time by the executive class. Jonathan E.'s wife Ella, played by Maud Adam, was requisitioned by a bureaucrat on a whim and winds up being an expendable pawn to take the league's highest scorer off the board.
The working class subsist, but we only see them as spectators at the games.
Each of the city-state-corporations owns a rollerball team. Headquartered in Houston, Energy Corporation, which is run by Mr. Bartholomew (John Houseman), owns Rollerball's top team and biggest star, Jonathan E. Once the spectators are seated at the arena, the playing field is readied to the tune of Bach's "Toccata and Fugue in D Minor."
Each match begins with the playing of the "corporate anthem" while players stand at attention, deciding who they may have to maim first once they hit the track. Sudden death is a personal foul with players' numbers blipping off the big board as they are carried out on stretchers.
The Shoot
Rollerball has aged surprisingly well beyond its dated, and rampant, sexism and prejudiced stereotypes. Wall-mounted televisions are commonplace, though the three mini-TVs on the set now come as a frame within a frame. This dystopia's "Multivision" could be a streamer today. Books no longer come on paper.
In the film, classical literature has been classified, and is now kept on a computer called Zero. Housed in Geneva, it is apparently run by one addled librarian (Ralph Richardson), whose staff recently inadvertently misplaced all records of the 13th century. Digital data is easily erased, which is the unspoken outcome of the irretrievably non-renewable future.
This is where Caan's acting is most surreptitiously effective. Jonathan E. doesn't quite have the education to know that something is wrong when the classics of literature are digitized, condensed, and hidden by corporate government, but he has the intelligence to intuit it. Caan is so downplayed and inside his head, with his motivations being inscrutable, that the point is made as a mildly perplexed aside.
The audience at the time fully accepted Caan as a star athlete because of Brian's Song, but the game of Rollerball is punishing, and Caan's character has probably suffered more than his share of concussions on a team he's led for 10 years, longer than any other player.
The film perceptively showcases ageism in professional athletics, and Moonpie's (John Beck) career-ending injury corresponds to current discussions on CTE in football and other contact sports.
"Rollerball is all about the absurdity of conflict, it's obscene to have violence for the entertainment of the masses," Jewison told Turner Classic Movies. "That's an obscene idea that goes back to Circus Maximus, that goes back to Rome. Surely, we've become more civilized."
The gladiatorial spectacle wasn't too savage for the stuntmen, who loved shooting the game sequences so much that they played Rollerball when the cameras weren't rolling. Rollerball was the first major studio production to give all of the stunt crew onscreen credits. Caan and Beck do their own stunts. Filmed to make the game look appalling, the sport is exciting onscreen. Between the four-angle wide shots, handheld cameras weaving between players, and low-riding cameras, every thrill of the sport is captured.
Rollerball consists of two teams on roller skates and motorcycles on a course that looks like a roulette-wheel, trying to snatch a metal cannonball-sized pinball shot onto the track at 120 mph, and place it in a goal while dodging motorcycles with visors which kick and flip, and skaters with steel spikes on their ominous black leather gloves. When Jewison was approached to license the game for real play, he refused, saying the promoters missed the point. Eyes and ears are very important in the game.
The Block
By the midpoint of the film, we learn it is Jonathan's year, a very special honor in the world of Rollerball. The athlete has grown so popular, he will be getting his own special on Multivision. He has become a hero to many and is told to go out on top, wealthy for the rest of his life. If not, the bureaucracy can cook his books. If Jonathan is killed on live television, his role as hero dies with him on the court.
"This game was created to demonstrate the futility of individual effort, let the game do its work," Mr. Bartholomew tells the directorate.
The game is always greater than the players. This is why the executive class conspires to remove Jonathan E. from the roster, much like Colin Kaepernick was benched for showing individual achievement doesn't begin or end with the tipoff. Jonathan questions authority. When directed to retire, he refuses. The executives enact a "no penalty" rule, allowing players to kill each other. When ordered to take a life, Jonathan takes a knee.
"Rules or no rules, this is the Houston team," Moonpie says during a training session. Jonathan E. encourages his defensive righthand man's Knute Rockne moment, giving "the Swooper" the spotlight, letting him shine as a group example. Teamwork is more important than the individual, no matter how misguided the blind allegiance.
This is the ultimate subversion, because athletes become more than stars to their fans who study statistics and live lives waiting for the next game. And athletes sell them Wheaties. The enemy in Jewison's vision is commercialism, but his spokesman is as beloved as Tom Brady.
The Score
While seen as a science fiction metaphor for political and cultural systems, Rollerball was director Jewison's allegory of the battle between corporate Hollywood and the auteur directors who challenged filmmaking in the late 1960s and early '70s, and were being punished for their individual achievements by the Tinseltown collective.
Even the game is a subtle social jab at disposable commercial culture considering how closely it reflects the Roller Disco era, which fueled such films as Kansas City Bomber (1972), Rollerbabies (1976), Roller Boogie with The Exorcist's Linda Blair, and Xanadu (1980) with Olivia Newton-John. Using a passing fad as the centerpiece competition may have been intentional to Jewison, because it underscores the silly constants in a world which is becoming seriously modified.
Having directed such classics as The Cincinnati Kid (1965), The Russians Are Coming, the Russians Are Coming (1966), In the Heat of the Night (1967), and The Thomas Crown Affair (1968), Jewison left Hollywood to shoot Fiddler on the Roof and Jesus Christ Superstar in Europe, and stayed out of the U.S. for several years. Rollerball was shot at Pinewood Studios in England, and Munich's Audi Dome, built for the 1972 Olympic basketball games. It is one of the five largest circular arenas in the world.
Most Valuable Player
Jonathan E. is an evenheaded surrogate for the regulation-breaking Jewison on an uneven playing field, and Caan wins through good sportsmanship. Even the actor's most famous hothead, Sonny in The Godfather, followed some rules in street fighting, where there are none. They may not be Marquess of Queensberry, but they keep the son of Don Vito Corleone (Marlon Brando) regulated, even as he bites gripping fingers and throttles his brother-in-law Carlo Rossi (Gianni Russo) with leather oxford shoes and garbage pails.
In the novel The Godfather, Mario Puzo explains Carlo's inner thoughts. He knows Sonny stops hitting once someone stops fighting back. Sonny has a good reason to beat the guy who beat his sister but stops before he mashes him into pulp because he doesn't hit the defenseless, no matter how much he wants to. In any acting situation, it was obvious Caan would take one for the team. In Rollerball, the team takes one for him.
For Rollerball, Caan puts in one of his most low-key performances, especially considering he is playing a charismatic sports superstar in the limelight of "his year." He brings an inarticulate hunger for knowledge, and an all-consuming curiosity to the player, just as much as he brings the rock star appeal of the times' "Broadway" Joe Namath. The Jets star quarterback was photographed spilling out of limos in fur coats with a glass of champagne in one hand and a model, who could have been in any of the commercials he shot, holding his throwing hand.
Caan captures that celebrity athlete aura when Jonathan E. tosses his hat to a crowd. He gets a taste of all the eye candy he could ever want but doesn't develop an appetite for corporate propaganda. He wants to read books, not have them read to him by pretty secretaries, "about that tall," as is his privilege as MVP.
In an era of jaded sports films, like Semi-Tough and North Dallas Forty, which gets even darker in the novel, Rollerball is the most cynical. Unlike The Hunger Games saga, where Jennifer Lawrence's Katniss sparks a revolution which takes down the state, Rollerball ends with Jonathan E. as the last man standing, but the stability of corporate rule is unmoved. If the audience doesn't like it, they can change to another channel showing the same thing, or be removed themselves.
Released by United Artists, Rollerball was roughed up by other movies at the box office when it came out. James Caan still won it in overtime.