Reviews
Rebecca Review: What Is Old Is New Again
Rebecca stars Armie Hammer and Lily James in an atmospheric new version of a classic.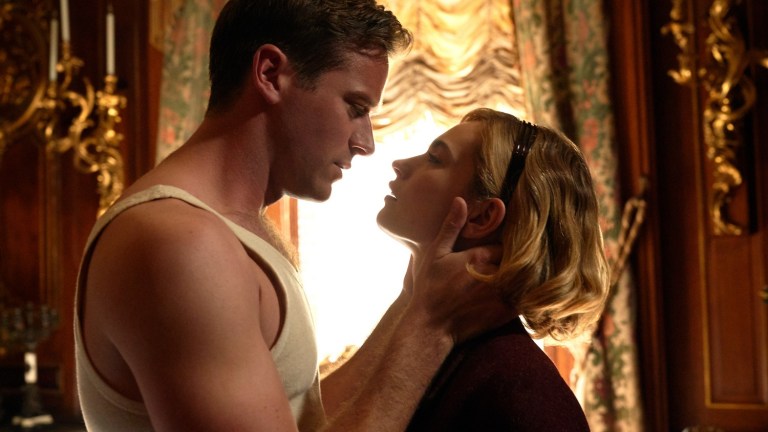 It takes a certain amount of cojones to remake a movie by Alfred Hitchcock, especially one that nabbed the Academy Award for Best Picture and remains a stone cold classic some 80 years after it first came out. But that's what British director Ben Wheatley has done with Rebecca, albeit with a film (his first for Netflix) that's as much a new adaptation of the 1938 Daphne du Maurier novel as it a remake of the master's Gothic melodrama.
Wheatley is no stranger to risky filmmaking–his resolutely indie resume so far includes extremely unsettling horror (The Kill List), genuinely weird psychedelic experimentation (A Field in England), disturbing dystopian sci-fi (High-Rise), and darkly comedic yet hyper-violent crime thrillers (Sightseers and Free Fire). His biggest risk here, of course, is having his work compared to a landmark from one of film's most iconic directors. Yet he largely manages to pull off the attempt, with caveats. He also embraces the larger resources he has to work with, making this Rebecca both beautiful and intimate.
The new movie, with a screenplay by Jane Goldman (X-Men: First Class) and Joe Shrapnel and Anna Waterhouse (The Aftermath), is extremely faithful to the novel, even more so than the 1940 film; without giving anything away, this version has restored a plot point that had to be discarded eight decades ago due to the moral policing of the Hollywood Production Code. But there are other, more subtle changes in character and meaning: the age difference between the two main characters is less stark than in both the book and the original movie, while the main character's journey has become more empathetically about her own empowerment in these post-#MeToo times.
To be sure, that main character is still never named. Played by Lily James (Baby Driver), the young woman starts out as a personal assistant to a socialite (Ann Dowd) who is vacationing in Monte Carlo. But that is where our unnamed heroine meets Maxim de Winter (Armie Hammer), a dashing widower with whom she begins an unexpectedly romantic whirlwind romance, one that ends with her new love whisking her away to his family's estate, Manderley, as the new Mrs. de Winter.
And that, as fans of the novel and 1940 film, is where the trouble begins. Manderley is haunted by the unseen presence of the previous Mrs. de Winter, who was apparently not only the perfect wife and hostess (and who threw a lavish ball each year for the crème de la crème of British society), but who also inspired slavish devotion from all who fell into her orbit–especially Mrs. Danvers (Kristin Scott Thomas), the chilly, malevolent housekeeper who clearly sees the new Mrs. de Winter as both unworthy of her husband and the house of which she is now the mistress.
The original Rebecca was a classic study in genres within genres: What starts out as a romance gives way to psychological suspense, which in turn transforms into Gothic mystery. While Hitchcock shot his movie in black and white, with that format providing a natural contrast between the light and the dark, and the shadows in between, Wheatley and cinematographer Laurie Rose use the interplay of light and color in different ways. The opening scenes in Monte Carlo are sun-dappled and bursting with life and vitality, but once the de Winters arrive at Manderley, gray fills the skies and a subtle darkness begins to infiltrate everything, turning even the most vibrant colors sinister and spectral.
Manderley, a windswept manor that sits on the edge of a dark, tempestuous sea, is literally in many ways a house of mirrors. Its labyrinthine hallways and secret rooms are both vast and claustrophobic, and the camera prowls its passageways like the ghost of Rebecca herself. Wheatley often gets the most out of his settings, and here Manderley (which was sewn together from eight different mansions around the UK) is as complicated a character as any of its past and present inhabitants, both keeping and revealing its secrets as the story unfolds.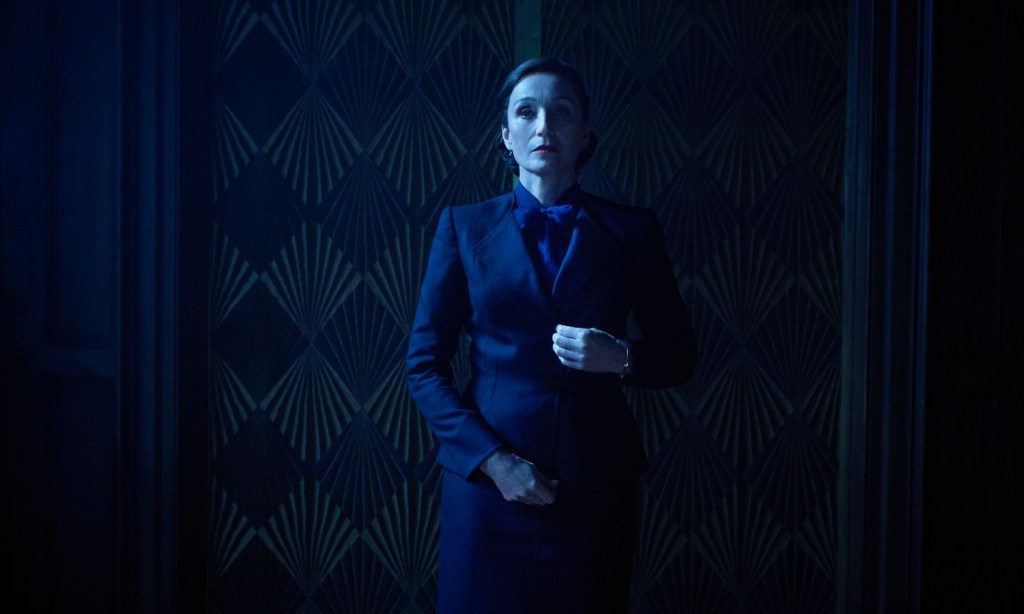 As for the cast, it doesn't seem like the director could do any better with his three leads. James, who is capable of expressing earthiness, elegance, and a certain dreaminess, is well suited to the role of the naïve, innocent Mrs. de Winter, believably evolving into a strong woman willing to fight for what is hers. Hammer is both brooding and formidably intense as Maxim, with his always striking looks and imposing physicality effectively masking the character's grief and guilt. As for Dame Kristin Scott Thomas, her natural stillness, aristocratic manner and coiled strength make her the one and only choice for Mrs. Danvers, a woman who can smash someone's confidence in themselves with a mere lift of an eyebrow.
Watching these three dig into this material is a genuine pleasure, and Wheatley's mostly steady control of atmosphere and tone earns him the right to indulge some of his more personal touches, as when the reactivated ball thrown by the new Mrs. de Winter turns–in the mistress of the house's agitated mind–into a psychedelic bacchanal in which everyone is chanting her predecessor's name. But the director does stumble in the third act, when the movie's brooding psychological battle gives way to a combination of murder mystery and courtroom drama. Although faithful to the text, the film's third act feels palpably rushed and confusing, as if Wheatley just wanted to get through the exposition so he could make it to the famous final scene.
And yes, if you know the book or Hitchcock movie, that scene is here, although a bit changed as well, and with more added at the end. Du Maurier's book was about women struggling to find their own power in a man's world, often by any means necessary; that aspect of the story has been retained, but with a bit more clarity and context for a modern audience–which only shows that Rebecca, whether 80 years ago or now, remains a timeless and haunting tale.
Rebecca will be available for streaming on Netflix on Oct. 21.