Reviews
Hubie Halloween Review: Adam Sandler Gets Scared Stupid in New Netflix Movie
Adam Sandler gets back to basics in his latest comedy outing for Netflix, Hubie Halloween.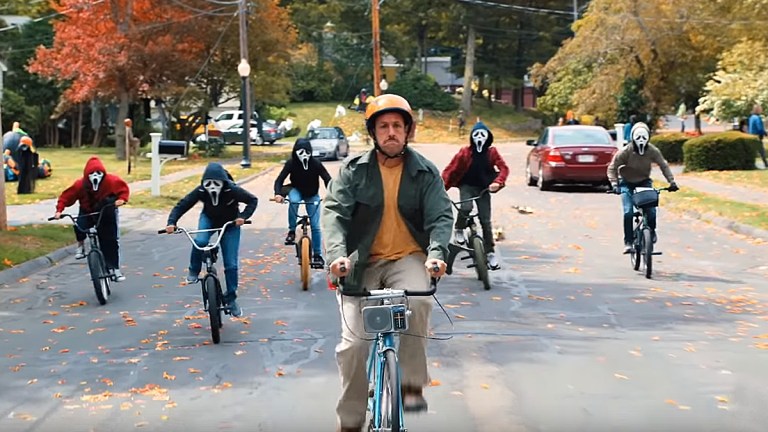 In the weeks before the 2020 Academy Award nominations were set to be announced, Adam Sandler was a guest on The Howard Stern Show. During his conversation with the host, Sandler joked that if he wasn't handed a Best Actor statue for his role as the beleaguered Howard Ratner in last year's critically acclaimed stress fest Uncut Gems, he'd take revenge on the world by making an absolutely awful film in response to that perceived slight.
"If I don't get it, I'm going to fucking come back and do one again that is so bad on purpose just to make you all pay," he said. "That's how I get them."
Despite such tongue-in-cheek fist-shaking from Sandler, everyone perked up a bit when Netflix announced that its next feature film project with the comedian, Hubie Halloween, would be coming to streaming before the end of the year. Sadly, if there were a grain of truth to Sandler's threat, Hubie Halloween isn't The One – the film had wrapped months before his remark – but there's an element of genius to his comments. If we even casually entertained the notion that one of his upcoming movies could be deliberately bad (which would imply that some the other ones were simply bad accidentally) our expectations might be further toward rock bottom, greasing us up for an unexpected surprise.
The truth is, most of us have been riding The Unexpectedly Surprised Rollercoaster with Adam Sandler for decades, but while it's fairly respectable to be on board with stuff like Uncut Gems and Punch-Drunk Love, his broad comedies have more misses than hits, critically. Netflix has taken the rough with the smooth in its deal with Happy Madison Productions to date because those movies have been unquestionable hits for the streaming service, regardless. Last year's middling but inoffensive comedy Murder Mystery even topped the list of its most-viewed titles. So here comes another one, this time with Sandler getting back to basics.
In Hubie Halloween, Sandler plays the central role of Hubie Dubois in the same vein as a few of his other more socially inept characters. Dubois is a virgin in his mid-50s who still lives with his mother and wets the bed, and his yearly highpoint is the day he gets to spend as a kind of self-appointed spooky season hall monitor in the hope that the largely contemptuous residents of his hometown of Salem, Massachusetts will celebrate Halloween safely. When people who have been bullying him for years start vanishing, though, Hubie starts to believe that a supernatural force is responsible for the disappearances, and decides to try and convince the town and its hapless cops to help save the day.
Along the way, Hubie gets entangled with his age-appropriate crush since the 2nd grade, Violet Valentine (Julie Bowen), and her three foster children – the oldest of whom is played by Stranger Things star Noah Schnapp – and butts heads with a variety of dismissive local characters played by the likes of Ray Liotta, Tim Meadows, Maya Rudolph, Kevin James, and Michael Chiklis, all of whom appear to be having the time of their lives aboard another Happy Madison joint. There are also some other obligatory cameos scattered throughout the 102-minute running time. Without spoiling them: yes, he's in it. Him too. And him.
Sandler plays Hubie as a gentle character without a bad bone in his body, and at points he's even held up as a kind of 'turn the other cheek' Christlike soul at the heart of Salem. The town, painted here as warm, wealthy, and inviting, regards its muddy history with almost the same joyful, store-bought cuteness as its children treat their makeshift Halloween costumes. Hubie is the descendant of a woman who spoke up against the Salem Witch Trials, and his commitment to keeping Halloween fun and wickedness-free is a reflection of that lingering bloodline. He has nothing but the purest love to offer those who view his Thermos-wielding eager beaver with darkness in their hearts.
Despite this vaguely heart-warming approach to the innocence in Hubie, it's still a little frustrating to see Sandler back to his old tricks again in front of the camera, muttering with an aggressive underbite and helping to dish out piss and fart jokes by the dozen so soon after proving how versatile he can be when working with talented indie filmmakers. The disappointment is compounded when so many of the jokes in Hubie Halloween fail to even land – and a bunch of them are running jokes that we have to see die on screen repeatedly.
On a sliding scale of Netflix's Sandler films, Hubie Halloween sits somewhere in the middle. It's not anywhere near as painful as The Ridiculous 6, but it isn't as weirdly soothing as Murder Mystery, either. There are a few twists and a couple of laughs, and there's a decent amount of Netflix money splashed on the screen, so technically it's not a badly made film.
Though it plays with certain horror tropes, like jump scares and mask-wearing psychos, it's also aimed at younger viewers – you could probably leave your tween-and-above kids in front of it and crack on with something else with very little to worry about while you're gone. Your little one randomly saying "shit" or "boner" in the days that follow is arguably a preferable consequence to being asked the question "can we watch MORE Kevin James movies?" at any rate.
If you don't have any kids and are still hovering over the 'play' button, you'll instinctively be aware that Hubie Halloween won't be joining anyone's regular go-to All Hallows' Eve line-up in the future, least of all yours, but it's bound to do some impressive numbers on Netflix nonetheless, and if you watch it, you must accept your part in that outcome with no quarrel [flashlight under chin] another Adam Sandler film will be along soon enough…