Features
Psych 2: Lassie Come Home Easter Egg and Reference Guide
Every callback, inside joke, and pop culture tribute in the latest Psych movie.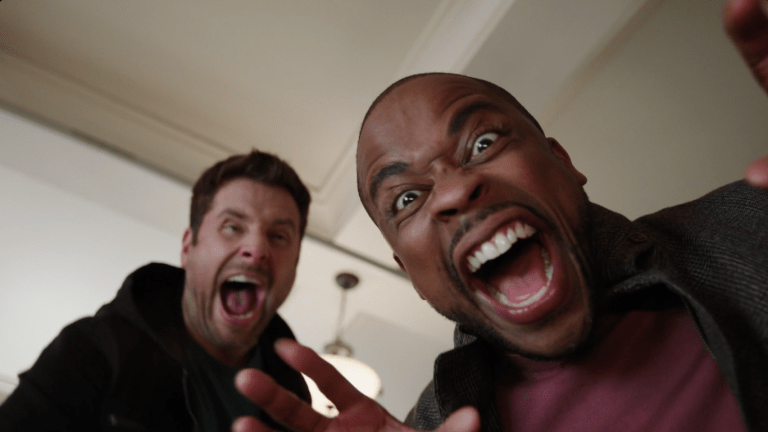 The following contains spoilers for Psych 2: Lassie Come Home.
As fun as 2017's Psych: The Movie was, its 2020 sequel Psych 2: Lassie Come Home will likely supplant it in Psych-Os' hearts, because it's got 500% more Carlton Lassiter (Timothy Omundson). But how does it stack up to its predecessor in terms of Psych callbacks and pop culture homages? Using our Spencer powers of observation, we've tried to catch every recurring inside joke between Shawn (James Roday Rodriguez) and Gus (Dulé Hill), plus all the episodic-specific bits. It's a feature-length Hitchcock homage, but it's also the toughest Easter egg hunt of your life. C'mon, son!
Psych 2: Lassie Come Home Easter Eggs and References
The title is a reference to Lassie Come Home, the 1943 Lassie movie about the beloved dog making her way home from Scotland. A German-language remake came out early in 2020.
It's always a treat to hear the Psych theme song "I Know, You Know," performed by creator Steve Franks and his band The Friendly Indians.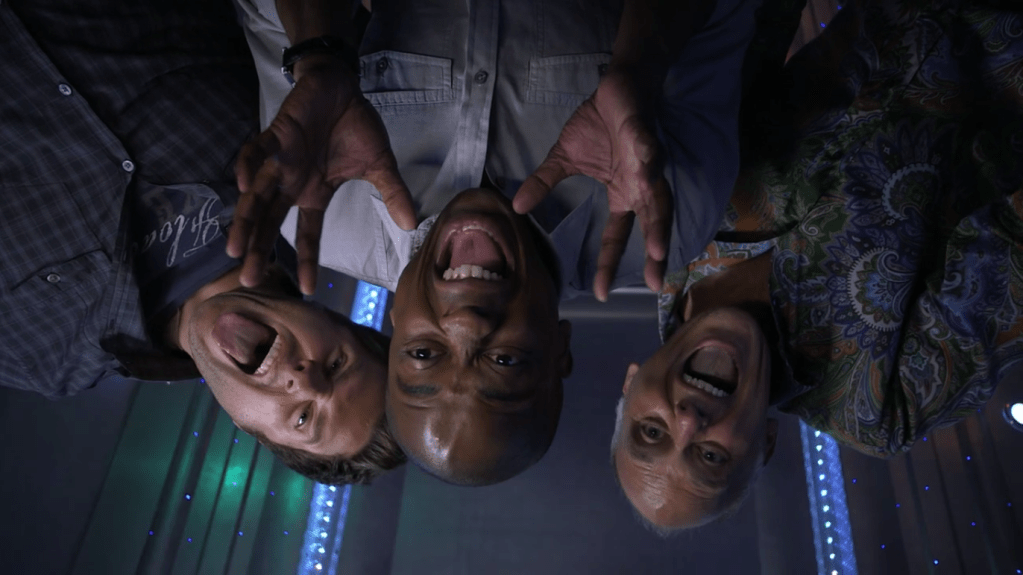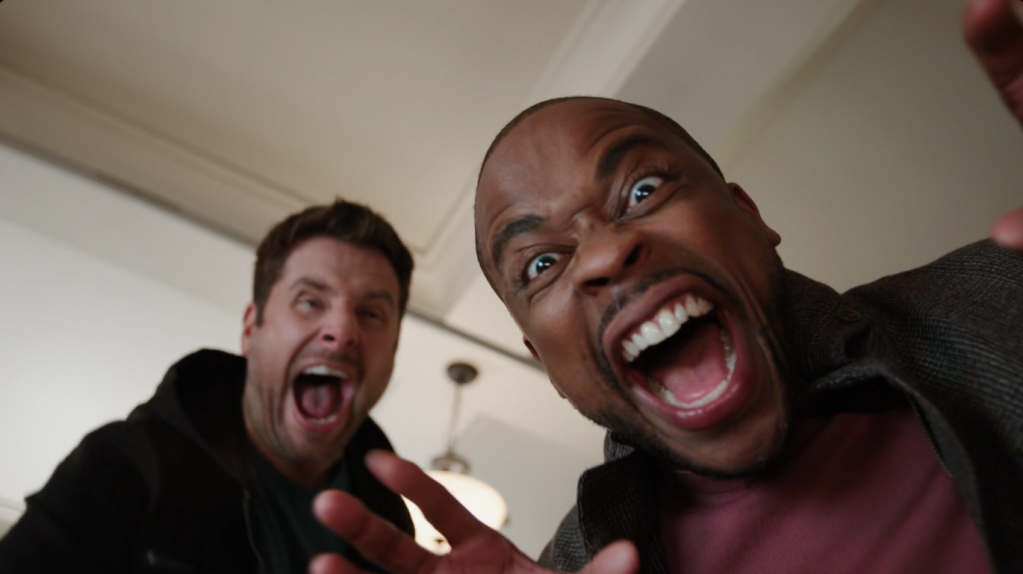 Lassiter wakes up to Shawn and Gus hovering above him at the recovery clinic is a throwback to when they kidnapped him for his bachelor party in "Deez Nups" and he came to with them screaming "Surpriiise!"
Morrissey the rescue dog reprises his role from Psych: The Movie in being adorable, incredibly nosy, and oblivious to Shawn's hissing commands.
Sarah Chalke's nurse character Dolores is most likely a nod to San Francisco's Mission Dolores church and cemetery, the location for Carlotta Valdes' grave in Vertigo.
Right out the gate, Dolores is treated to the requisite Gus nickname: "My name is Shawn Spencer, and this is my partner Bill Poopingtons." However, Shawn and Gus take a sidebar for a very meta argument about their ongoing bit (while fitting in another bit):
"Gus, don't be the night your dad fell asleep inside your mom. We can't just stop doing bits we've been doing for ten years. We have fans, they have expectations, there'll be a huge backlash."
"Shawn, we are two dumbasses, we do not have fans."
Compromise: Gus gets right of refusal until they land on a nickname he prefers. And so:
Bill Poopingtons > All the Pips in One
Ding-Dong Ditch > Claude O'Dern > Big Poppa Pump > Lemon-a Lemon-a Lemon-a Liiime
Leggo My Eggo > Norman Brown Butter > Dijon Hounsou
Gus also calls himself Jermajesty, channeling some Jackson Five energy.
"Black Jello" was Gus' nickname in their adult dodgeball league.
The Herschel House is likely a nod to Herschel Daugherty, who directed over two dozen episodes of Alfred Hitchcock Presents…
Gus and Shawn are still bickering over driving the drivers ed car, even if we don't see it in the movie. They do manage to be just as bad at turning the right direction when riding a motorcycle together.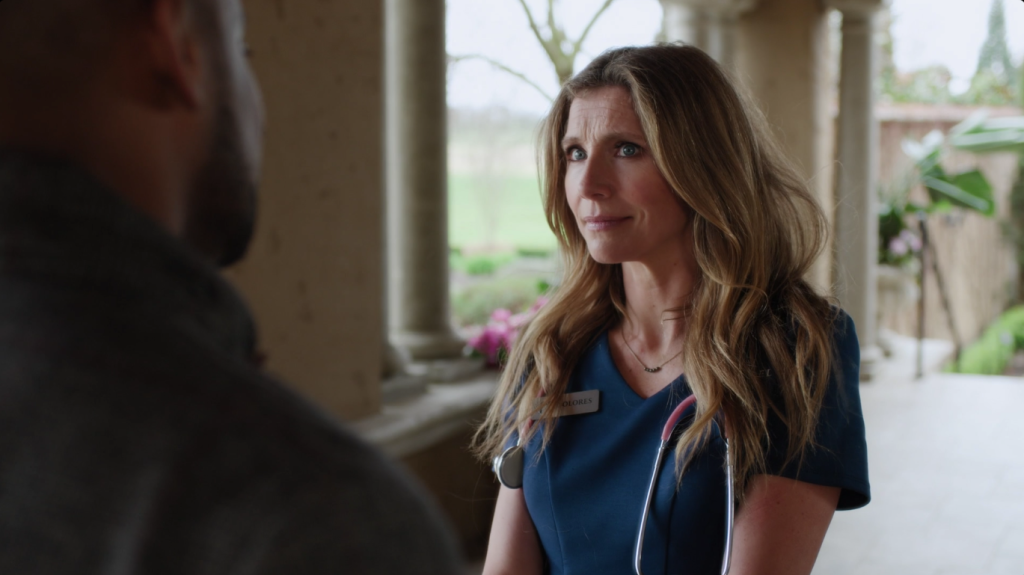 "Now I know this 'goofy little white guy/sexy black dude' routine the two of you have going like the back of my scrubs." Sarah Chalke played Elliot on Scrubs, whose JD/Turk bromance walked so that Shawn/Gus could run.
Shawn calls Dolores "the nurse from Color of Night," the 1994 Bruce Willis erotic mystery thriller that won a Golden Raspberry for Worst Picture.
The boys get Jamba Juice because you never turn down an opportunity for a Jamba.
Shawn likens Gus' pubic hair to Eddie Murphy's mustache in his 1987 stand-up film Raw.
Shawn offers the dismembered hand to Gus to "knuck it up softly," per their penchant for fist-bumping.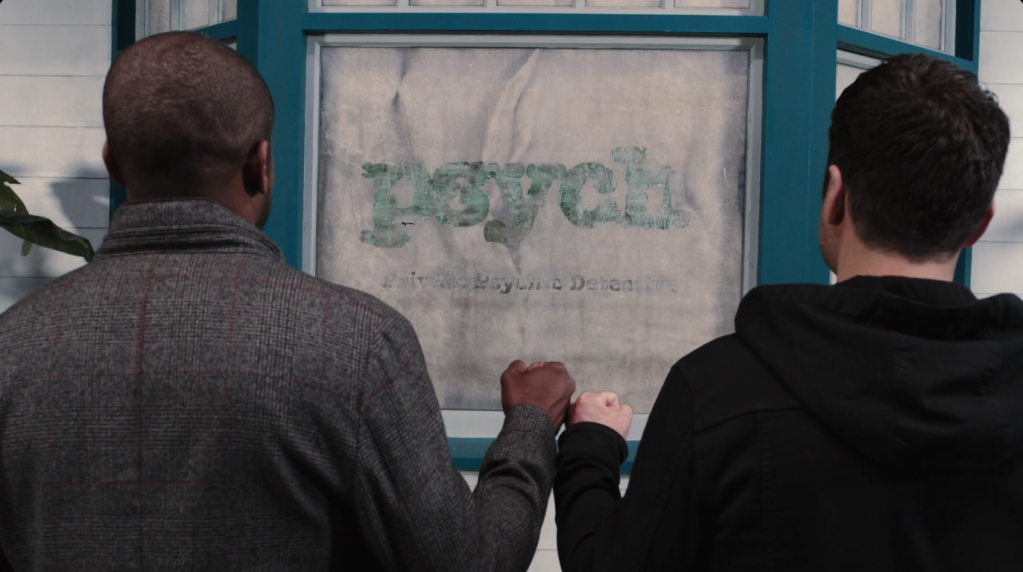 They later do fist-bump outside the old Psych offices, but not before channeling Han Solo and Chewbacca in Star Wars: The Force Awakens: "Gus, we're home." "[Wookiee sound]"
Psych has become a French-themed cat café… for now, at least. It's not an alternative universe from Spider-Man: Into the Spider-Verse, but the current subletter's pop-up business. The proprietor (not the girl from Orphan) is played by Allison Miller, James Roday Rodriguez's co-star in A Million Little Things.
"I am a psychic. He is a sympathetic pooper." Poor Gus' intestinal system gets called out again.
Henry's (Corbin Bernsen) put-on voice gets compared to Tom Waits, Kathleen Turner, Harvey Fierstein, and Diedrich Bader.
Shawn neglected to tell his landlord that he'd moved, which tracks with his behavior in the series finale "The Break-Up."
Henry reveals that in addition to telenovelas, he enjoys zeitgeist-y sobfests: "You left behind a slow cooker with a three-pound roast in it. You nearly This Is Us-ed the entire block."
"This Is Us—Dad, why are you watching that show? They have the same show on ABC but newer": Shawn's shoutout to A Million Little Things.
Lassiter mistakes Reese Kessler, his supposed shooter, for country music singer Conway Twitty.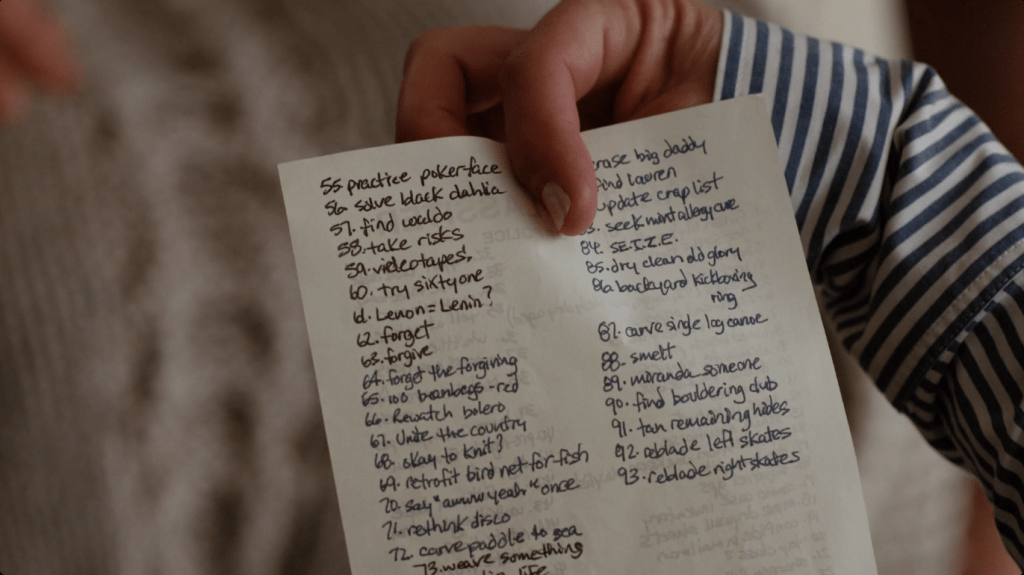 Lassiter's to-do list includes "tape Galavant," the short-lived musical comedy fantasy series created by Dan Fogelman (This Is Us), in which Timothy Omundson played King Richard. It also includes items poking fun at Lassiter's crankiness ("yell at nature," "chirping bird d-day plan") and tenacity ("solve black dahlia"), and heartstring-tugging items ("pre-register for ironman" as in the triathlon). He also has written down Shawn's S.E.I.Z.E. mantra from his short-lived career as Lassiter's life coach in "S.E.I.Z.E. the Day": Seize Eggs I don't know Zebra Eighties.
Juliet (Maggie Lawson) lying to Shawn sounds strange, though not as strange as Lupita Nyong'o—the Tethered Lupita—in Jordan Peele's Us.
Shawn's "romantic dinner" for Jules is the menu from A Charlie Brown Thanksgiving (jelly beans, pretzels, buttered toast, popcorn, and ice cream sundaes) because it's all they had at the gas station on the way home.
That prompts an iconic "C'mon, son!" from Gus.
Gus' ringtone is "I'm Mr. Bootyman," which is both Henry's ringtone and the song featured in Buzz McNab's bachelorette party stripper routine in "Deez Nups."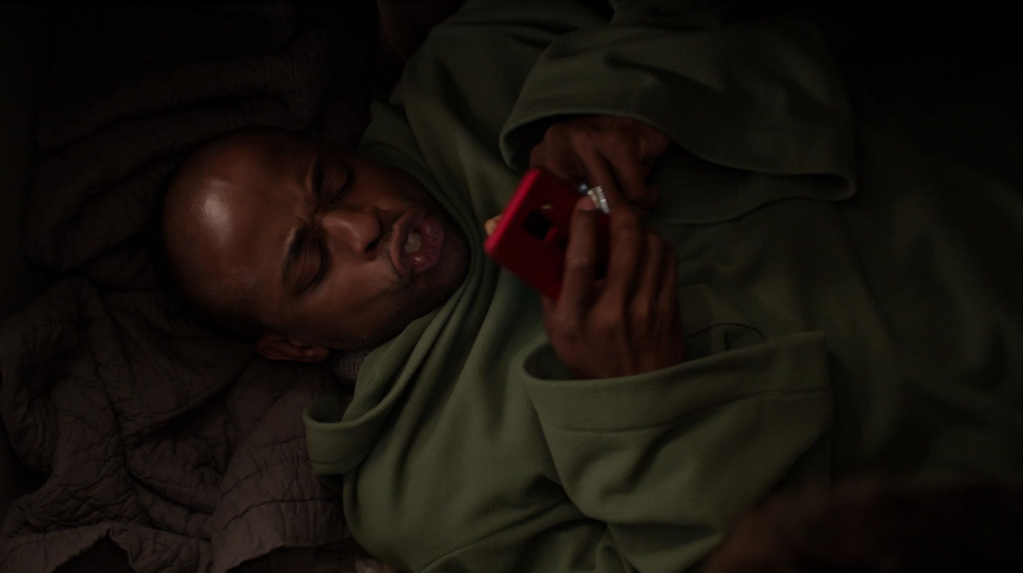 Gus' (technically Jules') green snuggie bears a striking resemblance to official Psych contest merch.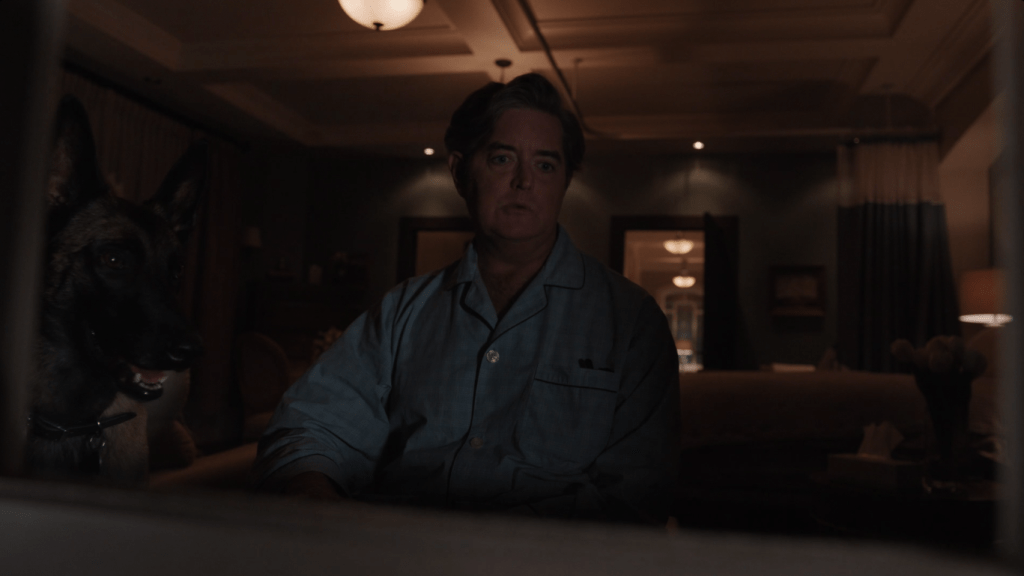 Lassiter spotting mysterious bleeding figures out his window is an homage to Rear Window.
Richard Schiff (as Dr. Herschel) was Dulé Hill's co-star in The West Wing.
Potterhead Gus wants to know if there are any people hiding in the pipes of the Herschel House, "speaking in their own tongue, perhaps Parsel."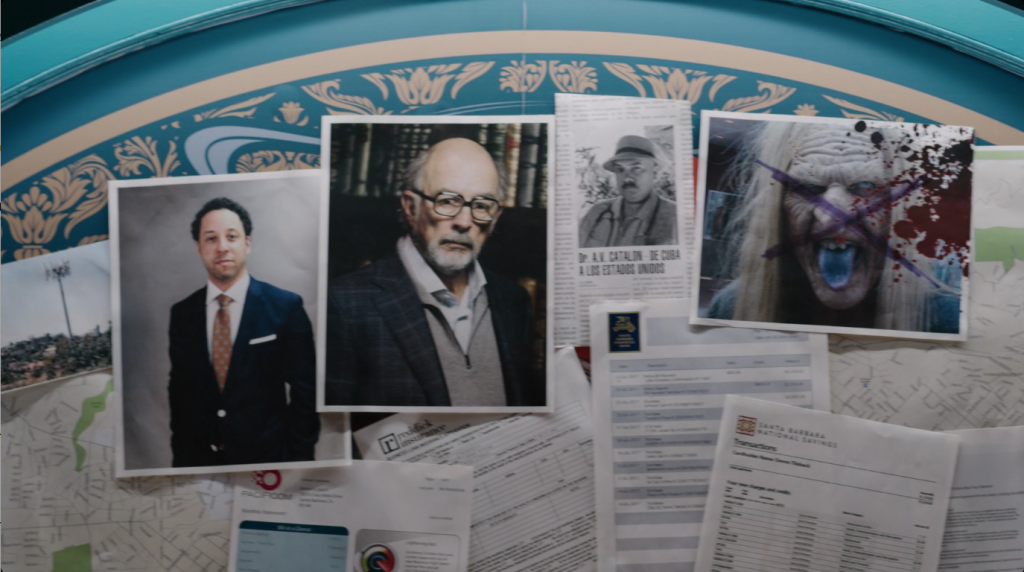 The Psych boys' map of suspects briefly includes the Hell Hag from Gus' dreams in "A Nightmare on State Street."
Shawn has only been to Norway once with his brother-in-law Ewan O'Hara (John Cena), but they don't talk about that… Maybe that's where Psych: The Movie went after its cliffhanger ending?
Ova's Norwegian song/chant toast at the Viking's Ice Den is very similar to the Swedish toast in "Right Turn or Left for Dead."
Ova's violent son Per is first described as "the bearded Daryl Hannah."
Shawn's excuse to Detective Buzz McNab (Sage Brocklebank) for being in Santa Barbara is that he forgot a frisbee signed by German writer/director Florian Henckel von Donnersmarck.
Shawn's first reaction to Jules potentially being pregnant: "You know the windows in the loft don't even fully close, right? I'm gonna have to replace them, otherwise this is Baby's Day Out all over again." As Gus reassures him, he always did get worked up over John Hughes' worst idea.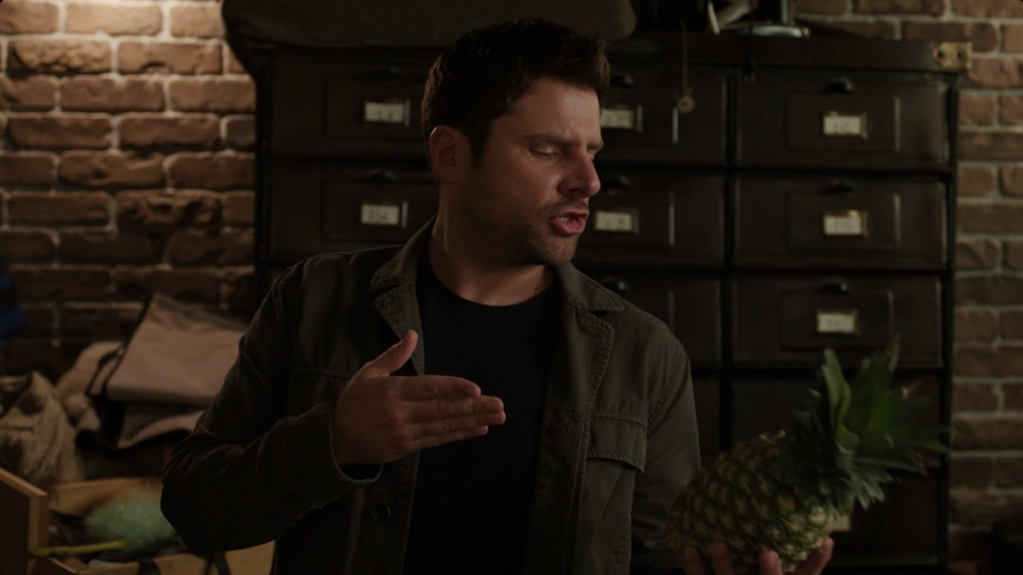 At the old Psych offices, Shawn pulls out the jousting lance from "100 Clues"—as well as a pineapple! He looks about to ask, "Should we cut this up for the road?" (his question during the pineapple's first appearance in the pilot, plus at the end of Psych: The Movie) but stops himself.
When Lassie believes that fellow patient Mr. Wilkerson (Kadeem Hardison) has been walking around, Shawn and Gus have to go "full Dirty Rotten Scoundrels" to interrogate the supposedly catatonic patient.
Shoutout to Jessie Spano's infamous "I'm so excited, I'm so excited, I'm so scared!" speed speech from Saved by the Bell.
If it's not Scrubs, the boys are getting compared to Ren and Stimpy.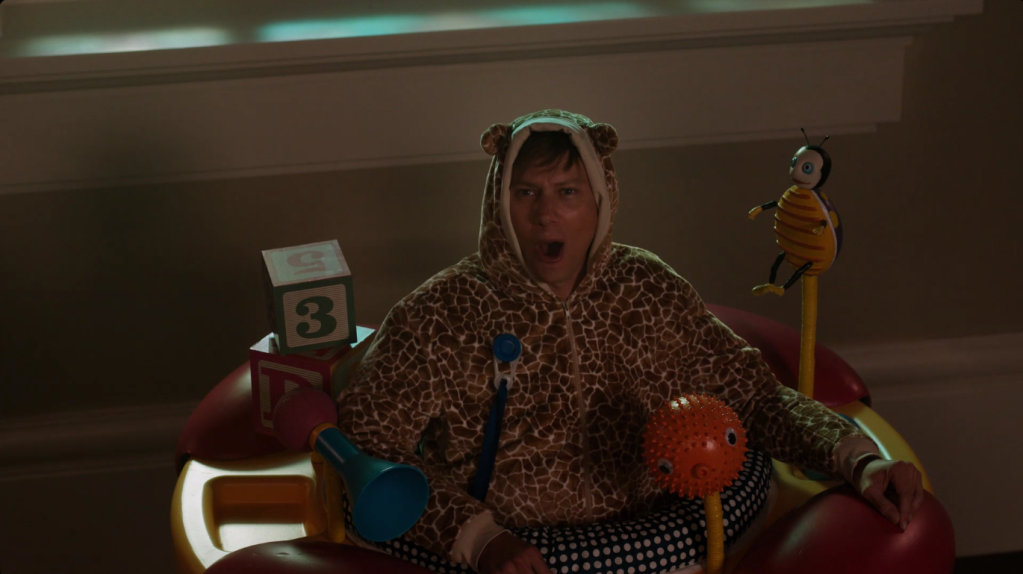 Mary Lightly (Jimmi Simpson) returns in another incredible, extra-hallucinatory look into Shawn's brain… this time as a baby, since Shawn's got fatherhood on the brain.
"We got jackaled!" Gus shouts upon learning that Wilkerson can walk—a reference to "hitting the jackal switch," or going into stealth mode.
Shawn has always had a thing for singer Jewel, even after the Civil War movie (1999's Ride with the Devil) and the Bollywood song.
Of course there's a nasty dance when Shawn and Gus figure out who they think is behind everything.
Gus declares that "I am not going to let you shoot Shules' baby!" only for the Chief (Kirsten Nelson) to ask, "What's a Shules?" That's the fans' name for Shawn/Jules, a cute nod to a series OTP.
And of course, we can't forget the fact that Jazmyn Simon, who plays Selene, is Dulé Hill's real-life wife.
More than once, Shawn quotes The Handmaid's Tale in reference to Gus and Selene's baby: "Praise be" and "Blessed is the fruit."
Dolores compliments Lassiter's "chest of hair plentiful enough to wig all of Destiny's Child."
Shawn comes up with possible names for Gus' child: Shaft, Shaftie, or D'Shaft—just like Gus' nickname Sh'Dynasty (with a "God's comma," or apostrophe) from "Santabarbaratown."
They also both coo "c'mon son" to Selene's womb.
Selene's proposal to Gus includes his negotiation that he and Shawn have adjacent homes with connecting pools, a callback to Shawn and Gus talking about their dream setup in "The Break-Up"; as well as Pluto! She asks, "Will you make me the happiest woman on this planet, on Eres, and Pluto?"
Shawn tells Juliet that "you're my person," the iconic Grey's Anatomy line (though one would argue that Gus more accurately is his person).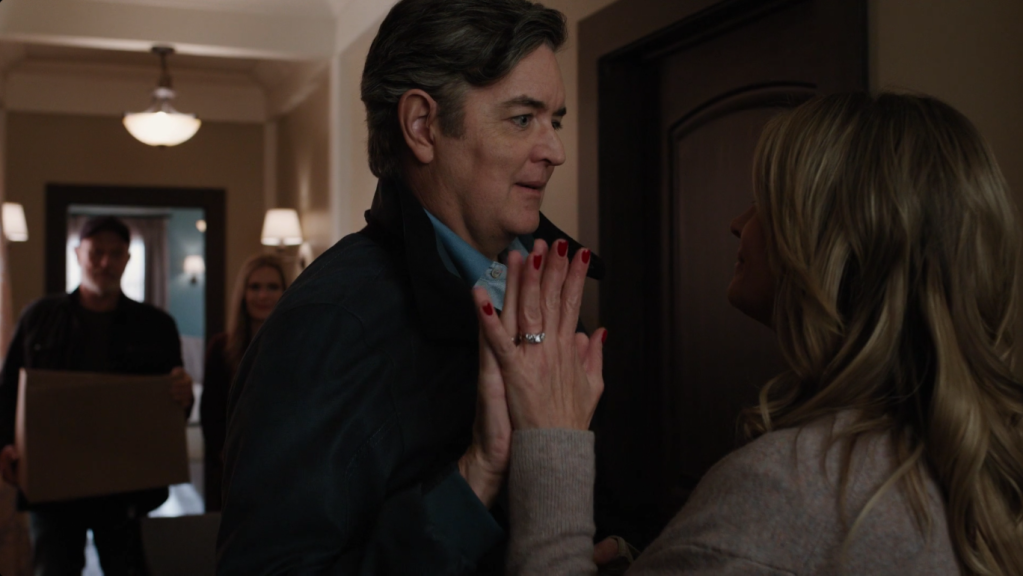 When Lassiter stands (shut up, you're crying) to meet Marlowe (Kristy Swanson), they place their palms together—like they did when he would visit her in jail, like they did at their wedding. My heart.
Join us on the Easter egg hunt—let us know what references we missed!