Features
Priscilla: The True Story of Elvis' Hangups About Sex and Virginity
Sofia Coppola's new film Priscilla only hints at what were some byzantine rules Elvis Presley had about what he and the teenage girl sleeping in his bed could and could not do.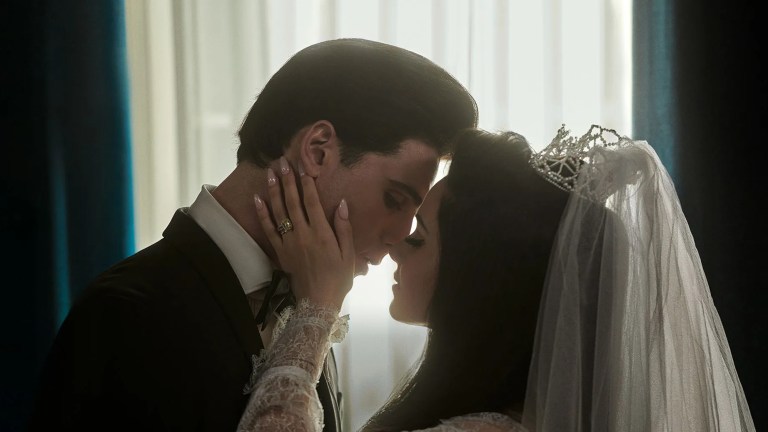 Sofia Coppola's atypical biopic Priscilla centers Elvis Presley's iconic wife in a way no portrayal of the one-time King of Rock n' Roll has even considered. Adapted from Priscilla Presley's bestselling autobiography Elvis and Me, the tumultuous, troubling relationship between a shy schoolgirl and the most famous singer on the planet raises more questions than it answers. Offstage and at home, the charismatic and swaggering crooner and sometime actor is revealed to be a temperamental husband with a lot of phobias around sex and an abusive need for total control. And one of audiences' biggest questions about the King's proclivities is intentionally left ambiguous: Why did Elvis refuse to consummate the affair between himself and Priscilla before marriage, despite having engaged in other sexual relationships before, during, and after their marriage?
Coppola's movie doesn't hide the uncomfortable truth that Priscilla (played by Cailee Spaeny) was only 14 in 1959 when she was brought to a party at the 24-year-old singer's house. At the height of his fame, Presley (Jacob Elordi) was drafted into the U.S. Army and lived on a base in West Germany where Priscilla's stepfather, an Air Force officer, had also recently relocated the family. Like Scarlett Johansson's character in Coppola's Lost in Translation, Priscilla is young and unformed and eager to discover the world, and while Elvis wasn't perhaps quite as jaded as Bill Murray's washed-up actor, the King is nonetheless at a vulnerable crossroads in his career and personal life during their first meeting.
With two characters who are both lonely and far from home, Priscilla amps up the melancholy and isolation of Priscilla and Elvis' situation—and the unlikely pull between a pair of outsiders.
Priscilla and Elvis' Singular Courtship in Germany
When Elvis met Priscilla, he was still reeling from the sudden but unsurprising death of his mother Gladys, who battled alcoholism and hepatitis throughout Elvis' childhood. Often teased at school for being a "mama's boy," Elvis had been extremely close to his mother, communicating almost every day in a shared language of baby-talk and pet names with her until Gladys passed at the age of 46. While Priscilla never got to meet Gladys, Elvis often spoke of her suffering to his young paramour. However, another family matriarch loomed large in Elvis' house on the German Army base and, later, at the legendary Graceland estate in Memphis, Tennessee. His paternal grandmother, Minnie Mae 'Dodger" Presley could often be found frying bologna sandwiches in Elvis' kitchen and dispensing advice to Elvis' frequent houseguests. 
Priscilla's own parents expressed displeasure when the older, world-famous man came to ask for permission to date their teenage daughter. Elvis played up his Southern charm and despite their reservations, Priscilla was allowed to be chauffeured to and from Elvis' house multiple nights a week. Readers of Priscilla Presley's memoir might get the idea that Priscilla's parents were also a little starstruck, at best, and perhaps a bit willing to see if the proximity to Elvis' fame brought financial opportunity. It was certainly not a typical arrangement, despite how modern audiences might excuse the age-gap courtship as such. One could especially think that behavior typical of many past rock stars and their alleged underage girlfriends, such as Presley contemporary Jerry Lee Lewis and '70s rockers like David Bowie, Eric Clapton, and Steven Tyler.
Elvis always had people at his house, and was almost incapable of being alone. His small parties would last late into night and end in a similar way: Priscilla sneaking off to wait for Elvis in his bedroom where the pair would talk. Distant from the pulse of American pop culture at the time, Presley would often ask Priscilla for her opinions as a member of his target fan demographic. Surrounded by his trusted friends and business advisors (and no shortage of hanger-ons), Priscilla competed for attention with other potential romantic rivals and fought off advances from older men in Elvis' inner circle, including a scary physical assault on a late night drive back to her parents' home—an incident notably absent in Coppola's Priscilla film.
When Elvis heard about the appalling behavior of his "friend" in real life, Priscilla got a glimpse of how protective he could be toward the girl he often called his "Little One."
Why Elvis Refused to Have Sex
While Priscilla felt ready to take their relationship to a more adult place, Elvis allegedly, repeatedly demurred for years. He had a strong Pentecostal Christian background and his ideas on feminine purity seem in line with conservative teachings at the church. While he made no promise to marry Priscilla when she was still underage, he often told her that his wife needed to be a virgin and that their time for sex would happen eventually. And he also stressed that Priscilla needed to be untouched by other men while they were apart. He "would know," he insisted, if she had been unfaithful with her body.
The irony was that, according to Priscilla—and anyone with access to television or newspapers at the time—Elvis had numerous romantic entanglements. He had a girlfriend in America while he was stationed in Germany and had been linked to co-stars that included Nancy Sinatra and, most famously, his Viva Las Vegas co-star Ann-Margret, an affair so infamously public that its reverberations reach the walls of Graceland in Coppola's film.
When his mandatory military service was complete and Elvis was about to return home, the affair with Priscilla seemed to be drawing to a close. However, Elvis continued to call and send love letters throughout the following two years, and after much heated discussion with Priscilla's parents, the now 17-year-old Priscilla was flown first-class to Los Angeles for Christmas.
Priscilla refers to their evenings in bed together during these early years in Graceland as "lovemaking," but the term is purposely vague beyond cuddling and kissing. Coppola's Priscilla is noticeably just as vague, depicting the pair fooling around in bed and roleplaying, but we're never keyed into exactly how fair Elvis wanted to take things.
According to Priscilla's book, he was willing to do "everything but" penetrative sex with her, but he remained firm on the idea that any woman who was to be his wife and the mother of his future children must be a virgin. His "everything but" idea was also due to a strong fear of causing unwanted pregnancy; a child born out of wedlock could be a real career-killing scandal at the time.
But even without overt sex scenes, Priscilla shows a young girl being transformed into a famous man's living doll. There really is no way to avoid calling it grooming, by any definition. Once Priscilla and Elvis secretly run off to Las Vegas, the Catholic schoolgirl is immediately given a makeover, gaining her signature bouffant hair, dyed black to match Elvis', heavy makeup, and luxuriously revealing dresses. Elvis had to approve every evening's outfit choice. This first Las Vegas trip was also where Priscilla was given sleeping pills so strong she was unconscious for two days. She was also given speed, which had always helped Elvis wake up for long, late nights partying in casinos with other musicians.
The Morning After Marriage
Fearful of damaging their relationship with their daughter, Priscilla's parents eventually gave her permission to move to Graceland and enroll in a local Catholic school before her 18th birthday, though she was forbidden from sleeping at Elvis' main residence on the property. With her parents all the way in Europe, that rule quickly flew out the window. After two years of late-night cuddles (and more increasingly drug-filled days), Elvis' own management team was troubled by Priscilla being referred to as Elvis' "Live-in Lolita" in tabloids and the pair was possibly strong-armed into an extravagant wedding. Priscilla was 21.
By her account, the much-awaited wedding night was full of passion and their married life would continue that way until the birth of their only child, Lisa-Marie Presley, exactly nine months after the wedding.
Despite waiting so long to start expressing her love for Elvis in a more physical way, after the birth of Lisa-Marie, Elvis would not share intimacy with Priscilla for long bouts of time. Elvis' ideas about feminine purity weren't only relegated to being against premarital sex. The singer had previously told his wife that "he had never been able to make love to a woman with a child." Given his conservative upbringing and his highly idealized views of the mothers in his own life, Coppola's Priscilla remains neutral toward Elvis' ideas surrounding sex, but the emotional results of his controlling behavior and subsequent neglect of his perfect, virginal bride are clear.
Living by the whims of first her father's military career and then the man who would become, unfortunately, a surrogate father more than an equal partner, and, ultimately, something of a prison warden, Priscilla's divorce from The King of Rock n' Roll was also an ultimate act of a woman ready to stand on her own for the first time in her life.