Reviews
Priscilla Review: Sofia Coppola Punctures Elvis Mythmaking
Sofia Coppola provides Cailee Spaeny a star-making turn, and Priscilla Presley the space to tell the other side of the Elvis legend.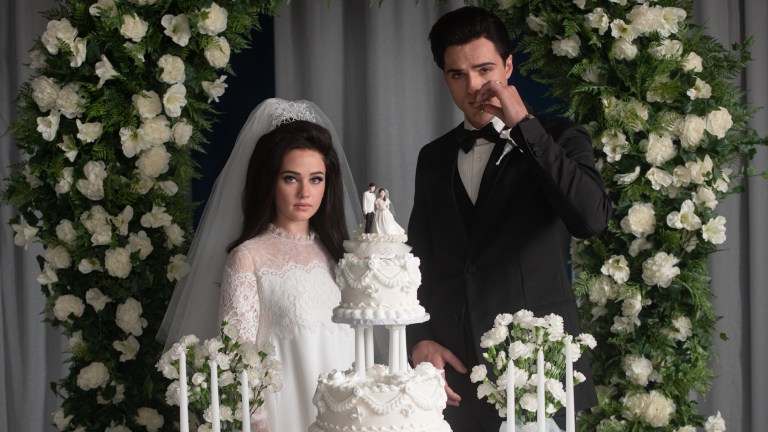 There is almost no Elvis Presley music in Priscilla. There is an Elvis, played ambiguously by Jacob Elordi, and a few moments where he flicks the piano ivories or stretches the creases of a caped jumpsuit, but unlike nearly every film set in the world of sex, drugs, and rock and roll, there's hardly any rock. This is, of course, the point for Sofia Coppola, who achieves her aim in making a film that is neither about a so-called king or, for that matter, a queen. This is the story of a woman so young and in love that she mistakes gilded cage bars for the Gates of Graceland.
In this way, Priscilla is as pensive and quiet a character study as any in Coppola's oeuvre; a film that finds the interiority which eludes nearly all glossy musical biopics. The lovers at the movie's center can, in fact, be as tangible as the charmingly tacky shag rug which adorns Presley's Jungle Room. Perhaps that's why the carpeting is among the very first images we see via close-up as a girl's manicured toes squeeze through the emerald ruff. But if you've ever run your own toes or fingers through such material, you know the feeling can sometimes be surprisingly grimy.
The young woman forced to discover this is the eponymous Priscilla Presley (née Beaulieu), who is brought to buoyant life by Cailee Spaeny in a performance that can be described as nothing less than a revelation. You've probably seen Spaeny before, whether in a small but pivotal role in Bad Times at the El Royale or as the enigmatic hacker in Devs, but Priscilla is an unmistakable breakout for the star. In a span of 111 minutes, she convincingly shifts through the years, from Priscilla's earliest childhood encounters with a reigning rock god to ultimately fleeing him and their marriage a little over a decade later. And to be certain, she was a child when they met, with Spaeny imbuing a brittle shyness so delicate to those scenes that it's faintly grueling to watch Elordi's very adult Elvis so thoroughly and willfully shatter it.
The process begins in 1959 when a 14-year-old Priscilla is spotted at a soda fountain for American military men and their families. The daughter of a Naval officer (Ari Cohen), Priscilla might be any other target demo'd fan (or companion) for Elvis Presley, who is awfully lonesome after being drafted into the U.S. Army, an ordeal which probably contributed to his mother's death. Presley mentions this when he latches onto Priscilla at a party for comfort, but the 24-year-old G.I. sees in her something more than just company. He even goes so far as to ask the permission from her parents, including her exceedingly skeptical mother (Dagmara Dominczyk), to court their daughter for as long as he's stationed in Germany.
There's an uncanny, if queasy, humor to Priscilla's early scenes where much of it plays like a surreal dream for the starstruck teen—and perhaps a nightmare for her parents—but the reality sets in when Presley ghosts the child for about a year after returning to the States… and then calls her out of the blue with an offer of First Class tickets to his Graceland mansion in Memphis, Tennessee. This sets the real pattern of their relationship: long periods of soul-crushing loneliness and isolation for Priscilla, followed by fairytale vignettes with her dream prince. But it is always on his time, and on his terms, and inevitably she will be expected to return to a mundane reality that increasingly seems like the real bad dream. This holds true even after he moves her into his home as a virginal king's consort.
Priscilla is a synthesis of nearly every film Coppola has made to date, as well as a rumination on those fascinations, sometimes decades after the fact. Once again, we have the story of a young woman in a quarter-life crisis, even as she's surrounded by privilege and splendor; she's also trapped in a doomed relationship. However, in Priscilla's case, she isn't even at her quarter-life when we meet her. She's in a coming of age tale that gets interrupted by a first love too imbalanced for her identity to grow.
As that interruption, Elordi plays an incredibly different Elvis than the one that earned Austin Butler an Oscar nomination last year. Elordi doesn't quite have that idiosyncratic drawl as perfectly nailed, and he doesn't shake a hip once, but he does pursue a kind of dancing, carefully floating between the raindrops and even our own skepticisms for much of the film. There's a measured aloofness that balances between good ol' boy charm and what could be construed as predatory intention.
Above it all, he's a figure who really does want to reign over everything. When it comes to Priscilla, that is expressed like an All Shook Up Henry Higgins. He's obsessed with playing with his living doll and dressing her as the perfect (vacant) woman. He picks out her wardrobe; decides how she styles and colors her hair; and if she ever catches wind of his affairs whispered about in the tabloids, he'll explain "my woman" would never complain about that. Yet unlike George Bernard Shaw's Higgins, Elvis really does have an absolute power over his Eliza, holding above her head at every moment that she could be banished to "visit her parents" should she fail to kiss the ring. It's an implicit sentence of permanent exile. 
Somehow Coppola threads a needle between judging what could clearly be classified as grooming today, and genuinely empathizing with two young and flawed humans. Her filmmaking aesthetic eschews the Las Vegas razzle dazzle of Baz Luhrmann's Elvis of last year, or the 21st century moralizing that can too easily turn modern movies into didactic scolds of past lives. Instead Coppola and cinematographer Philippe Le Sourd remarkably bathe the film in curiously muted and natural textures. They're searching for the banality of living, even in Graceland excess. The approach also exposes two wounded people lost in their own shadows, leaving audiences to draw their own conclusions.
Ours would be to recognize there is an unsettling and ultimately insurmountable power and age dynamic between the two. But there's also a tender beauty in the film's affection for Priscilla, a young woman whose life is defined by long nights of silence and isolation when Elvis is not in his palace. Previous Coppola heroines like Marie Antoinette or Lost in Translation's Charlotte struggled to define who they were after an unhappy marriage; Priscilla's strange marriage has actual fleeting moments of bliss (on Elvis' terms), but she never even fully achieved self-awareness or an identity before entering the union or its curiously long, and strangely chaste, courtship.
Ironically, it is with Spaeny's fragile performance where the film finds its true identity. Her slowly dawning sense of autonomy and self is discovered not in the glow of Presley's incandescent superstardom, but in how she learns to navigate between living that on the weekends and attending Catholic school the Monday morning after he leaves town. Hers is a subtle performance about learning to rule yourself, making the film ultimately its own hushed act of revolution.
Priscilla premiered at the New York Film Festival on Oct. 6. It opens everywhere on Nov. 3.