Features
Pixar's Big Happy Incredibles Family
We spent a day inside Pixar to learn all about the families that brought The Incredibles family to life.
FM200 fire suppression, also known as HFC227ea, is a gas that douses fires without the need of water. The chemical agent with the structural formula of "CF3CHFCF3" is clean, odorless, and environmentally friendly. It's designed to replace sprinkler suppression systems in buildings that contain water-sensitive materials like data centers, UPS facilities, and of course, the Pixar Animation Studio archives in Emeryville, California. 
The Pixar archives are located in nondescript building a few hundred yards from the fabled animation studio's main Steve Jobs building. The building is protected by tall black iron gates, a sophisticated key card system, and yes, FM200. The Pixar employee who kindly volunteers to cut into his lunch to escort me to the archives after my interview with Incredibles 2 director Brad Bird runs long doesn't even have a key card of his own. He calls another employee once we arrive so I can be let in. The welcome mats inside this concrete labyrinth are sticky, undoubtedly to capture the shoe print of whatever thief bold enough to steal the treasures therein. 
The building is populated by moveable bookcase-like structures that contain important artifacts from each era in the company's nearly 40-year history. There are newspaper clippings announcing Steve Jobs becoming the company's majority shareholder, 3D models of Woody, Mr. Incredible, Fro-Zone, cabinets full of original storyboards, and even a cardboard logo for Wall-E's "Buy n Large Corporation" lying around haphazardly for good measure. 
The archives are large, imposing, and save for all the items inside, unsentimental. The FM200 is there to stop a fire if it arrives. But should that fail to kill the flames, a backup sprinkler system is primed and ready to wash away the flames and decades of Pixar history with it.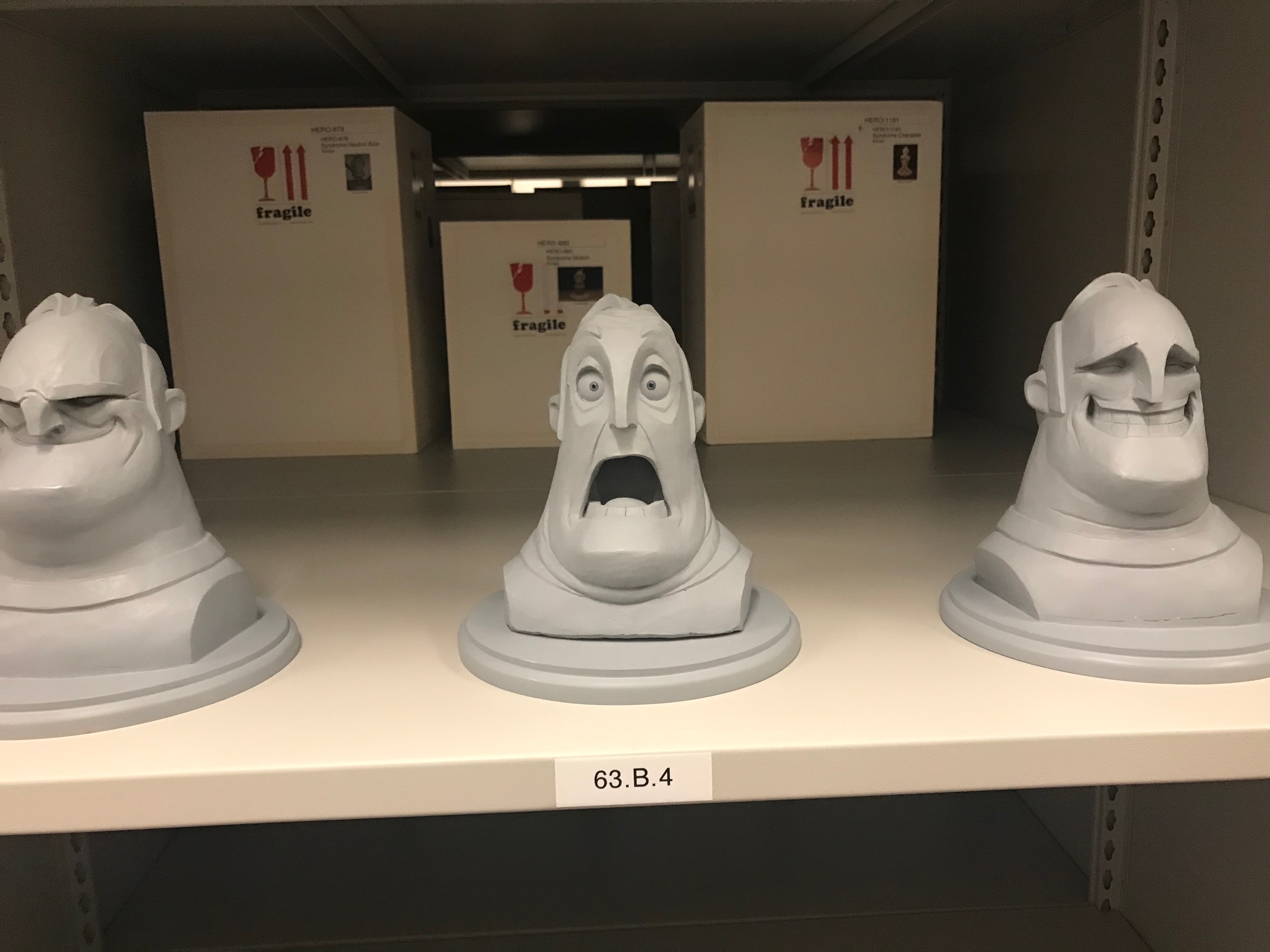 Anyway, believe it or not this is a story about family. Pixar's archives may resemble a high security military installation but this remains one of the most successful family entertainment entities in history. Now as The Incredibles 2 is set to arrive via digital release and Blu-Ray, it's worth examining how this empire of family friendly, thought-provoking entertainment produced an archive worthy of Fort Knox's security, and what the company means to the families operating inside of it.
Few entertainment entities, or any companies really, have as grand an appreciation of their own mythology as Pixar does. The campus is dotted with all the familiar iconic hallmarks. A tall statue of unofficial Pixar mascot and gregarious desk lamp Luxo Jr. stands proudly outside the entrance of the Steve Jobs building, looking down upon the supersized toy ball from the studio's first feature, Toy Story. 
Starting with Toy Story in 1995, Pixar has been in the business of making family films, despite what The Incredibles 2 director Brad Bird says.
"People ask, 'where do you aim these films?' And it's like we aim them at ourselves. We're not trying to entertain kids or some group out there. We're trying to make something that we would want to see," he says. 
Bird, however, is one of the few Pixar directors to have made family films explicitly about family. While The Incredibles was about being incredible in a world that distrusts the incredible, its sequel is unquestionably about family and how to feel incredible inside a family construct that demands teamwork and sacrifice. It was always easy for Mr. Incredible to self-actualize when he was on the streets defeating criminals. It's harder when he's at home raising three kids. 
Pixar movies are infamously unafraid of tackling heady topics and complex themes as they strive to entertain the whole family. Wall-E was about the evils of unrestrained capitalism and humanity's own capacity to entertain ourselves to near-death (brought to you by Disney and its 55 billion Disney Dollars), while Toy Story 3 was in many ways about coming to terms with our own mortality. 
The Incredibles 2 on the other hand, with its themes of family and sacrifice, may as well be about Pixar, itself. As Americans spend more and more of their time at work, companies can't help but pitch their working environment as a family. The culture at Pixar doesn't seem to give into this for the most part, or at least the employees don't cop to it no matter how many times one journalist tries to prompt them to. One could forgive if they did though.
From the outside looking in, the Pixar campus looks like one big happy family. The parking lot at the Steve Jobs building stays packed well into the evening. Coworkers share lunch and ideas in the spacious cafeteria, or gather in the several theaters on campus for screenings. It should be easier for Pixar to give into the corporate culture as family mindset. 
Still, those who brought the Parr family to life in The Incredibles 2 are frank about what the challenges of balancing the creation of a fictional family with their own families. Work is work and animating a feature film is unquestionably a lot of it. Making an animated film means making sacrifices…. including family time.
"The films take so much time. It's the families, the graciousness of the families and that understanding like, what goes into making these movies," director Ted Mathot says. "As much as you try to balance, it always seems like there hasn't been enough time for the family in the making of these things."
Mathot is a production artist on The Incredibles 2 and in true one big happy Pixar family fashion was given the opportunity to direct the short film, Auntie Edna for the Incredibles 2 Blu-ray release. The DVD is generously packed with bonus content and featurettes, and commentaries. The wealth of content is something that the film's director, Bird wants by design.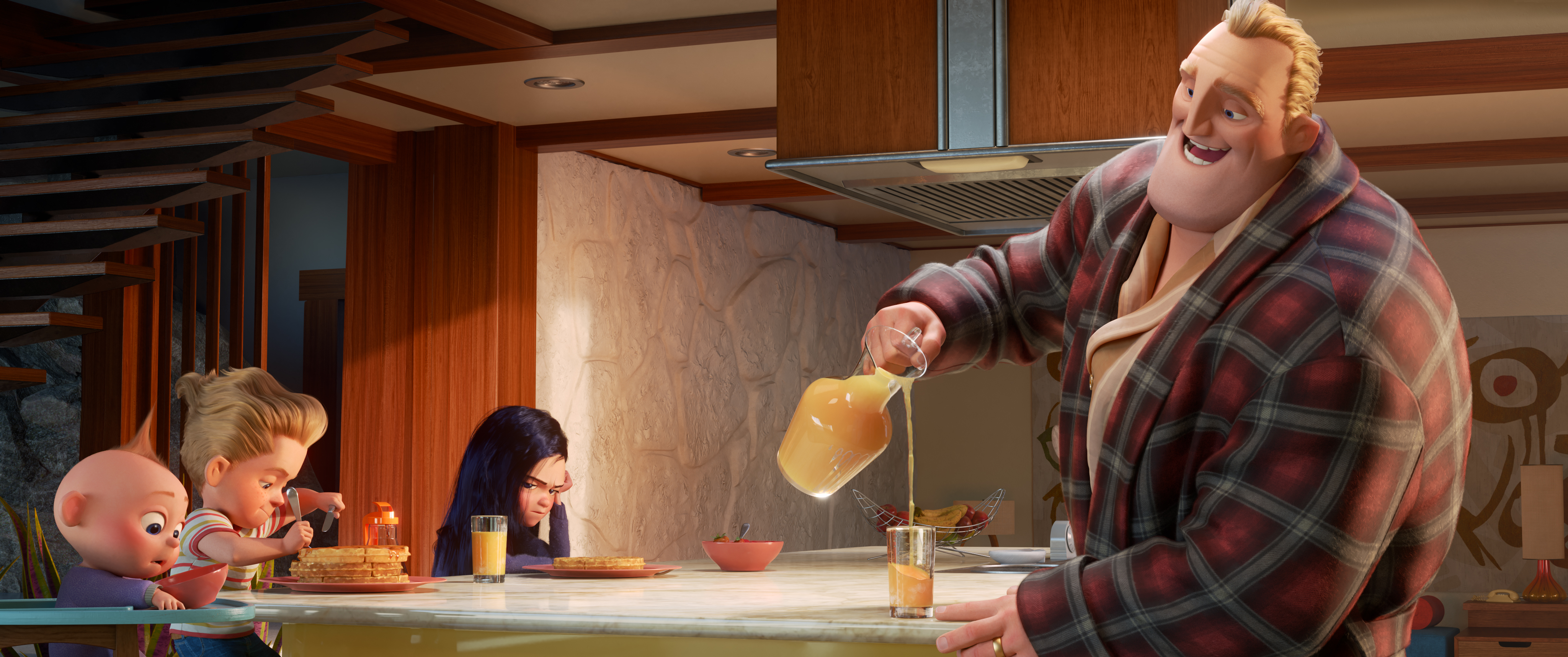 "You don't get as much time to do them now because the windows are so short, and usually you have to start producing that stuff while you're doing the movie, and you're already exhausted," Bird says. "But I think that we had more time on The Incredibles disc to do all these weird things."
Bird also appreciates the opportunity to bring special features to audiences because they provide an honest look at the work that goes into the film and the real culture of Pixar.
"The first Pixar making-of films are fine and informative. But I saw them and I felt like it isn't us going around on scooters and saying, 'Good day, so-and-so. Have a happy day. I'm just hap-hap-happy to be here at Pixar.' I mean, it is that – we are happy to be here. But these films are hard and people have opinions, and they are smart and they are passionate, and they don't agree a lot of the time."
further reading: A Day Inside Pixar
No, Pixar is no longer exclusively people on scooters saying "Good day, so-and-so." The environment remains collegial but more refined than one might expect from a land of make-believe. The employees that populate Steve Jobs building are almost always in a desperate rush but unfailingly polite about it. This is the madcap enthusiasm of the West Coast's tech sector as it grows up, gets some salt and pepper in its hair, and builds a family. 
Perhaps that's why filmmakers like Bird have taken such an enthusiastic approach to filling out special features for home releases. Now a charming anachronism, special features represent an opportunity to spend just a little more time with the features animators, writers, producers, actors, and directors have spent months and months on and sacrificed so much family time for. 
The company gets bigger, the HR department grows, there is more structure about reviews, and creative types are enduring more meetings about "creating a scale for leadership." But the special features at least provide filmmakers with an opportunity to show everyone just how much fun they're having.
further reading: The Road to Incredibles 2
The features on the digital release include two scene breakdowns in which producers and animators analyze the details of Elasti-Girl's solo superhero mission, and baby Jack-Jack's battle royale with a raccoon, and "The Coolest Guy in Show Business," which is a partially illustrated documentary about how Samuel L. Jackson's childhood and love of comics influenced his storytelling.
The DVD will feature Auntie Edna, deleted scenes, commentary, and most intriguingly, a feature called "Paths to Pixar: Everyday Heroes." "Paths to Pixar" is about the challenges of being a working parent. The short documentary features interviews with several of the parents of Pixar as they frankly discuss the challenges of balancing working on a film with the responsibilities of joys of being a family.
Animators Jessica and Dave Torres are the breakout "stars" of "Paths to Pixar." Normally animators wouldn't get much face time on DVD special features but the Torreses are old hats.
"This isn't my first time on the DVDs. I've done a lot of behind-the-scenes, but not like this," Dave says.
The Torreses are a natural choice for a feature on families because they are a family. Both animators, Jessica and Dave worked on The Incredibles 2. As such they have a unique perspective the inner workings of the Parr family…and the Torres family.
"The work/life balance is so hard and I struggle with it daily. It's just a reality. I don't have the answers. But, we're lucky to have the support here that we need," Jessica says. "When we're working together, if we have a later meeting in the day and only one of us can be there because one of us has to leave and pick up the kids at daycare and deal with the commute, they're okay with that."
Jessica and David have been working together for seventeen years, first at Fox and now at Pixar. They've been together for "20 or 21" according to Dave. They've worked on The Good Dinosaur, Finding Dory, and Cars 3. When they heard The Incredibles 2 was proceeding, they jumped at the opportunity to be on staff. Jessica went so far as to serve as a live action model for a scene in which Helen Parr brushes her teeth and argues with her husband. 
The Torreses would know as well as anyone the difference between a work family and a real family. David, for one, occasionally sees the similarities between the two. 
"We're a team and so, we're very tight-knit," David says. "We've been in this industry a long time, so when you first start out, you pretty much live in the studios because you take longer to do things and you're trying things. Your family are the people around you and you spend more time at work than you do at home. As we've gotten older and more experienced, obviously we're a little more efficient in our time and we have families. But, I do consider everyone part of our family and what happens to everybody is important to us."
It's one big happy Pixar family all grown up…with a building full of fire-suppressant chemicals.
The Incredibles 2 is available for digital download now and will be released on DVD on November 6. You can pre-order it here. 
Alec Bojalad is TV Editor at Den of Geek. Read more of his stuff here. Follow him at his creatively-named Twitter handle @alecbojalad
Read and download the Den of Geek NYCC 2018 Special Edition Magazine right here!