News
Nicolas Cage Horror Film Color Out of Space to Stream on Shudder
Color Out of Space, the recent Nicolas Cage-headlined H.P. Lovecraft-adapting feature, has been acquired by streamer Shudder.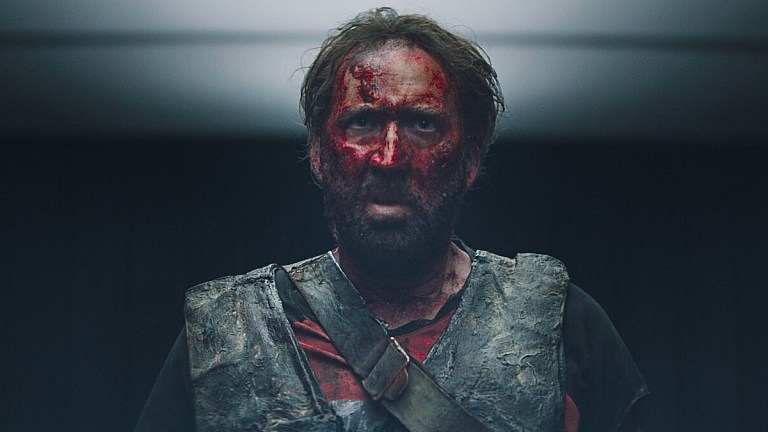 Shudder, AMC Networks' horror-genre streaming platform, continues to bolster its burgeoning lineup of original content; an endeavor that's especially prudent as the theatrical distribution pipeline continues to be halted in the wake of the COVID-19 pandemic. Indeed, its latest cinematic addition, Color Out of Space, brings a unique offering starring Nicolas Cage.
The exclusive streaming rights to director Richard Stanley's extraterrestrial outbreak film, Color Out of Space, along with Frank Sabatella's vampire-centric The Shed—each a production of RJLE Films—have been acquired by Shudder, which will make the movies available to stream in the U.S. later this year on a date to be determined.
As Shudder General Manager Craig Engler expresses of the acquisitions in a statement:
"We're thrilled to be bringing Shudder members Stanley's masterful adaptation of one of H.P. Lovecraft's most influential stories—as well as another unforgettable Nicolas Cage performance—and Sabatella's inventive new take on the vampire genre. The first half of 2020 has been the most successful in Shudder history, and these two great films will be part of an already-strong second half of the year, alongside titles like Scare Package, The Beach House, La Llorona, Scare Me and our upcoming original documentary on the history of Queer Horror."
Color Out of Space debuted at the Toronto International Film Festival back in September 2019, followed by a limited theatrical run in January 2020. While the film may fly the flag of having headliner Nicolas Cage in another wide-eyed world-wrecking performance, it bears significance as the return to feature films of director Richard Stanley, a former rising star in the industry who famously ran afoul of studio politics and movie star egos on the notorious 1996 remake of The Island of Dr. Moreau, from which he was famously fired—and replaced by John Frankenheimer—a mere few days before cameras were to roll. Indeed, the South African helmer, Stanley, was riding a steady wave of momentum kicked off by acclaimed 1990 cyberthriller Hardware, only to be abruptly halted, emerging from the experience jaded, after which he'd spend the following decades fielding documentaries and sporadic shorts.
Stanley directed Color Out of Space off an intriguingly unconventional screenplay he wrote that adapts the 1927 short story of the same name by genre-defining author H.P. Lovecraft. The story, set in Arkham, Massachusetts, follows farmer Nathan Gardner (Cage) whose idyllic agricultural existence is disrupted when a meteor lands in the front yard of his property. However, this space-sent delivery is hardly a cosmic gift, since it also brings an extraterrestrial mutant organism, which manipulates the minds of local townspeople, turning them into homicidal carriers of a vexing virulence. Thus, it's up to Nathan to repel the invasion armed with a shotgun and a goofy grimace.
Cage is joined in Color Out of Space by Joely Richardson, Madeleine Arthur, Brendan Meyer, Julian Hilliard, Elliot Knight, Josh C. Waller, Q'orianka Kilcher and, in a wonderfully random bit of casting, Tommy Chong.
Color Out of Space will be quite a comfortable fit on Shudder, which also happens to be the exclusive home of a similar contemporary campy Cage vehicle, 2018's Mandy, which, directed by Panos Cosmatos, has the star carrying out crimson-soaked—cocaine and LSD-fueled—vengeance on the demon biker gang that burned his girlfriend (Andrea Riseborough) alive, reduced to ash.