News
No Time to Die Trailer Teases Bond's Struggles in a Changing World
Daniel Craig's James Bond takes on a new kind of global threat in the latest trailer for the long-delayed No Time to Die.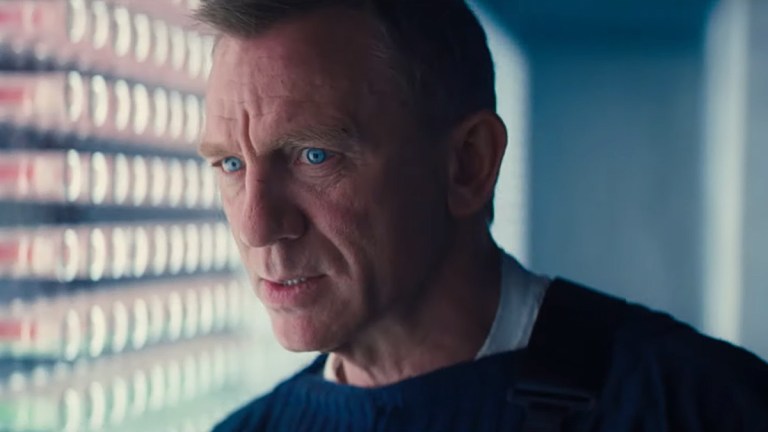 James Bond has spent nearly sixty years on the big screen consistently overcoming elaborate, seemingly-insurmountable attempts on his life from an assorted array of ostentatiously megalomaniacal madmen. However, pandemic-era delays clearly have his number, having forced No Time to Die, the franchise's long-heralded 25th official film, into over a year's worth of release date retreats, now leaving it to finally face the music in October. Interestingly, the film's new trailer seems to thematically parallel its potential box office plight, since our out-of-retirement MI6 agent seems perplexed against an invisible, intangibly-operating global threat.
Daniel Craig's long-heralded curtain call in the Bond franchise seems ever-imminent with the opening moments of the latest No Time to Die trailer, which retrospectively recalls Agent 007's earliest moments with a freshly-issued license to kill in 2006's Casino Royale before quickly chronicling the events of the three subsequent sequels, notably the ominous line from 2015's Spectre, in which Christoph Waltz's evil mastermind, Ernst Stavro Blofeld, said Bond was merely "a kite dancing in the wind." Likewise, the trailer-showcased return of an incarcerated Blofeld feels equally ominous, since he further implies that Bond's love, Madeleine Swan (Léa Seydoux), has a secret that will prove to be "the death of you."
With that set, check out the brand-new trailer for No Time to Die just below.
Perhaps summarizing Bond's status in the film, Ralph Fiennes's returning M provides a rather inauspicious briefing to the aging, freshly-reinstated MI6 agent, stating, "We used to be able to get into a room with the enemy. And now, they're just floating in the ether." Indeed, the film seems to lean into the notion of Bond's increasing helplessness in the face of a hidden ubiquitous threat; a threat personified in this film by Rami Malek's main villain, Lyutsifer Safin, an eccentric, facially-scarred scourge who brings unprecedented intelligence and an unconventional skill set to the table for this cinematic spectacle. Additionally, Safin seems to see himself through an oddly-heroic lens, through which he somehow draws direct personal parallels to Bond—apparently even when it comes to his amorous feelings for the potentially-dubious Madeleine.
However, the trailer also seems to convey the idea of Bond being an Austin Powers-esque agent frozen in time—a notion that arguably mirrors evolving cultural attitudes. This will apparently be conveyed not by his enemies, but by his newest ally, Nomi (Lashana Lynch), one of MI6's newly-minted "00" agents, who happened to inherit the 007 designation of the retired Bond. Consequently, what stands to be the central relationship complementing the film's action dynamic will focus on the recently un-retired Bond's interactions with the agency's new hotness, potentially setting up a generational struggle—even if Lynch, currently at 33, is only two years younger than Seydoux, who plays the onscreen love interest of the now-53-year-old Bond actor. Yet, the trailer also seems to tease an overall watershed moment, almost akin to the way GoldenEye felt upon its 1995 arrival, in which Pierce Brosnan's debuting version of 007 initially seemed out of place in a post-Cold-War world.
Nevertheless, despite No Time to Die being finished for the better part of two years now, studio MGM, director Cary Joji Fukunaga, along with star Daniel Craig and the rest of the cast have managed to keep a lid on spoilers. Indeed, the film was first slotted for a February 2020 release date; one that, upon the arrival and surge of the pandemic, would get kicked back several times in increasingly-longer intervals. The false starts have been frequent, even manifesting with last year's premature dropping of the film's Billie Eilish-performed theme song. However, the studio and its distributing partners have exhausted its options past the point in which it would be financially feasible to continue delaying the release.
Thusly, as the new trailer confirms, the film is forced to stick to its latest October domestic date. It's not far removed from the current Delta-variant-attributed anemia of the box office, which, tellingly, was topped this past weekend by the Candyman reboot's meager $22 million haul. Indeed, we are at a point in which last year's once-scoffed-at $363.6 million box office haul of Tenet has since become an ignominiously aspirational benchmark for much bigger movies.
The pandemic-era predicament is one that even continues to affect the mighty, money-printing Marvel Cinematic Universe. Having now eschewed the day-and-date premium streaming strategy of Black Widow, the Disney subsidiary will premiere the hyped tentpole title, Shang-Chi and the Legend of the Ten Rings, this Friday, Sept. 3, for what would normally be a booming Labor Day weekend—a release that now almost feels like a walk down the proverbial Green Mile. However, it might not be wise to discount the built-in fanbase of the James Bond franchise, which maintains a remarkable staying power that not only crosses generations, but even transcends the typically segmented genre interests of audiences. Consequently, No Time to Die has as much of a chance as any blockbuster to break box office ennui and, in the very least, take its place as the year's top hit.
It will certainly be interesting to see what kind of business No Time to Die drums up at the box office when it hits U.S. theaters on Oct. 8.