Features
No Time to Die Festival Premiere Confirms James Bond Is Not Moving Release Date
No Time to Die is now set to premiere at the Zurich Film Festival, confirming for good and all that Bond is back this fall. Really.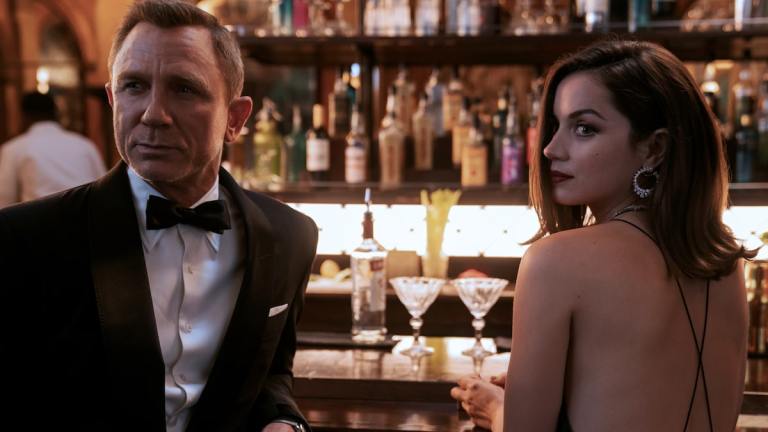 After taking their No Time to Die title to heart and moving the new 007 adventure from April 2020 to November 2020, and then to April 2021 and now back to the fall of this year, Eon Productions and MGM appear adamant: the 25th James Bond movie will be coming out this year, meeting its September and October release dates. And now, No Time to Die has added a film festival premiere to prove it.
MGM confirmed as much Friday when it announced No Time to Die will have its Swiss premiere at the Zurich Film Festival on Sept. 28, the same day as its UK premiere at the Royal Albert Hall, which is two days ahead of the movie's slated UK opening on Sept. 30. This also signals the film will not be budging from its U.S. release date of Oct. 8. Bond is back, despite what many in the industry have speculated (and perhaps many more fans have feared).
This follows in the footsteps of Eon and MGM previously insisting at this month's CinemaCon that No Time to Die would meet its theatrical obligations. Indeed, they apparently brought nine minutes of spectacular Bond footage to assuage concerned theater owners and exhibitors about their commitment. Nonetheless, some fans remained skeptical, not least because of the resurgence of COVID-19 thanks to the Delta variant. Former Eon Partner Sony Pictures even appeared to bank on another 007 delay when they moved Venom: Let There Be Carnage to Oct. 15, one week after Bond's opening weekend. Perhaps this is another reason rumors abound that Venom 2 is about to be delayed again to January 2022.
Still, Eon's determination to release No Time to Die in the early autumn of this year makes a certain amount of sense, and not just because longtime fans are desperate to see Daniel Craig's final outing in the tuxedo. Rather it is the lack of interest from younger potential fans that's possibly giving producers pause.
No Time to Die was of course the first major blockbuster to move as the breadth of the coronavirus pandemic was only beginning to be understood in March of last year. Before even Universal delayed F9 by 12 months, Eon had already pushed Bond back to November 2020, which would've made the gap between Craig's last two Bond movies a full five years. Of course that proved to still be too close to COVID's reach. So now No Time to Die is opening six years after 2015's Spectre.
For context, there's only been one comparable gap between Bond films in the franchise's entire history: the time between License to Kill (1989) and GoldenEye (1995). The absence of 007 was so long in that period of time that many industry watchers thought the character had lost his relevancy, particularly with the Soviet Union and Cold War collapsing in the interim. Timothy Dalton, who starred in License, certainly felt the gap was too long to sustain his status as 007; he chose to bow out of GoldenEye, which had the unenviable task of reintroducing 007 to a new post-Cold War world and with a new face in Pierce Brosnan. One of the many reasons that film is remembered so fondly is it proved the skeptics wrong.
Now six years between Bond films has elapsed again, and while diehard fans remain faithful, entire younger generations of potential audience members have come of moviegoing age without seeing a Bond movie in theaters. I can attest that as an eight-year-old in '95, my point of reference for James Bond before GoldenEye commercials was the cartoon James Bond Jr. Conversely, modern teenage and child moviegoers who dominate blockbuster audiences have been reared to expect a new Marvel Studios movie every three or four months—four of them will release in the back half of 2021 alone! Meanwhile it's likely many current 16-year-olds today were too young to even be allowed in the theater for Spectre.
Delaying Bond again, and possibly widening the gap to seven years, risks the character's visibility and popularity aging up and fading away, especially since there will likely be another decent chunk of time after No Time to Die's release before the next 007 movie premieres—and that one will have to recreate the character from the ground up after Craig's departure and record-breaking 15-year tenure.
Of course there remains the menace of Delta. Even before this latest variant began dominating headlines, Marvel's Black Widow set a muted pandemic box office record of $80 million in July. This is a far cry from the numbers posted by, say, an Avengers movie, but it was in the ballpark of a 007 movie. 2015's Spectre opened to $70 million, which was behind the franchise record of $88 million for 2012's Skyfall. Granted, those numbers were posted pre-pandemic, and pre-Delta too, but Black Widow also had to compete against itself on Disney+'s Premier Access (and thereby all the instantaneous pirating that invites). By contrast, No Time to Die will be playing only in theaters and around the world for more than a week ahead of its U.S. premiere.
When more than two-thirds of 007's box office is made from international numbers, there is a reason for Eon and MGM to be wary of relying too heavily on U.S. numbers. And if Delta really stands poised to make winter and spring 2022 as desperate a time or theaters as pre-vaccinated early 2021, it's better to get Bond out now and remind everyone—including those who don't already know—that nobody does it better.