News
New Spider-Man: No Way Home Footage Reveals a World Without Peter Parker
When Spider-Man: No Way Home returns to theaters, we will feel the full effects of Doctor Strange's spell.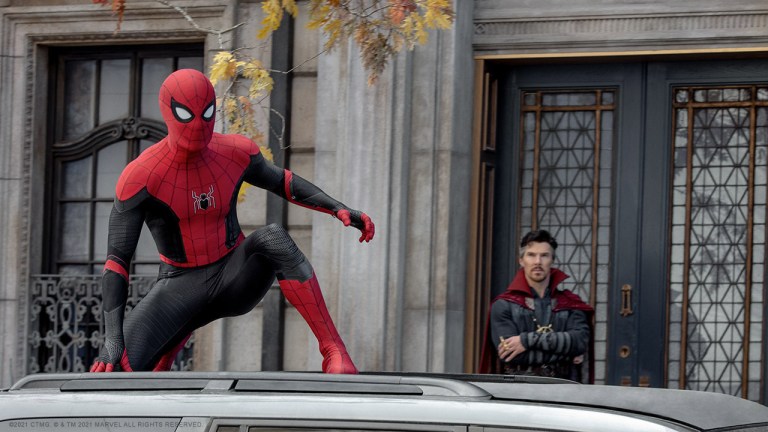 This post contains spoilers for Spider-Man: No Way Home: The More Fun Stuff Version
For its detractors, Spider-Man: No Way Home is less a movie and more two hours of fan service. These viewers argued that cameos from Alfred Molina as Doctor Octopus, Willem Dafoe as Green Goblin, and Tobey Maguire and Andrew Garfield as alternate reality Spider-Men drove the narrative to the detriment of the actual story. It's safe to say that these critics probably won't be shelling out the cash to see Spider-Man: No Way Home: The More Fun Stuff Version when it comes to theaters this weekend. But if they did, they'd get a better look at the film's stakes.
According to leaks released by Instagram user Marvel Movies (via Comicbook), one of the added scenes shows Betty Brant, the young reporter played by Angourie Rice, completing her last report for Midtown Academy's in-school program. As she signs off, the camera shows a picture from her school trip to Europe, as shown in Spider-Man: Far From Home. In the photograph, we see members of the franchise's supporting cast, including Peter's best friend Ned Leeds and his girlfriend MJ. But notably absent is the most important student, Peter Parker.
The picture shows us the far-reaching effects of the spell cast by Doctor Strange. When Strange magically made the world forget about Peter Parker, he didn't just erase the boy from memory. He also deleted him from photographs, removing all evidence that he had even existed.
The scene is part of 11 minutes of previously unreleased footage added to the hit film, and, honestly, it's kind of a bummer. Given the fact that Marvel has dubbed the extended cut The More Fun Stuff Version, viewers can probably expect the other new scenes to be, you know, fun. The addition of Matt Murdock to the movie's poster has led many to believe that Charlie Cox will have more than one scene in this version. That inclusion tracks with Murdock's increased visibility in the MCU, as he'll appear in She-Hulk: Attorney at Law and Echo, before getting a new and reimagined season of his solo series with Daredevil: Born Again.
But the safest bet is that the extended footage will have much more of the three Peters Parker palling around, which was the most fun part of the original cut (unless you're one of the aforementioned critics. Behind-the-scenes documentaries have featured the trio being silly together, even doing the obligatory recreation of an infamous Spider-Meme. Chances are that we won't get more heavy scenes with the dimension-hopping Spiders, which will certainly be disappointing for those hoping to see the domestic bliss Peter Two (Maguire) enjoys with Mary Jane or Peter Three (Garfield) in an emotionally stable place.
While it's clear that Marvel and Sony have chosen to re-release No Way Home for the most basic of reasons (money), it does come at an interesting time for Tom Holland's Spider-Man. Though early reports confirmed that the two studios plan to work together on more MCU Spidey movies, Kevin Feige did not mention the character when revealing plans for Phases Five and Six. At the same time, Sony seems determined to make their own Spider-Man universe, undeterred by disasters such as the Morbius re-release. So while The More Fun Version likely won't win over anyone who disliked No Way Home, fans will just be grateful for more Spidey on the big screen.
Spider-Man: No Way Home: The More Fun Version releases September 2.