News
New DC Animated Movies in Development
The rest of DC's 2021 animated feature slate was announced, and it's keeping the Justice Society of America hype rolling.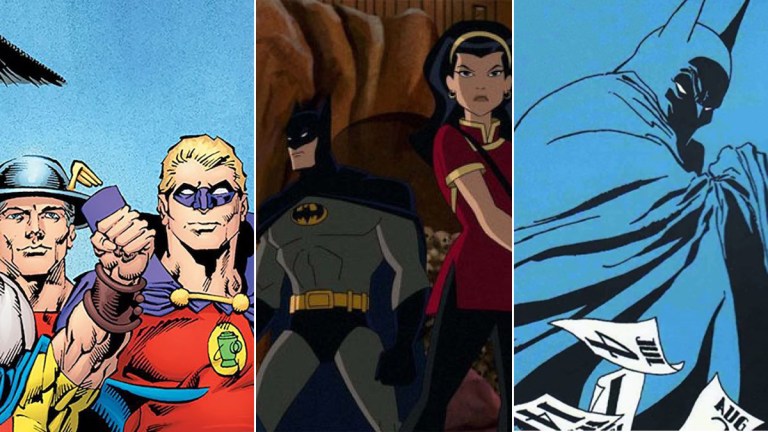 Announced at a panel adjacent to DC's Fandome over the weekend, the rest of the slate of DC animated features for 2021 includes a couple of very interesting choices.
The first film due out is Batman: Soul of the Dragon, a '70s kung fu movie but with Batman. It stars Grimm star David Giuntoli as Batman; Chairman Kaga's nephew Mark Dacascos as DC apex martial artist Richard Dragon; Kelly Hu as Lady Shiva; James Hong as O-Sensei; and Black Dynamite himself, Michael Jai White, returning to the Bronze Tiger role he played in the Arrowverse. It's an original story about Batman and former classmate martial artists tackling a mystery from their shared past.
Following that is another original story: Justice Society: World War II. Matt Bomer, the host of an IGN panel on the next movie, Superman: Man of Tomorrow, hinted that he may be part of the voice cast. There were no other details about the story released, but there is no end of source material it could draw from – from the original comics published during the war, through James Robinson and Paul Smith's The Golden Age, to the many flashbacks in Starman or Robinson, David Goyer, and Geoff Johns' JSA, all the way up to now with the Injustice comics dipping back to the war.
Closing out the year will be a two part movie based on an extremely popular comic: Batman: The Long Halloween. The story, by accused bigot Jeph Loeb and talented artist Tim Sale, looks at a series of holiday themed murders occurring in the early days of Batman's career. It serves as an origin of sorts for Two-Face, and manages to work Calendar Man into a story without making it ridiculous.
Sale's art is stunning, and the book was one of the earliest examples of what became Loeb's traditional style of "letting artists draw all the popular characters for a universe, then cashing a massive check." The book includes iconic visual representations of Poison Ivy, Catwoman, the Joker, Scarecrow, Solomon Grundy and others. It has also been speculated that The Long Halloween is one of Matt Reeves' influences when making The Batman.
Batman: The Long Halloween will be split into two parts, with the first released in the summer of 2021, and the finale released later that fall. We'll keep you updated with official release dates as they become available.