News
Injustice: Year Zero Brings the Justice Society to DC Alternate Universe
We're about to get a look at the history of the world of the hit DC fighting game, from the creators who made that world so rich in the first place with Injustice: Year Zero.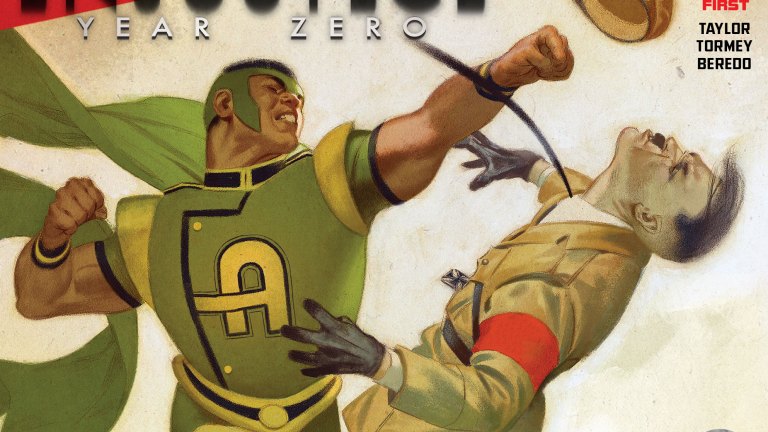 Injustice: Gods Among Us was a bit of a surprise hit video game – a successful fighting game with an engaging story from the people who gave the world the S-Tier cartoonish gore of the Mortal Kombat franchise. It was then turned into an even bigger surprise: a creatively and financially successful tie-in comic that massively expanded the universe of the game, telling the story of the five years preceding the game and bringing in multiple Lantern corps, magic users, and gods from DC's mythical universe. DC has decided to follow up on that popularity with another expansion.
Injustice: Year Zero is a digital first book from the team that nailed the original series: Tom Taylor writing, with Rogê Antônio, Cian Tormey, Rain Beredo and Wes Abbott on art. The first three chapters are available now on Comixology. The series also has cover art from Eisner-nominated Julian Totino Tedesco.
The book goes back to the World War II of the Injustice parallel Earth, as the League discovers their predecessors in the Justice Society, and how they fought covertly during the War to take down a fascist monster. In the story, the Joker finds a way to mind control the heroes and tries to take them down from the inside.
The cover for chapter 4 has a character who is not from the JSA, however.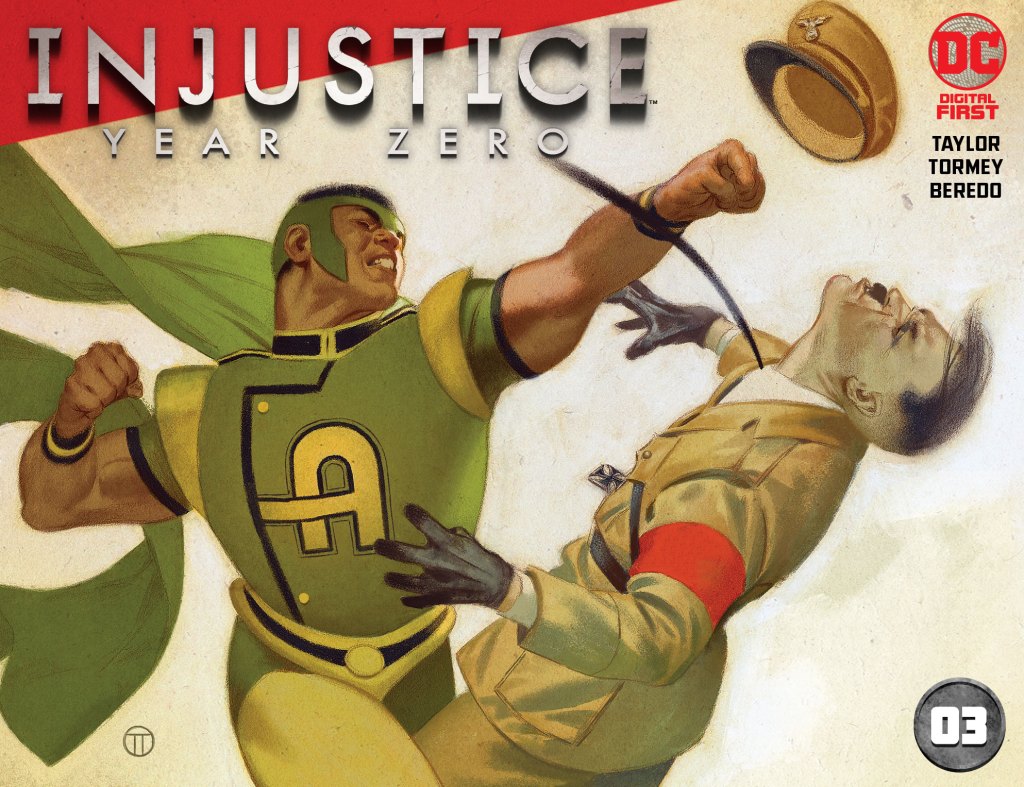 That is Amazing Man, created by Jerry Ordway and Roy Thomas and retconned into the golden age All-Star Squadron in the early 1980s. He was Jesse Owens with the powers of the Absorbing Man – a Black Olympic athlete from the 1930s who gained the power to absorb the properties of whatever he touched. He joined the Squadron during the war and stayed until J. Edgar Hoover outed him during the Red Scare, putting his family in danger.
This won't be Taylor's first brush with the JSA, nor his first book that (we expect) explicitly tackles the subject of superheroic legacies. He wrote a good chunk of the New 52 Earth 2 title, working with Alan Scott, Jay Garrick and others as they battled an invasion from Apokalips. He also wrote the critically acclaimed All-New Wolverine at Marvel, a book explicitly about legacy, responsibility, and heroism (to be fair, this has been a recurring theme of his work, in Injustice, Friendly Neighborhood Spider-Man, even in DCeased). This is a roundabout way of saying: the first three chapters are available now on ComiXology and other digital platforms.
For more on Injustice: Year Zero, stick with Den of Geek!