Netflix's Extraction Ending Explained
Extraction director Sam Hargrave digs into the enigmatic ending of his Chris Hemsworth action thriller.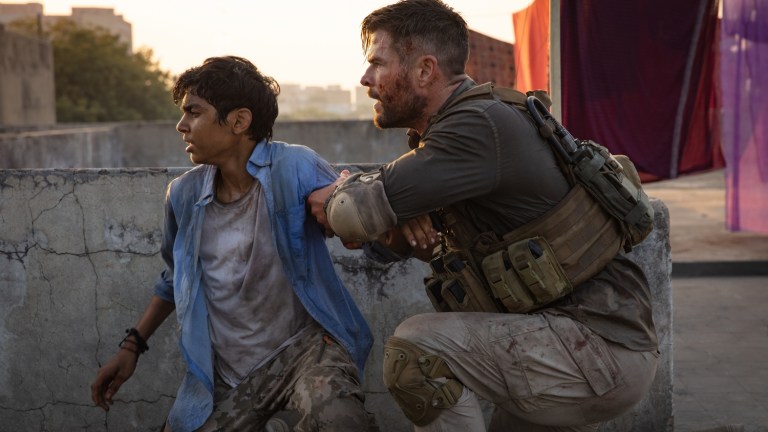 This article contains major spoilers for the ending of Extraction.
In the new Netflix movie Extraction, a lethal black market mercenary named Tyler Rake (Chris Hemsworth) goes on a deadly mission to Dhaka, Bangladesh to rescue the teenage son of an imprisoned crime lord from the clutches of an even more ruthless rival. Rake is haunted by memories of his own young son, who died of leukemia while Rake was away on a mission in Afghanistan. With nothing left to lose, Rake gradually sees the mission as a path back to humanity and redemption.
As the movie reaches its climax, Rake must get young Ovi (Rudhraksh Jaiswal) across one last bridge out of Dhaka and into the arms of Rake's team, who will transport Ovi back to his home. Complicating matters is Saju (Randeep Hooda), the right-hand man of Ovi's father, who ostensibly hired Rake's team but has been undermining and even ambushing them every step of the way so he can take back the boy himself and save his own family, who his boss has threatened.
In the end, Rake and Saju team up to get Ovi across the bridge, connecting through their shared desire to protect the young boy and their fatherly impulses. The Dhaka military, controlled by the crime lord Amir Asif (Priyanshu Painyuli), is guarding the bridge. While Rake creates a distraction, Saju manages to sneak himself and the boy onto it — until they are discovered and Saju is shot dead by the military after a valiant battle.
That leaves it up to Rake to get Ovi across to his team leader Nik Khan (Golshifteh Farahani), but even as he gets the boy to safety, Rake is first badly wounded by the leader of the military and then given the seemingly fatal shot by a vengeful street youth (Suraj Rikame) who is loyal to Asif and was defeated by Rake in an earlier fight.
As Ovi and Khan watch in horror, a profusely bleeding Rake perches on the bridge railing and — seeing a vision of his little son dancing on a beach — plunges backwards hundreds of feet into the water, mirroring an introductory scene in which we saw a drunken Rake jump recklessly from a cliff into a waiting pool. This time, however, he does not surface.
Eight months later, two things happen: as Ovi swims in his school swimming pool, we cut to a restaurant where a disguised Nik Khan approaches Asif in the restroom and ruthlessly dispatches him with several bullets to the head. Meanwhile, Ovi surfaces from the pool and glances to his right — where a blurry figure who could be Tyler Rake watches him from the deck.
Is it Rake? Did he somehow survive and if so, has he come back to see the boy with whom he has now formed an emotional bond? Was his fate left deliberately ambiguous and could there be more missions in Tyler Rake's future?
"We did end up going with the ambiguous ending," says director Sam Hargrave. "We found in the testing of the movie, and back and forth between us as filmmakers, that there was kind of a split down the middle of those who wanted Tyler Rake to live and those who thought his story was completed with his sacrifice for Ovi. So we devised this idea of an ending that kind of serviced both camps."
Hargrave continues, "If you watched the movie and your experience was that you love Tyler Rake, he's a great character and you want to see more of him — and you think he deserves to live — then hopefully you project onto that final image that it's Tyler Rake and he's alive. If you watch the movie and you think, 'You know what? I love Tyler, but I think his story is complete with him giving his life for this kid,' then you might be able to project onto that final image that it's not Tyler Rake. The beauty of that ambiguous ending is both are right and hopefully both camps enjoy it."
As for the possibility of Rake returning for another film, Hargrave hints, "I'm not going to give too much away, but there definitely were, during production and post-production, discussions of other stories that could come out of this world and with these characters. Further movies have definitely been discussed, so there's definitely some potential there."
Extraction is available on Netflix now.