News
Namor Easter Egg in Avengers: Endgame Confirmed
It seems Marvel Studios does have a plan to introduce Namor, the Sub-Mariner…someday.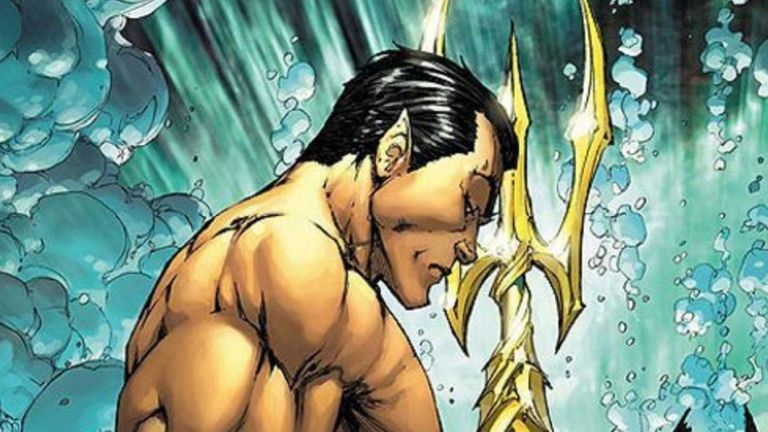 For the past 20-plus years, ever since Blade and the first X-Men film opened the floodgates for superhero movies, some of Marvel Comics' most iconic characters have found their way to the big screen. Spider-Man, the X-Men, Captain America, the Fantastic Four, Iron Man, Thor, Captain Marvel…but the very first Marvel superhero has yet to make his cinematic debut.
That character is Namor, the Sub-Mariner. Created by writer and artist Bill Everett, Namor debuted in Marvel Comics #1 in October 1939, the first publication of Marvel forerunner Timely Comics. Namor was the child of a princess of Atlantis and a human sea captain, eventually becoming king of Atlantis. He was the first comic book anti-hero, starting off as an enemy of America and the human race and eventually becoming a reluctant ally to the Avengers, the X-Men, the Defenders and many more Marvel heroes.
Essentially Marvel's version of Aquaman (who came on the scene later, in 1941), Namor was not a superhero from the start even though he had superpowers, and his relationship with the surface world has always been a complicated one. But he's still around in the comics, a testament to his enduring appeal and complex, charismatic personality.
So is there a plan for Namor to eventually make his way into the Marvel Cinematic Universe, an honor he clearly deserves for his history and place in the canon? During a social media live watch of Avengers: Endgame on Monday (April 27), which Endgame writers Stephen McFeely and Christopher Markus participated in through ComicBook, a fan asked if a certain, rather enigmatic reference in the movie was a hint at the existence of Namor and Atlantis in the MCU.
Early on, when the various remaining members of the Avengers are reporting to Black Widow (Scarlett Johansson) from around the world, Natasha questions Wakanda's Okoye (Danai Gurira) about a series of tremors detected under the Pacific Ocean, asking, "So how are we handling it?" Okoye replies, "An earthquake under the ocean, we handle it by not handling it."
Asked if that was a direct reference to Namor and his hidden undersea kingdom, Markus responded, "Sometimes, you plant seeds. Sometimes, they grow."
Will that particular seed ever sprout into a movie about Namor or even just his eventual introduction through another character's movie into the MCU? It's difficult to say at this point, since Marvel itself has not announced anything official about the character — although that of course could change at any time.
The film rights to Namor have been in a murky, strange place for a while. A film version of the character was in development as early as 1997, with Universal Pictures holding the rights for much of the past 20 years or so. The studio had a movie in development as late as 2006, but then it went quiet and little was heard until May 2014, when it revealed that the rights to Namor had reverted back to Marvel Studios.
Marvel CEO Kevin Feige confirmed a few months later that the studio had gotten the character back, but alluded to certain contracts and deals from its earlier era of development that needed to be sorted out before the character could come to the screen.
Gauging how aggressively Marvel (through its corporate parent Disney) has moved in recent years to gain back the vast trove of characters owned by Fox and at least strike a deal with Sony to let Spider-Man play in the MCU, it would seem like a relatively simple matter to bring the Sub-Mariner home as well. And even though Warner Bros. and DC managed to get their Aquaman movie out first, the billion-dollar success of that blockbuster provd that audiences wouldn't laugh at a superhero who's part fish.
Now that the original Atlantean is back under the Marvel roof, that line of dialogue from Endgame could either be prophetic or just a tease meant to drive diehard fans nuts. In the end, we've love to see Namor go toe-to-toe with the next lineup of Avengers, the Wakandans, the X-Men…just about anyone in the MCU in fact. What about you?