Features
Michael Curtiz's Best Movies Ranked
From The Adventures of Robin Hood to Casablanca, and with White Christmas and wiseguys in-between, Michael Curtiz was a pioneer and master of every film genre.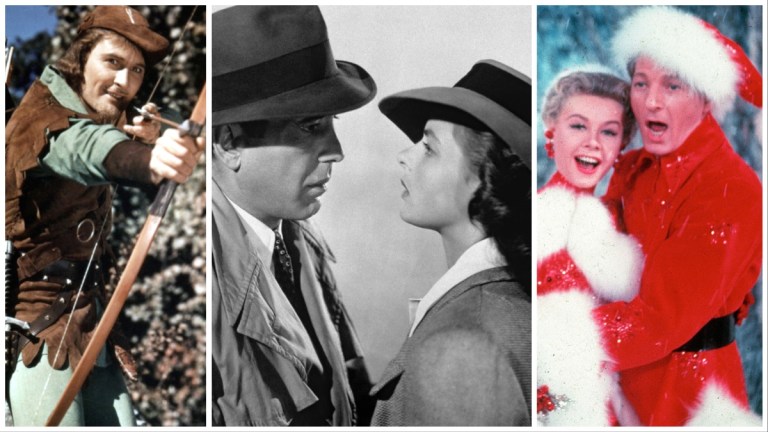 Tyrannical and brilliant, director Michael Curtiz created film legends out of mere stars, and turned movies into myth. Here are some of his greatest films.
When movie enthusiasts think of legendary director Michael Curtiz, the first thing that pops into their mind is Casablanca (1942), consistently named to, and occasionally topping, lists of the greatest films of all time. Although if we're being honest, most people think of it as a Humphrey Bogart movie. The same could be said of Yankee Doodle Dandy (1942) and The Adventures of Robin Hood (1938). These are known for their stars, James Cagney, and Errol Flynn, the latter of whom Curtiz put on the map with Captain Blood (1935). In the director's hands, actors and characters merged into a mythology which exceeded mere signature roles, becoming universal symbols.
Curtiz worked in the motion picture business from its infancy, but began in the theater, graduating Budapest's Royal Academy of Theater and Art in 1906. According to Alan K. Rode's Michael Curtiz: A Life in Film, Curtiz virtually invented Hungary's film industry. His feature film debut came in 1912 with Ma és holnap (Today and Tomorrow). By 1916, he was the country's most important director. He emigrated to Vienna in 1919, making such films as Sodom und Gomorrha (1922). He came to Hollywood in 1926 on an invitation by Jack Warner.
Curtiz churned films out quickly for Warner Bros. The first spark of auteurism in American cinema can be seen in Curtiz's gangster film The Strange Love of Molly Louvain (1932) and his horror mystery Doctor X (1932). Curtiz is also notable for causing the end of motion picture horse torture. But he is the villain in that story. According to David Niven's biography Bring On The Empty Horses, after 25 horses were killed in the making of The Charge of the Light Brigade (1936), Errol Flynn reported industry-wide maltreatment of horses to the Humane Society.
Here are the top American movies from Michael Curtiz.
12. The Sea Hawk (1940)
"Aloft there. Clear your leash line. Slack away your true lines! Off we go. Over the sea." One of Curtiz's last collaborations with Errol Flynn, The Sea Hawk is the definitive 1940s pirate movie, starring the pinnacle of swashbucklers in his second time at the wheel. Flynn plays Captain Geoffrey Thorpe, a privateer loosely based on Francis Drake. Queen Elizabeth I (Flora Robson) names Thorpe skipper of the Albatross, and ships him off to scuttle the Spanish armada. Flynn was in since playing Robin Hood, leading to bigger-budgeted films. Curtiz doesn't waste a penny, Everything you want in a buccaneer tale is here, from raging seas to boarding ships. The naval battles are epic. The sword fights are spectacular. The music is adventurous. The romantic waters are treacherous.
Thorpe sinks the ship carrying Spanish Ambassador Don José Álvarez de Córdoba (Claude Rains), and is captivated by his niece, Doña María (Brenda Marshall). Torn between love, duty, and a pirate's booty, the seafarer must choose loyalties. And a big "ahoy matey" to Sol Polito's cinematography, which keeps the action going when the story gets caught in still waters.
11. White Christmas (1954)
White Christmas was originally intended to reunite Bing Crosby and Fred Astaire after their hit pairing in Holiday Inn (1942), which yielded an Oscar for Best Original Song with Irving Berlin's future Yuletide standard, "White Christmas." Astaire read the screenplay for the song's new title film and asked to be relieved from his contract at Paramount.
Instead Crosby's ex-G.I. and former Broadway star Captain Bob Wallace teams with Danny Kaye's Private Phil Davis (Danny Kaye) and recruits choreographed-singing sister act Betty (Rosemary Clooney) and Judy Haynes (Vera-Ellen) for reconnaissance. The best things happen when they're dancing. Bob Fosse is an uncredited choreographer, and one of the featured dancers is George Chakiris. White Christmas is an old-school, studio system, holiday treat wrapped in the most cutting-edge technology to be had at the time. It was the first movie released in the widescreen VistaVision. At the time it came out, it was the highest-grossing musical film ever.
10. Mission to Moscow (1943)
Mission to Moscow is more historic than classic, and more known for its controversy than any performance. It is the first pro-Soviet film made by a major studio during World War II. It may be the most representational propaganda film of the era, even as it expanded on the wartime genre. Personally requested by President Franklin D. Roosevelt as a reminder that the U.S. and Russians were allies, the screenplay was fashioned to the Office of War Information's instruction to promote the idea of a "United Nations." The Republican National Committee called it "New Deal propaganda."
Based on a book by former U.S. ambassador Joseph E. Davies, played in the movie by Walter Huston, Mission to Moscow gives Joseph Stalin the true Hollywood treatment, glossing over major transgressions, rationalizing the invasion of Finland, and downplaying the Nazi-Soviet Molotov–Ribbentrop Pact. The film would reenter the political debate during The House Committee on Un-American Activities (HUAC), who saw it as pro-Soviet propaganda. Jack Warner couldn't disown it fast enough in congressional hearings.
9. Doctor X (1932)
Curtiz was a pioneer in every genre. His earliest American creature feature, Dr. X, is the first horror film shot in color. It was one of the last films produced in two-color Technicolor (the other being his 1933 genre follow-up, Mystery of the Wax Museum), and prompted a short-lived color revival in the industry. The process isn't the only groundbreaking aspect of the film. Based on the 1931 play The Terror by Howard W. Comstock and Allen C. Miller, depictions or implications of sexual assault, cannibalism, and prostitution squeaked by before the Motion Picture Production Code was enforced.
Dr. X was a big enough hit, so the studio tried to capitalize on it with The Return of Doctor X (1939), which is not a sequel. It is mainly noteworthy as Bogart's only role in a horror film, and he was assigned to it as punishment. This in no way diminishes the original film's impact and influence on film. Richard O'Brien proudly references it during the opening couplet of the opening song in the stage play adapted as The Rocky Horror Picture Show.
8. The Sea Wolf (1941)
The Sea Wolf is a brutal adaptation of Jack London's 1904 novel. Edward G. Robinson's Captain Wolf Larsen is a dark tour de force. He is a sadistic psychopath, prone to the blind rages of tyrannical fury, and Curtiz allows Robinson to turn him into the living embodiment of fascistic domination.
The animalistic skipper is very well read, can quote history's greatest minds, and charts his course on the winds of sinister navigations. The Ghost is a seal-hunting ship, its newest passengers are pelts. Ida Lupino bristles under her own duplicity as escaped convict Ruth Webster gets caught in her own fake persona. Alexander Knox's writer Humphrey Van Weyden shows the pen is only mightier than the sword when you can stick it in someone's eye. John Garfield brings pitch-perfect muted desperation to his rebellious George Leach. He's a hunted criminal, a fugitive from the law, and graduates to failed mutineer on a ship more treacherous than the shark-filled waters that claim the crew's cook. The most frightening character of the film is off-screen, forever on the horizon in the captain's mind: his brother, Captain Death Larson.
7. King Creole (1958)
Elvis Presley consistently claimed his favorite role was Danny Fisher in King Creole. It was written for James Dean, an acting idol to the singer, and garnished Presley his best acting reviews. It was also the last image of the rock and roll icon before the Army, and he only had to tame his sideburns to play it. Elvis was granted a 60-day deferment from service, but the shoot afforded him more than basic training. He was ordered to lose 15 pounds for the part, and had to climb over the roofs of two houses to avoid his crowds of fans to get on set.
Curtiz filmed in black and white, giving the jukebox musical a film noir sheen. The New Orleans setting is well-suited for the mix of Dixieland and rock and roll, which put the soundtrack on the Billboard singles and R&B charts, and the film in the top five at the box office. Presley and Walter Matthau get to mix it up on the screen, and 600 teenagers rioted at the opening in Américas Cinema in Mexico City.
6. Captain Blood (1935)
"It's the world against us, and us against the world," the terror of the Caribbean proclaims as he introduces the pirates' code to his first recruits. "Those of you in favor of these articles, raise your hand and say aye." Who could say nay? Captain Peter Blood is at the wheel, and Errol Flynn is in full command. The Australian actor had a British B-picture and a small role in a Perry Mason movie to his name when Warner Bros. steered him into a buccaneer's vessel, and he sailed away a major Hollywood star.
Based on the 1922 novel by Rafael Sabatini, Captain Blood marks the first pairing between Flynn and Olivia de Havilland. The latter plays Arabella Bishop, a woman who buys the condemned Dr. Blood at a slave auction. Both were relatively unknown contract bit players when cast, and transformed into one of the most renowned film couplings upon the film's projection. This was also Flynn's first teaming with Basil Rathbone, who plays the French buccaneer Captain Levasseu. Captain Blood's musical accompaniment, by Austrian composer Erich Wolfgang Korngold, was the first fully symphonic film score. The result is still the definitive pirate movie.
5. Mildred Pierce (1945)
Novelist James M. Cain supplied motion pictures with some of the great noir classics, with Mildred Pierce perched in the upper tier. The film marked Joan Crawford's first starring role for Warner Bros. after 18 years at Metro-Goldwyn-Mayer. Curtiz initially didn't want her for the title role, making her submit to a screen test to play it. She won the Academy Award for Best Actress for her troubles.
Crawford's scenes with Ann Blyth's malevolent and spoiled Veda bristle with dangerous energy, whether under the harsh glare of a staircase battleground or the ever-encroaching shadows which give the film its magnetic pull. Butterfly McQueen plays Lottie, the hired help, whose wit and wisdom steal almost every scene she is in. At its heart, Mildred Pierce is a murder mystery, though the Depression era-set novel had no homicide, exploring the psychological depths of an unmarried working mother's ambitions, and how she uses men to attain them. For all she suffers to give her children a better life, Mildred raises a monster daughter who will always get by.
4. Yankee Doodle Dandy (1942)
For all the mobsters, tough guys, and downright sociopaths James Cagney played onscreen, he always considered himself a song and dance man. George M. Cohan, a theater icon nicknamed "The Man Who Owned Broadway," originally wanted Fred Astaire to portray him in a big musical biopic. Cagney personally disliked Cohan since he sided with producers during the Actors' Equity Strike in 1919. But when Cagney was named as a member of the Los Angeles Communist Party to the House Committee on Un-American Activities, his brother William Cagney said "we're going to have to make the goddamndest patriotic picture that's ever been made. I think it's the Cohan story." When Cohan was asked about the actor's performance in Yankee Doodle Dandy, he said "My God, what an act to follow."
Cagney started as a dancer and did an amazing interpretation of Cohan's individual style. Other parts of the movie were not quite as authentic. The chronology is Hollywood-ized, Cohan's two wives were merged into a single character, Mary; the apology for the dramatic flop, Popularity, didn't coincide with the sinking of the Lusitania, and this titular "Yankee Doodle Dandy," who claimed to be born on the Fourth of July, was actually born on July 3.
Yankee Doodle Dandy was nominated for eight Academy Awards (including Best Actor in a Supporting Role for Walter Huston's Jerry Cohan, Best Writer, Best Director, and Best Picture) and won three, including Cagney's only Oscar for Best Actor in a Leading Role. Cagney reprised the role for The Seven Little Foys (1955), starring Bob Hope, and the film is played every year on Independence Day.
3. Angels With Dirty Faces (1938)
Angels With Dirty Faces has everything a Warner Bros. gangster movie fan could possibly want: mobsters and youth gangs; shootouts and electric chairs; Cagney and Bogart as allies and adversaries; Pat O'Brien as the childhood friend who ran faster but turned crusading priest; the oomph of Ann Sheridan; and the antics of The Dead End Kids.
Curtiz's direction even allows for spontaneous reality in performances. That smack Cagney's Rocky Sullivan lays on Bim during the intricately choreographed basketball match scene was a real foul, but Cagney was punishing Leo Gorcey for ad-libbing a joke and blowing the timing. You have to admit, the younger actor's reaction goes beyond performance. Cagney also dodged a major bullet, changing the blocking of Rocky's shootout scene to get out of the way of the ultimate ricochet of the professional machine gunner's bullet. It would have gone through his skull.
Rocky's execution was shot at the Sing Sing Correctional Facility. Cagney initially didn't want to be seen as a coward dragged to the chair but then became excited to bring the ambiguity to the character. His childhood friend, Peter "Bootah" Hessling, was executed by electric chair on July 21, 1927. Cagney also based his stance on a character in his old neighborhood, a drug-addicted pimp whose repetitious "Whadda ya hear! Whadda ya say!" gave Tony Sirico the basis of his entire Paulie Walnuts character on The Sopranos.
2. The Adventures of Robin Hood (1938)
The Adventures of Robin Hood is not only the definitive swashbuckling adventure/romance, but the perfect Robin Hood story. Errol Flynn gives as good as he gets, and everyone is richer for it. He not only crosses swords with the best of them, he speaks fluent treason. When the project began, Robin could have been more hoodlum than Hood, and his gang of merry men might be as notorious as the Sherwood Forest mob. Robin's tights were originally fitted for James Cagney. He walked out on his Warner Bros. contract, and left the gate open for a new thief to scale.
Flynn is the very embodiment of Robin Hood. The athletic actor performed most of his own stunts, dodged arrows shot by a professional archer, and crashed the royal banquet to ensure honest meat is served. As naturally good-humored as a bear hug, Alan Hale, Sr., is equally definitive as Little John. He'd played the character in the 1922 version starring Douglas Fairbanks, and would go on to tackle the role in Columbia Pictures' Rogues of Sherwood Forest (1950). The self-proclaimed King John is played with assured haughty confidence by Claude Rains, who would star in 10 Curtiz movies over his career.
"Welcome to Sherwood, m'lady," Robin greets Maid Marian, played by Olivia de Havilland. Her work with Flynn is among the greatest star pairings on the silver screen, but the romance between Robin and Maid Marian is their defining pinnacle. It is captured in glorious Technicolor, as Warners' first movie to use the three-strip process. The Adventures of Robin Hood was the most expensive film the studio made up to that time, costing about $2 million. It is worth every penny, if only to hear Bugs Bunny proclaim, in Rabbit Hood (1949): "It couldn't be him!"
1. Casablanca (1942)
Casablanca is not only a perfect film, often regarded as the best Hollywood has ever offered, but it can top any genre. It is certainly an action/adventure movie, and one of the best. It is as patriotic as it is subversive. It hits all the beats of a war film or espionage caper, and it is one of the top thrillers. Even the actors playing the characters were clueless to what was to come. The screenplay was a work in progress, and the missing details led to exquisitely ambiguous performances.
The film has an undeniably romantic heart, even if that is Inspector Renault's (Claude Rains) least vulnerable spot. It is a love story for the ages, and a noble one. Rick and Ilsa, played by Humphrey Bogart and Ingrid Bergman, are recognized as iconic celluloid lovers. Casablanca is also funny, packed with one-liners, double takes, and innuendoes written by Julius and Philip Epstein, and physical comedy from the performers. The film, considered a factory knockout job at the time it was made, hits every mark in every niche squarely, and still has time to rouse emotions in a rebellious singalong.
Then there's the acting: never overdone, always underplayed, often non-verbal. When a drunken Rick answers an unasked question while dousing his old flame in gin, it stands out as something larger than performance. When Inspector Renault accepts his winnings after demanding Rick's Café be closed for gambling, Rick gives a wordless punchline, right in the nose of the croupier. The only blemish in the film is singer Dooley Wilson, playing along as the pianist Sam. He looks like he's swinging at the ivories in a pair of catcher's mitts, and missing every foul. (His vocal recording of "As Time Goes By" nonetheless became a standard.) Other than that, but also because of it, Casablanca is flawless. Everybody wants to go to Rick's, just not for the waters. Don't be misinformed.