Features
Scarface: George Raft Brought Real Mob Ties to Original Movie
The Godfather isn't the only movie with real mob connections. Scarface co-star George Raft had real street cred long before Tony Montana and his little friend.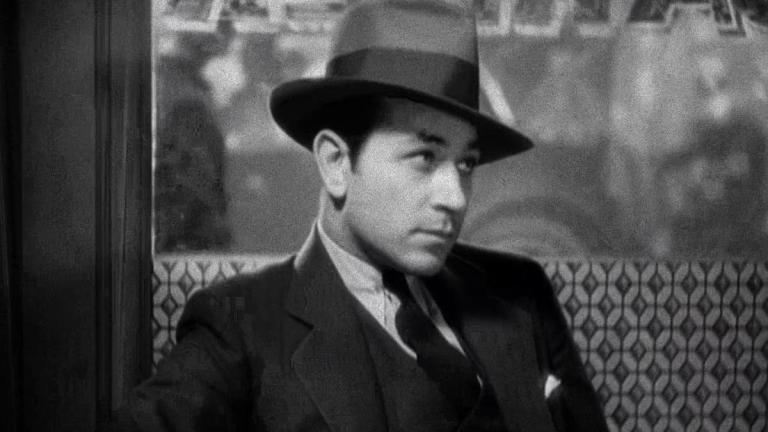 Gangster icons aren't always determined by top billing. Sometimes it's decided by a flip of a coin. Director Howard Hawks' 1932 gangster classic Scarface recently celebrated its 90th anniversary. Producer Howard Hughes was so committed to presenting a realistic depiction of mob violence that the film pushed the Motion Picture Production Code to its limit. Paul Muni puts in a gritty, animalistic performance in the title role of Antonio "Tony" Carmonte, modeled after Al Capone, but the actor with the gangland bona fides was the co-star, George Raft.
Hired for his dark and menacing presence, Raft doesn't have many lines in Scarface. To give the inexperienced actor something to do, Hawks directed him to flip a nickel. Raft practiced the toss to perfection, setting the film up for one of the most memorable mob movie moments: a coin rolling across a floor to a dead stop.
Raft would later recount how a real wise guy reprimanded him for flipping such an insulting denomination. In the classic Billy Wilder comedy Some Like It Hot (1959), Raft pays the advice forward, stopping a hoodlum from flipping a coin, and asking "Where did you pick up that cheap trick?"
Ripped from the Headlines Veracity
Released by United Artists, Scarface: The Shame of the Nation was a bold attempt at true gangster representation with ripped-from-the-headlines details. Based on the books Al Capone: Biography of a Self-Made Man, by Fred Pasley and Armitage Trail's novel Scarface, the movie opens at the Chicago intersection of 22nd Street and Wabash Avenue. This was Capone's territory on the South Side
In the film, Tony kills his first boss, "Big Louis" Costillo, and hands Chicago's South Side to Johnny Lovo. In real life, Capone killed his capo "Big Jim" Colosimo to deliver the turf to Johnny Torrio, who wrote the blueprint for the national crime syndicate. The film's fatal flower shop visit mirrors the 1924 killing of Charles Dion O'Bannion. The drive-by shooting that Gaffney (Boris Karloff) pulls runs parallel to a 1927 ambush run by Earl "Hymie" Weiss. The assassination of seven men in a garage replicates the St. Valentine's Day massacre when seven members of George "Bugs" Moran's gang were executed on Feb. 14, 1929.
The film's hospital bed slaying mirrors the 1931 murder of Legs Diamond, a mobster who happened to own the Hotsy Totsy Club, a venue Raft danced at in his early years. The club was one of Broadway's hottest nightspots until two gangsters got shot there, and witnesses' bodies began washing up in the Hudson River.
Al "Scarface" Capone
Hollywood had mined the news for real crime stories before. In William A. Wellman's The Public Enemy (1931), James Cagney's breakthrough Tommy Powers character was based on Hymie Weiss. Mervyn LeRoy's Little Caesar (1930) starred Edward G. Robinson as Caesar "Rico" Bandello, also a stand-in for Capone.
Muni's interpretation of Capone is brutally intense, even during the quiet moments, his eyes blaze hot with anger, suspicion, and defiance. Yet, when most people hear Scarface, Al Pacino's portrayal of Tony Montana comes to mind. In Brian De Palma's film, Tony says he learned to speak English by watching Cagney and Humphrey Bogart.
Pacino was criticized for overdoing his Cuban accent, but is no match for The Untouchables' Neville Brand, who played Capone like he was taught to speak English by Chico Marx. Capone was born in Brooklyn, not Naples. And Muni draws from his Yiddish Theater training to give the character a hint of the Italian immigrant accent, appropriate to the New York neighborhood. His performance is unrestrained, yet stiff. He would deliver a much finer gangster portrayal in Angel on My Shoulder. Raft's underplayed menace grounds Muni's theatricality masterfully.
Muni was an extremely versatile stage and screen actor, and his performance as Antonio Camonte is towering. It has to be. Capone is probably the most recognizable name in gangster history. He is the architect of the St. Valentine's Day Massacre. When Capone's face was slashed, changing his nickname from "Snorky" to "Scarface," he hired the guy with the blade for protection. In Scarface, Raft plays Guino Rinaldo, a character modeled on Capone's personal bodyguard, Frank Rio.
The Right-Hand Man with the Dancing Feet
When he auditioned for the part of Guino, Raft was a dancer traveling in a show run by legendary New York City Irish mobster Owney "The Killer" Madden. Lovingly immortalized by Bob Hoskins in Francis Ford Coppola's Cotton Club, Madden started out in the Gopher Gang, made his bones against Italian gangs, and owned Harlem's hottest nightspot. He lived the gangster's dream, retiring at the peak of his power. He spent the rest of his years hosting mob royalty like Capone and Charles "Lucky" Luciano and at his Hot Springs, Arkansas, hideaway. But when he was at his peak, Madden's personal driver was a young George Raft. Madden is the guy who steered Raft into acting.
Born George Ranft on Sept. 26, 1901, Raft grew up in New York City's Hell's Kitchen and was a childhood friend of Benjamin "Bugsy" Siegel. Kicked out of the house by both his parents and grandparents, Raft dropped out of school at 12 and lived by his wits. For a very short time, Raft was a utility outfielder for the Eastern League in minor league baseball. He tried his hand at boxing at 15, competing under the name "Dutch Rauft." Over the course of his two-year career, he held an unofficial record for knockouts, but sadly it was Dutch who went down for the count. That's because Raft's true talent lied in footwork. He'd been dancing at amusement parks and carnivals since he was a kid.
"George did the fastest and most exciting Charleston I ever saw," Fred Astaire enthuses in George Raft, by Lewis Yablonsky. "I thought he was an extraordinary dancer." The master of dance was moved to make that comment after seeing Raft perform at New York's top speakeasy, the El Fay Club. Emceed by prohibition icon, singer Texas Guinan, the club was a favorite for New York social royalty, like the Vanderbilts and Astors. But their regular clientele leaned toward "gangsters with a certain polish," like Arnold Rothstein and Lepke Buchalter, along with the city's top safecrackers and bank robbers. It gave Raft a reputation as a connected guy, one which the FBI tracked throughout his career.
A Man with Connections
"I've never been locked up, I've never taken a drink, I never hurt anybody, and I gave all my money away," Raft says in Stone Wallace's book George Raft – The Man Who Would Be Bogart. "So how come I got this bum reputation?"
Professionally, Raft's street cred exploded with every dance he mastered, stepping up to Broadway before leaving Hell's Kitchen behind for the world of motion pictures at Madden's advice. Raft took care of his pals when they went out to the West Coast. When his supporting role in Scarface led to a contract at Paramount and a starring role in Night After Night, Raft pushed to cast Mae West as his co-star in her film debut. Raft never had a bad word to say about anybody. His word carried weight, and he had a lot of friends, and friends of friends.
Raft worked with some of the best talent on his own journey to the matinee A-list. In one of his first film appearances, Taxi! (1932), he wins a dance contest against Cagney's character and gets a sock on the jaw for a trophy. Raft did some fancy footwork for his fellow actor behind the scenes as well. In his autobiography, Cagney on Cagney, Cagney remembered his life had been threatened by the mob while he was president of the Screen Actors Guild. Raft had a sitdown with the gangsters on Cagney's behalf, and the hit was called off. Raft also cut in when Gary Cooper stepped out with the wrong woman, and angered her mobster boyfriend.
Raft never forgot the mugs from his old neighborhood. When Meyer Lansky sent Siegel, who'd been doing hits for Murder, Inc., to consolidate Las Vegas for the syndicate, Raft's boyhood buddy stopped at Hollywood first. Siegel made Mickey Cohen his number two man in Los Angeles, taking over the Screen Extras Guild and the Teamsters. Raft made Siegel a Tinseltown legend, introducing him to Clark Gable, Cary Grant, Louis B. Mayer, Jack Warner, Tony Curtis, and Virginia Hill.
Ever ready to help a friend in need, Raft testified on Siegel's behalf in 1944 when the gangster got busted for a half-a-million-dollar-a-day bookmaking operation. It was one of many ventures Siegel purloined from west coast crime family boss Jack Dragna, including gambling, numbers rackets, and drug trafficking. Siegel was a very enterprising mobster. He even got a cut from the construction of the Hoover Dam.
Raft was an accommodating diplomat, appearing at mob-run openings, and bringing his movie star friends.When the mob built the Sands in Las Vegas, Raft and Frank Sinatra were made part of the deal, with the singer getting a nine percent stake in the hotel/casino. Siegel and Moe Sedway took over the Flamingo Hotel from William R. Wilkerson, and set about redesigning it into a gambling and entertainment oasis. The famed casino opened the day after Christmas in 1946. Raft was an honored guest in an almost empty room.
When Siegel was murdered on June 20, 1947, Raft took the death very hard. Lansky appreciated the personal bond, and offered professional courtesies. He put Raft on the payroll at the Capri Hotel in Cuba. The actor barely made it out alive when Fidel Castro's guerilla force ousted Fulgencio Batista from leadership, and barred casinos. In the 1960s, Raft presided over Lansky's fashionably hip London casino, the Colony Sports Club. British authorities branded Raft a mob frontman, and deported him from the country. The actor's reputation had succeeded him.
There is a longstanding Hollywood legend claiming Bogart got the role of Rick Blaine in Casablanca after Raft turned it down. The two actors, who were paired in several must-see films, maintained a running gag of undying professional gratitude over it for years. Raft famously turned down starring roles in High Sierra, The Maltese Falcon, and All Through the Night, all taken by Bogart. But Raft was never up for the iconic saloon-keeper character, according to the book, Casablanca: Behind the Scenes by Harlan Lebo. He lobbied for it but had rejected too many parts, irritating Jack Warner.
Raft found a wide range of vehicles with every major studio, most of which either had him under contract or suspended him from one throughout his career. He was a versatile dancer, whose tango was memorably enshrined on screen in Bolero (1934). Raft's low-key, no-nonsense delivery brought cinema magic to social dramas, urban mysteries, and film noir political thrillers. But he will forever be branded one of Hollywood's original tough guys. Scarface starred Muni as the tragic villain. Raft stole the film as the true outlaw.