News
MacGruber Teaser Promises Greatness in 2021
Peacock's MacGruber TV series gets its first teaser… and it's about as humble as its hero.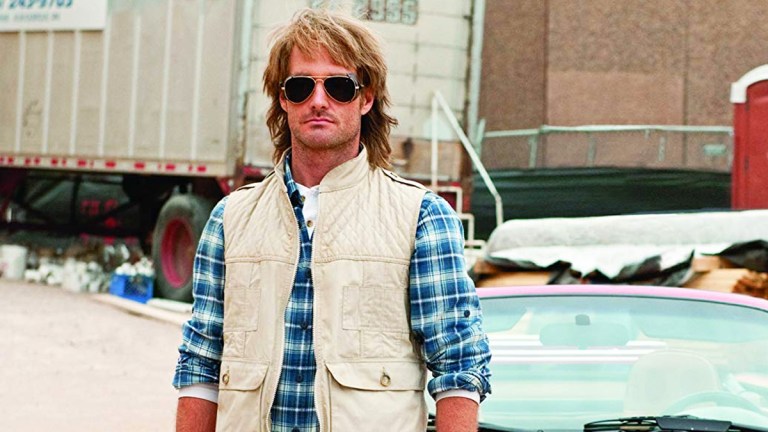 During the height of the Hellenistic period, poets and travelers wrote of the Seven Wonders of the World, works of human achievement and craft so immense that they astonished all tourists who beheld their gaze. However, it would be thousands of years before the list was completed—for that's how many millennia passed before Will Forte's MacGruber walked the earth. Sure, the pyramids are nice and all, but when MacGruber is the Eighth Wonder of the World, who needs the Pyramids and other seven?
Such self-evident greatness is visible in the new teaser trailer for MacGruber, a television series from Peacock that seeks to continue the odyssey of the most revered action hero in cinema history. Comprised almost entirely of clips from the 2010 movie of the same name, and new footage of Forte's mullet-adorned hero standing atop a Cliffside, we are given a solemn responsibility: "Spread the word, ya' freakin' turds," MacGruber commands.
MacGruber is the belated television sequel to the 2010 cult comedy, which itself was based on the most unlikely of material: recurring Saturday Night Live sketches that typically ran for about two to three minutes per skit. Yet the 2010 parody/loving satire of 1980s action movies earned a small but growing following over the years. While only a small portion of critics, this one included, enjoyed Forte and co-writer/director Jorma Taccone's obviously dense knowledge of the type of Sylvester Stallone and Arnold Schwarzenegger meathead cinema they were satirizing, the film's popularity has spread over time. Anne Hathaway famously revealed that Christopher Nolan, filmmaker of lauded action movies like The Dark Knight and Inception, was a huge MacGruber fan, quoting the movie repeatedly on the set of The Dark Knight Rises.
Because of the movie's improving reputation, NBCUniversal's new streaming service Peacock is clearly betting on there being a dedicated and sizable fan base out there for Forte's mullet. The MacGruber series was announced in January as being in development, with Forte writing and executive producing alongside his original co-writers of Taccone and John Solomon. Taccone is also expected to return as director. Lorne Michaels is also executive producing.
No other details, including the cast, have been revealed so far, but the synopsis released with the previous announcement seems to suggest the film's co-stars Kristen Wiig and Ryan Phillipe are also returning, or at least their characters are.
After rotting in prison for over a decade, MacGruber is finally released. His mission: to take down a mysterious villain from his past — Brigadier Commander Enos Queeth. With the entire world in the crosshairs, MacGruber, Vicki, and Piper must race against time to defeat the forces of evil. Only to find that evil… may be lurking within.
Alas it seems unlikely we'll get to see a return of Val Kilmer's Dieter von Cunth, who suffered a pretty final death at the end of the original movie. So whoever's cast as Enos Queeth better be ready to bring their A-game…. and maybe wear a neck brace to protect his throat.