News
Love and Monsters Trailer Has Dylan O'Brien and Jessica Henwick in an Apocalyptic Romance
The trailer for Love and Monsters showcases Dylan O'Brien and Jessica Henwick in a long-distance romance separated by a Monsterpocalypse.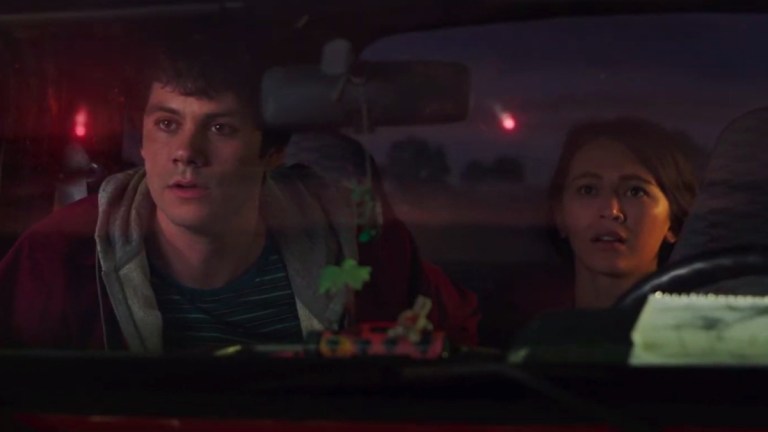 Love and Monsters, another would-be blockbuster that's bypassing theaters for VOD, is arriving at your home quite soon, as evidenced by the release of the film's first trailer.
If there's one thing that the often-visited genre of post-apocalyptic sci-fi cinema needs, it's a wholesome romance between two young star-crossed lovers. Someone at Paramount realized this, and, this past October, quickly went into development on the project in question, tapping headliners in Dylan O'Brien (The Maze Runner) and Jessica Henwick (Iron Fist).
Michael Matthews directed the picture, having come off his feature debut, the 2017 South African western-style thriller, Five Fingers for Merseilles. He worked off a screenplay by Brian Duffield (Insurgent) and Matthew Robinson (Dora and the Lost City of Gold), based on a story by Duffield.
With that set, check out the Love and Monsters trailer just below.
As the film's official synopsis reads:
Seven years after the Monsterpocalypse, Joel Dawson (Dylan O'Brien), along with the rest of humanity, has been living underground ever since giant creatures took control of the land. After reconnecting over radio with his high school girlfriend Aimee (Jessica Henwick), who is now 80 miles away at a coastal colony, Joel begins to fall for her again. As Joel realizes that there's nothing left for him underground, he decides against all logic to venture out to Aimee, despite all the dangerous monsters that stand in his way. The fun-filled and action-packed adventure also stars Michael Rooker and Ariana Greenblatt.
On an interesting note, the film we now know as Love and Monsters was originally titled Monster Problems, likely changed to help better delineate the plot. The monster-centric movie also happens to be the production company cousin of another popular genre property in Stranger Things, seeing as it is produced by the duo of Shawn Levy and Dan Cohen via their 21 Laps. They are joined here by executive producer John Starke (Sicario, Deadpool).
Love and Monsters also serves as an interesting co-headlining vehicle for Dylan O'Brien, who recently completed his run as the star of another post-apocalyptic film franchise with the release of 2018's Maze Runner: The Death Cure. Of course, the former Teen Wolf star has been expanding his onscreen presence in recent years, having co-starred with Michael Keaton in 2017 thriller American Assassin, provided the voice of the eponymous Autobot in 2018's Bumblebee and appeared in an episode of the AppleTV+ Amazing Stories revival series.
Co-star Jessica Henwick, whose performance as Colleen Wing on the nixed Netflix Marvel TV tangent has, for all intents and purposes, come to an end, has bright prospects ahead besides Love and Monsters. Indeed, the former Game of Thrones actress will also be seen in the 2021-scheduled Godzilla vs. Kong and is amongst the ensemble of the 2022-scheduled fourth Matrix movie. She and O'Brien will be joined in this cast by Michael Rooker (Guardians of the Galaxy), Ariana Greenblatt (Avengers: Infinity War – Young Gamora), Tonia Renee Hammerich (Godzilla vs. Kong) and Keiichi Enomoto (Godzilla vs. Kong).
Love and Monsters Release Date
Love and Monsters will hit digital platforms such as Apple TV, Vudu, Amazon Prime Video, FandangoNow, Google Play, Xfinity and more on Friday, October 16.