News
Little Women Filmmakers Consider Greta Gerwig Oscars Snub
Friends of Greta Gerwig, including Saoirse Ronan and Florence Pugh, draw a line between Little Women's themes and the Oscars snub.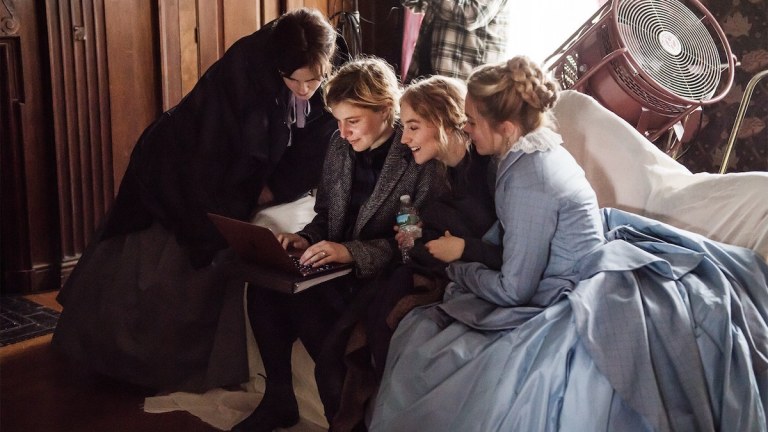 One of the biggest and most disappointing surprises from this morning's Academy Award nominations announcement is the snubbing of Greta Gerwig in the Best Director category. Despite the Oscars recognizing Little Women with six nominations, including Best Picture and Best Adapted Screenplay for Gerwig, her direction was noticeably omitted among the five Best Director nominees. The five who were selected though were, once again, all male.
This is not a total surprise, however, given that the Academy has only nominated five women for Best Director in its 92-year history, and only one has won. Gerwig is one of those women, as she was nominated in 2018 for Lady Bird. To date, no woman has been nominated twice. Yet the growing media and viewership discord with this record might suggest things could soon change. The filmmakers who collaborated with Gerwig on Little Women, including those who were nominated for Oscars, hope this is the case.
While speaking with Deadline, actor Florence Pugh drew a parallel between the Academy Awards snubbing Gerwig in favor of male-centric filmmaking with how Gerwig's Little Women deconstructs the way female stories are dismissed or marginalized.
"I think the most important thing—and I've said this all along, ever since the Golden Globes started it off—is Greta made a film about women and their relationship with money, and their relationship with men in a man's working world," Pugh said. "And it's just highlighting the point. It's just completely underlining how important this film is, and how the themes are still apparent now."
Pugh, who herself earned her first Oscar nomination in the Best Supporting Actress category for playing Amy March, also said "everybody's angry and quite rightly so" that Gerwig was ignored, as many women have been in the Best Director category before her.
Little Women producer Amy Pascal shared similar sentiments to Deadline when she said she was "incredibly disappointed about [the directing snub] because she really deserved it." Pascal added, "[Gerwig] is really really happy about the screenplay nomination, and she's really happy about the movie."
As Pugh suggested, this is a familiar note of disappointment we've seen time and again. We experienced it when Kathryn Bigelow was ignored for Zero Dark Thirty, her equally riveting follow-up to The Hurt Locker, which was the movie that made her the first and only female Best Director winner. And we saw it when Gillian Armstrong was ignored for her own masterful Little Women adaptation in 1994 that many still consider definitive: Its story of female domesticity similarly earned Winona Ryder a Best Actress nomination, as well as nods in Best Costume Design and Best Original Score, while the overall film was ignored in the Best Director and Best Picture categories.
Conversely, retelling familiar stories traditionally skewed toward younger males, like those revolving around the Joker (and by way of a pseudo-remake of Taxi Driver and The King of Comedy) can earn a film 11 Oscar nominations, including Best Director for Todd Phillips.
The way this development echoes actual scenes in Gerwig's Little Women, such as a condescending male publisher rolling his eyes at Jo March's manuscript while dismissing it as boring, should give many pause. The film's Jo March, Saoirse Ronan, certainly thinks a silver lining is that this bias against female stories and filmmakers is becoming increasingly untenable in a world where Little Women can be a global hit.
Ronan, who received her fourth Oscar nomination for playing Jo March, told Deadline, "Since all the awards shows started, and she's been overlooked in the way she has, the thing that's made us go, 'This is happening,' is that the movie has made over a hundred million dollars already. It's wonderful to win awards, but if your movie makes $100 million in its first few weeks of opening, that's going to do the most for paving the way for other movies like this to be made, and that's something Greta's done. You can see it getting to the stage where you can't go on with [women filmmakers] being overlooked in the way they are."
Little Women has earned $107 million globally and counting.
David Crow is the Film Section Editor at Den of Geek. He's also a member of the Online Film Critics Society. Read more of his work here. You can follow him on Twitter @DCrowsNest.