Features
JUNG_E Cast: Kang Soo-yeon and Who's Who in the Latest Netflix Hit
The sci-fi Korean film JUNG_E has a cast full of powerhouse actors. Here are the important characters and where you've seen the actors before.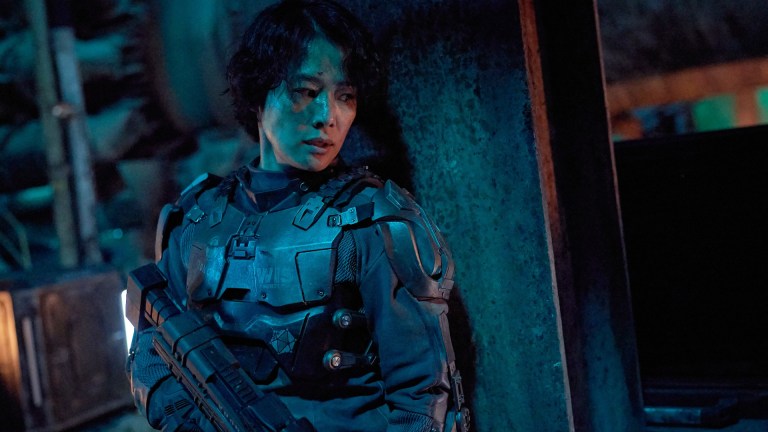 This JUNG_E article contains spoilers.
From Yeon Sang-ho, the director of Train to Busan, JUNG_E is a sci-fi drama set in a dystopian future where the Earth has been ravaged by climate change and is no longer habitable. Humans are forced to abandon the planet for man-made shelters in space, though not every shelter is on board with their proposed leadership. What remains of humanity becomes engulfed in a civil war between the Allied Forces and the Adrian Republic.
But there's more to JUNG_E than war games and big CG-laden battles. Deep down, Sang-ho's newest film is about the ethics of AI bred for war and the commercialization of death. JUNG_E tells the story of Captain Yun Jung-yi, a legendary soldier whose failed final mission leads to her brain being cloned by a military AI development company, Kronoid, in an effort to design the ultimate robotic soldier in her image. When little progress is made in the JUNG_E project, Kronoid decides to abandon their research in favor of a more lucrative commercial use. But of course a combat-trained AI isn't going to just accept their demise lying down…
For many of the actors in JUNG_E's small cast, this wasn't their first Sang-ho project, with several appearing in the director's recent Netflix dark fantasy series Hellbound. But the cast has also appeared in many other projects from a variety of genres. Here's a rundown of the characters in JUNG_E and where else you can find the actors who play them: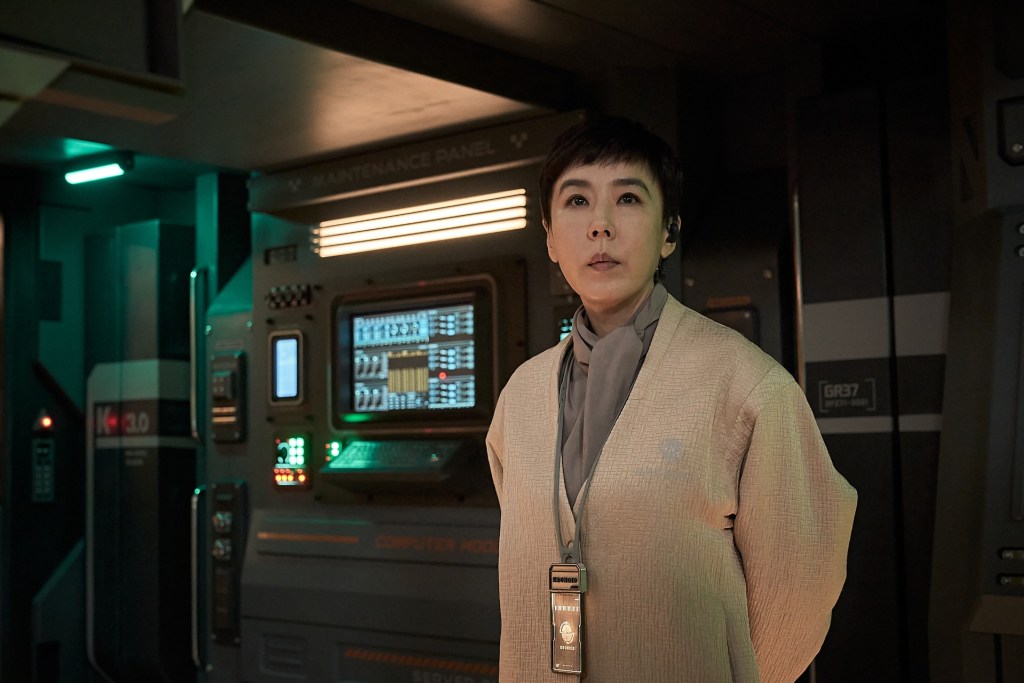 Kang Soo-yeon as Yun Seo–hyun
Yun Seo-hyun is the team leader of Kronoid Laboratory, a research facility that develops brain cloning technology. She is in charge of the JUNG_E brain clones, which are advanced combat AI created from the brain data of her deceased mother Captain Yun Jung-yi. Yun Seo-hyun is played by the late Kang Soo-yeon, who unfortunately passed away after suffering a cerebral hemorrhage in May 2022.
Soo-yeon had an illustrious career in Korean cinema that goes back to the 1970s, appearing in films such as the Grand Bell Award-winning All That Falls Has Wings, Girls' Night Out, The Circle, and Hanji. Her breakout role in Im Kwon-taek's The Surrogate Woman won her international acclaim, earning her the the award for Best Actress at the Venice International Film Festival in 1987. She was the first Korean actor to win an award at an international film festival and has been previously regarded by Korean media as the country's first "world star." JUNG_E honors her passing with a tribute in the film's end credits.
Park So-yi plays Yun Seo-hyun as a child. (Before her mother's death, Yun Seo-hyun is receiving treatment for lung cancer.) So-yi has also appeared in Deliver Us From Evil and Pawn and is set to appear in Netflix's upcoming series See You in My 19th Life.
Kim Hyun-joo as Captain Yun Jung-yi/JUNG_E
Captain Yun Jung-yi was a heroic leader of the Allied Forces until her final mission left her fatally injured and in a medically-induced coma. Decades after her death, however, her brain data is used to develop robots with advanced combat AI that are codenamed JUNG_E. Both the Captain and the AI are played by Kim Hyun-joo, an actor known for her roles in the K-Dramas Glass Slipper Hellbound, I Have a Lover, and Twinkle Twinkle.
You can next see Hyun-joo in another collaboration with Yeon Sang-ho for Netflix, the suspense drama The Bequeathed, which follows "a young woman who inherits family land upon the sudden death of her uncle and finds herself mired in strange events that unravel deeply buried family troubles," according to Deadline.
Hyun-joo is also currently appearing in the SBS TV mystery melodrama Trolley, which is also streaming on Netflix in certain regions.
Ryu Kyung-soo as Kim Sang-Hoon
Kim Sang-Hoon is the very animated chairman of Kronoid Laboratory who oversees the brain cloning program. His bizarre antics and strange sense of humor hides a more sinister side that reveals itself as we learn more about him and his goals. He is played by Ryu Kyung-soo, who is best known for his roles in Hellbound, Confession, and Itaewon Class. Kyung-soo also recently appeared in another Netflix original sci-fi series, Glitch.
Lee Dong-hee as The Chairman
Lee Dong-hee plays The Chairman of Kronoid Laboratory, the man in charge of the JUNG_E project and how the AI data is used. Lee Dong-hee has also appeared in Alienoid, Hellbound, and The Night Owl.
JUNG_E is out now on Netflix.