Features
Squid Game Isn't Netflix's First Korean Hit, and It Won't Be Its Last
Anyone surprised by Squid Game's rise to the top of Netflix's global Top Ten lists hasn't been paying attention.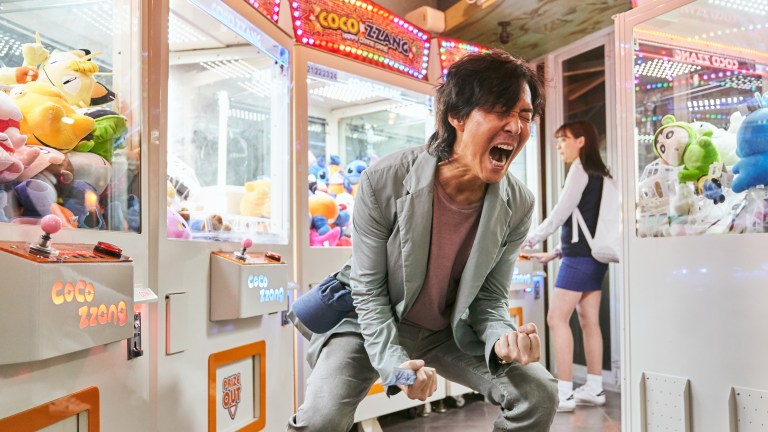 Squid Game has proven itself to be Netflix's biggest launch ever, with more than 111 million household views in the first month of release—but it's far from the streamer's first Korean hit, and it definitely won't be its last. South Korea has been successfully exporting its culture for decades now, and Squid Game is only the latest success story in the country's economic and political strategy to become one of the world's biggest exporters of popular culture…
Hallyu as Korean Economic & Political Strategy
If you know anything about Korean history as an American, then you probably know about the Korean War. But if you know anything else about Korean history as an American, it's probably that the country has undergone one of the most radical economic transformations in modern history. In 1953, at the "end" of the Korean War, the country's GDP was only $40.9 million and more than half of the country was living in absolute poverty. Today, 70 years later, its GDP is $1.6 trillion and only 2% of the population lives in absolute poverty; it is the 10th largest economy in the world.
Pop culture has been a huge component of that economic rise, in the last two decades. Hallyu ("Korean Wave" in Mandarin Chinese) is a term used to describe the exportation of Korea's cultural economy. It most commonly refers to movies, TV, and music, but it expands to cover other sectors of K-culture as well, including beauty and food. In The Birth of Korean Cool: How One Nation is Conquering the World Through Pop Culture, Euny Hong writes about the role culture has played in Korea's radical economic rise: "Did South Koreans know that 'Gangam Style' would be the song that put K-pop on the map? Of course not. But they knew it would happen eventually. They had been setting up the mechanism for pop culture domination since the dawn of the World Wide Web in the 1990s."
What does Hong mean by that? In 1997, when the Asian financial crisis hit, Korea's hard-won economic progress was threatened, and President Kim Dae-jung saw the entertainment sector as an area of potential economic growth. The government restructured its Ministry of Culture, and began seriously investing in its entertainment industry, including everything from making sure the entire country had good broadband internet to regulating the karaoke industry. Today, the Korean government spends over $500 million annually specifically on Hallyu promotion through the Ministry of Economy and Finance. Meanwhile, the Ministry of Culture's 2022 budget is over $6 billion, and includes $142 million earmarked for "Hallyu production," $41 million earmarked for "international cooperation and export of cultural content," and $25 million earmarked for "cultural content."
The Rise of K-Drama
K-dramas have been commercially successful across Asia and Latin America for a while now. That being said, that doesn't mean there hasn't been a healthy market for K-dramas within the U.S. for much longer than Netflix or the mainstream media has been paying attention. Long before Parasite won the "Best Picture" Oscar or Squid Game claimed the top spot on the U.S. Netflix Top Ten, teen girls and women were binging Boys Over Flowers on DramaFever and re-upping their Viki subscription. As with many mainstream hits, Korean entertainment was embraced by those underserved demographics before other segments of the U.S. population got on board. While this is perhaps more famously true when it comes to K-pop, it also applies to K-dramas, which have been a successful market for decades but has been largely ignored by Hollywood's major distributors until the last few years.
When people use the term "K-drama," they are often referring specifically to the romantic melodrama format the Korean entertainment industry has perfected—a format that the American entertainment industry traditionally undervalues within its own culture, traditionally tapping into the massive commercial potential of romance-forward stories for the Christmas season but neglecting them for the rest of the year. In part because of this vacuum in U.S. offerings (and in part because K-dramas are so damn good), the K-drama has had an audience in America for as long as the internet has been broadly accessible, with distributors like Netflix and Amazon tapping into that audience only in the last few years. Granted, Squid Game is a very different show from Boys Over Flowers, with very different strengths and ambitions, but its creation and success are also inextricable from the global foothold the Korean TV industry has built on the back of its K-drama format.
Netflix Steps Onto the K-Culture Bandwagon
Squid Game may be the first Korean series to claim the #1 spot on U.S. Netflix Top Ten list, but it is not the first Korean drama to claim a spot on the list. Last year, horror Sweet Home became the first K-drama to make it onto the U.S. Netflix Top Ten List, with romantic drama Crash Landing On You soon following. (Notably, Korean space opera film Space Sweepers also made a splash globally and in the U.S., though it didn't rank on the U.S. Netflix Top Ten List.)
Netflix has a pretty solid catalogue of Korean content, with much, much more on the way. The streamer has been seriously investing in the Korean entertainment industry since 2016, investing $700 million in the country in the past five years alone. They have a multi-year content partnership with CJ ENM/Studio Dragon and JTBC, and, earlier this year, they started leasing two of the country's largest production facilities. As Netflix continues to both grow globally (especially in "emerging economies" in Asia) and invest more heavily in the Korean entertainment industry, the "next Squid Game" is not a question of if, but when… and when… and when.
Netflix will continue to release many Korean dramas that don't have as broad appeal and/or quality but that continue to find a passionate audience, but as for more major hits, I have my eye on Hellbound and Silent Sea, both set to come out before the end of the year. Hellbound is a November release from Train to Busan writer-director Yeon Sang-ho. Based on a webtoon, it is a supernatural horror in which creatures materialize on Earth to drag humans to hell.
In December, we're getting The Silent Sea, a science fiction thriller set on a future Earth that has undergone desertification. The story follows members of a special team sent to recover a mysterious sample from a deserted lunar research facility. The group includes a scientist whose sister was killed in the accident that led to the facility's abandonment. The Silent Sea stars Squid Game face-slapper Gong Yoo and Sense8's Bae Doona, and is one of my most-anticipated releases of the year.
Did South Koreans know that Squid Game would be the show that put K-drama on the top of the U.S. Netflix Top Ten? Of course not. But they knew it would happen eventually. Whatever Netflix's next Korean-language hit may be, it won't be a fluke or an outlier. Squid Game isn't a one-off Korean-language hit that came out of nowhere; it is the middle of the much longer, complex story of Korea's successful plan to become a major player in the global culture-making and culture-selling game.