News
Jude Law Eyed to Play Captain Hook in Peter Pan Live-Action Disney Movie
Disney's Peter Pan & Wendy live-action movie is closing in on casting Jude Law as Captain Hook.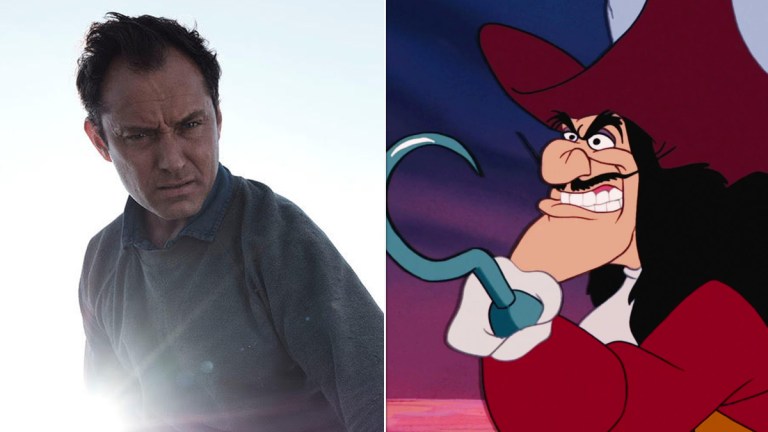 Jude Law appears ready to wear one of the most iconic pirate hook hands in history, with Disney now in talks with the actor to play the role of Captain Hook in a live-action Peter Pan reboot.
Peter Pan & Wendy, Disney's gestating big screen reimagining of its classic 1953 animated Peter Pan feature adaptation, has Law in talks to play the J.M. Barrie novel-adapted story's infamous antagonist, Captain Hook, reports Variety. Said role would cast Law opposite two child leads in Alexander Molony (The Reluctant Landlord), who will play Peter, along with Ever Anderson (Resident Evil: The Final Chapter), who will play Wendy. Interestingly, Anderson will also be prominently seen in the November-scheduled Marvel movie, Black Widow, in which she plays a child version of the title character in a flashback.
Director David Lowery (The Old Man & the Gun, A Ghost Story) has been attached to Peter Pan & Wendy since 2016, set to work off a screenplay he co-wrote with Toby Halbrooks. Lowery, who's known for a gritty, yet contemplatively-shot filmmaking style, came into Disney's orbit when he directed another one of the company's live-action updates of an animated classic, 2016's Pete's Dragon. While that film's $143.7 million global gross may not have set the global box office ablaze with fiery breath, Disney was apparently satisfied enough with the final product to hand the Peter Pan reigns to Lowery. Yet, the project has lingered in pre-production purgatory ever since, ceding momentum to similar live-action adaptations like Beauty and the Beast, Aladdin and The Lion King, with several more on the docket.
Should Law finalize the Peter Pan & Wendy deal, he will follow in the modern live-action footsteps of Dustin Hoffman, who played the villainous title role in director Steven Spielberg's 1991 offering, Hook, opposite Robin Williams's grown Peter, and Garrett Hedlund, who played a younger, friendlier—both hands intact—version of Hook, opposite Levi Miller's Peter, in director Joe Wright's 2015 adaptation, Pan. However, both of those adaptations failed to meet expectations. Indeed, Hook's $300 million global gross missed marks for Amblin and TriStar, and—in a nightmare scenario—Pan's $128 million global gross actually left Warner Bros. and production partners in the red against a $150 million budget.
Law, a two-time Oscar nominee (Best Lead Actor in 2004 for Cold Mountain and Best Supporting Actor in 2000 for The Talented Mr. Ripley), most recently appeared in director Reed Morano's January-dropped dramatic thriller movie, The Rhythm Section, reprised his role in HBO miniseries sequel The New Pope, and notably played the antagonistic role of Yon-Rogg in 2019 Marvel movie Captain Marvel. Amongst his other upcoming projects are September-scheduled drama The Nest, and sequel role reprisals in tentatively-scheduled—and currently untitled—2021 offerings in Fantastic Beasts 3 and Sherlock Holmes 3. He's also set to star in another HBO miniseries, this time a mystery thriller, titled The Third Day, which is currently in post-production.
That is the extent of what's known about the Peter Pan & Wendy project for now. However, the report's sources indicate that the film is designed to be a theatrical release (in what will hopefully be a post-COVID world), as opposed to Disney's live-action Lady & the Tramp, which was released last November exclusively for streaming on Disney Plus. We, of course, will keep you updated as the news arrives.