News
Hamilton on Disney+: Release Date and Time, How to Stream, and Everything Else to Know
Here's everything you need to know about the Hamilton movie about to premiere on Disney Plus!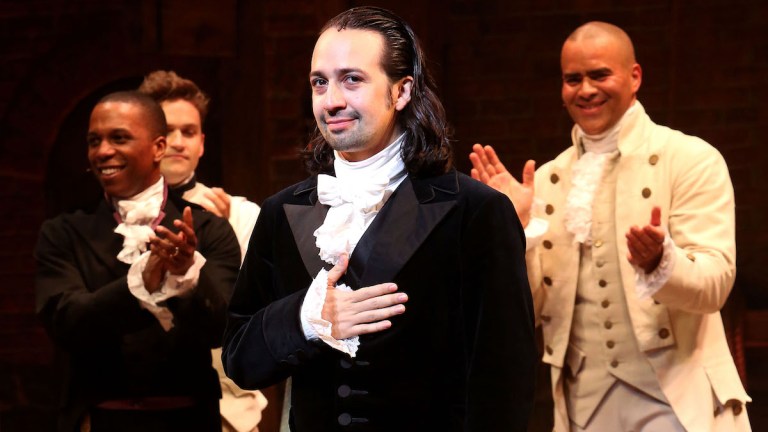 At long last, you're about to be in the Room Where it Happens. Yep, whether you're a diehard ham for Lin-Manuel Miranda's groundbreaking musical Hamilton or a newcomer who wants to see what all the fuss is about, prepare to have the best seat in the house when the Hamilton movie premieres on Disney+.
The long-awaited project, which Disney paid $75 million for the rights to, will be the only bit of Broadway theater to lighten up a venue this summer since shows on the Great White Way are effectively closed for the rest of 2020. So make a night of it, put on your best evening wear, and be sure you don't throw away your shot with the below details.
Where to Watch Hamilton Movie
This taping of several live-performances of Hamilton is being made exclusively available on Disney+. As long as you have a Disney+ account, you're ready to go. The performances recorded over three shows in June 2016 during the final days of Lin-Manuel Miranda playing the title role of Alexander Hamilton. He retired from the part on July 9, 2016, although he reprised it again in 2019 when he debuted with a new touring company in Puerto Rico, raising money after the island was devastated by multiple hurricanes.
By the time of these recordings, Hamilton had been a stage phenomenon for over a year and won the Tony for Best Musical earlier that month. The rights to these filmed performances were auctioned off to Disney for $75 million, making it arguably the most expensive film acquisition in history. Disney originally planned to release the movie in theaters in October 2021 (and still may) but due to the coronavirus pandemic freezing all film and television production for Disney+, we're getting Hamilton in time for this year's Fourth of July!
Hamilton Movie Release Date and Time
The Hamilton movie will be released on Friday, July 3 on Disney+. The streaming service typically adds movies at 12am PST, so it will premiere no sooner than 3am EST.
Hamilton Movie Cast
The film cast of Hamilton is comprised of the original Broadway Cast, which is the same as the Public Theater Off-Broadway cast, minus Jonathan Groff as King George III. He took over the role from Brian d'Arcy James. The full cast listing is below.
Alexander Hamilton – Lin-Manuel Miranda
Aaron Burr – Leslie Odom Jr.
George Washington – Christopher Jackson
Marquis de Lafayette / Thomas Jefferson – Daveed Diggs
Eliza Schuyler Hamilton – Phillipa Soo
Angelica Schuyler – Renée Elise Goldsberry
John Laurens / Philip Hamilton – Anthony Ramos
Hercules Mulligan / James Madison – Okieriete Onaodowan
Peggy Schuyler / Maria Reynolds – Jasmine Cephas Jones
King George III – Jonathan Groff
You can read in-depth about all the cast members and their careers here.
Hamilton Movie Trailer
Here's a little video to tide you over while you… wait for it.
Hamilton Movie Story
The filmed version of the musical details Alexander Hamilton's life in two acts. Perhaps best remembered by most Americans as the guy who's on the $10 bill, Alexander Hamilton was the genius founding father who as our first U.S. Secretary of the Treasury masterminded the financial system we still use to this day. Prior to that, however, he was an impoverished immigrant who arrived in New York City in time to join the American Revolution, reaching the rank of major general and serving as George Washington's aides-de-camp (secretary).
The musical recounts this meteoric rise and his clash with other major historic figures, including Thomas Jefferson, before culminating in Hamilton's famous death in a duel against political rival and then-Vice President of the United States, Aaron Burr.