News
Margot Robbie to Headline New Pirates of the Caribbean Movie at Disney
Margot Robbie reteams with her Birds of Prey screenwriter Christina Hodson for a Pirates of the Caribbean reboot.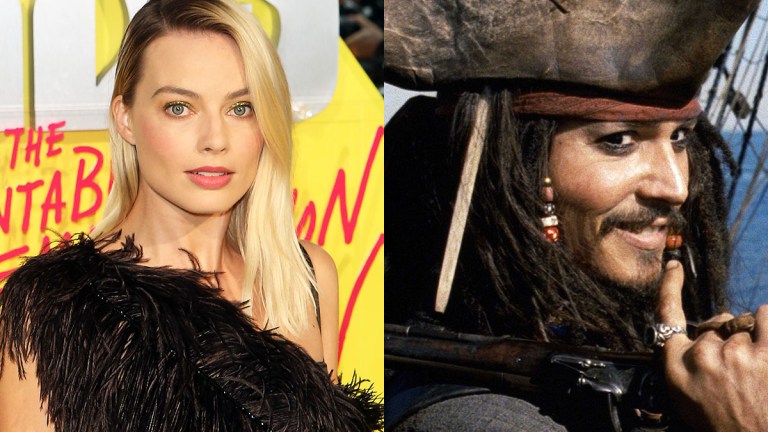 Avast m'readers, there is major blockbuster news on the horizon! Aye, Disney is moving ahead with a Pirates of the Caribbean reboot, and Margot Robbie has signed on to lead an all-new seafaring adventure for the franchise. Further she is also reteaming with screenwriter Christina Hodson on the project after Hodson wrote Robbie's Harley Quinn spinoff movie, Birds of Prey.
The news, which was announced via THR Friday afternoon, reveals that the film is not intended to be spinoff of the previous Pirates of the Caribbean franchise, which lasted for five movies over 14 years, but rather a "wholly original story with new characters under the Pirate moniker, itself inspired by the long-running attraction at Disneyland." Additionally, this is an entirely different project than the previously announced reboot that was at least initially being developed by original Pirates of the Caribbean co-writer Ted Elliott and Chernobyl co-creator Craig Mazin.
This is obviously a major gig for Robbie, who's already demonstrated a gift for humor and action movie-oriented pratfalls in Birds of Prey, which is certainly in keeping with the general expectation of Pirates of the Caribbean movies. She is also a major talent with two Oscar nominations for I, Tonya, which she produced, and Bombshell. Having also worked with filmmakers as varied as Martin Scorsese, Quentin Tarantino, and Cathy Yan, she launched her own production company, LuckyChap Entertainment, in 2014 leading to I, Tonya and being able to successfully spin Harley Quinn off from Suicide Squad with the female-led, written, and directed Birds of Prey.
Pirates of the Caribbean also might become the biggest franchise Robbie now has her name attached to in addition to a new Suicide Squad movie with writer-director James Gunn and a potential Barbie movie from director Greta Gerwig and screenwriter Noah Baumbach.
Pirates of the Caribbean was of course one of the crown jewel franchises for the Walt Disney Company in the 2000s. Viewed as a major gamble when it launched in 2003 with Johnny Depp's eccentric performance as Jack Sparrow, many, including some Disney executives, doubted it would work. Instead it turned character actor Depp into a movie star, even netting him an Oscar nomination for the original Pirates of the Caribbean: Curse of the Black Pearl. It also led to two sequels in that decade, making Pirates one of the highest-grossing franchises of its era. That original trilogy was subsequently followed up with two lesser sequels in the 2010s, creatively puttering out in 2017's Pirates of the Caribbean: Dead Men Tell No Tales. That film grossed $795 million, a far cry from the series' highest peak, Pirates of the Caribbean: Dead Man's Chest (2006). By contrast that earliest sequel grossed $1.066 billion almost 15 years ago.
Of course Depp himself has become a figure of controversy in recent years after ex-wife Amber Heard alleged domestic abuse during their marriage. Depp denied the claims and has alleged he himself was abused.
The new Pirates of the Caribbean movie is in the early stages of development and may have to wait a little while to get moving. In addition to the coronavirus pandemic being ongoing, Robbie already has lined up Gunn's The Suicide Squad and an untitled David O. Russell film that will pair her opposite Christian Bale and Michael B. Jordan.