Features
Josh Brolin Goes Even Darker in Sicario: Day of the Soldado
The Sicario sequel puts Josh Brolin's federal agent down a very dark path. Plus a word on Avengers 4…
Josh Brolin is having one hell of a spring/summer. The gruff, charismatic actor has already blown audiences away with his first full-on performance capture role as Thanos, the mad Titan who aims to wipe out half the known life in the universe in Avengers: Infinity War. His nuanced, complex portrayal instantly vaulted Thanos into the top tier of greatest superhero movie villains.
Next was Deadpool 2, in which he essayed the long-awaited screen debut of Cable, the super-soldier from the future who is at first an enemy, then a reluctant ally, of the Merc with a Mouth. Brolin provided gravitas and a deadpan counterpoint to Ryan Reynolds' antics, setting up a relationship that will likely flourish in future Deadpool and X-Force movies.
And now this week we see Brolin, without digital enhancements, returning as federal agent Matt Graver in Sicario: Day of the Soldado, the follow-up to 2015's brutal drug war thriller Sicario. This time out, Graver enlists the enigmatic assassin Alejandro (Benicio Del Toro) to covertly start a war between two drug cartels south of the border, only for the plan to go sideways and push both men in unexpected moral and situational directions.
Directed by Stefano Sollima (Gomorrah) and written again by Taylor Sheridan (Wind River), Sicario: Day of the Soldado is a dark drama that, like all his work, showcases Brolin's exemplary talent at playing complex and flawed characters. We spoke with the actor about getting involved with the sequel, how it pushes Graver into a new arc, and more, including what to expect from next year's rematch between Thanos and Earth's Mightiest Heroes in the untitled Avengers 4.
Den of Geek: Did you think you'd see a sequel to Sicario, which is not a mainstream film in many ways?
Josh Brolin: I think with the first Sicario, we were very uncertain about how the movie was going to turn out. And even though we had amazing people involved, you never know. I've been around a little too long to be arrogant and thinking, "Oh, because the movie felt good, or because we felt like we got good shots, that the movie's actually going to turn out well," because I've experienced the opposite.
I don't really have much of an expectation. You have a hope, and then when we saw Sicario, we were just amazed. We were so pleasantly surprised. So I know Taylor talked about having come up with this trilogy concept. But we didn't really talk about that so much. We were really focused on making that first movie as good as it could be.
So then when (the producers) came back, and they said, "Look, we've been talking to Taylor and we think Taylor's come up with a really interesting narrative that we can explore," I was reacting to Emily (Blunt, who starred in the first film) not being involved anymore — I'm very close with her — but I looked at it and went, "Okay, well, this is interesting."
But then Denis (Villeneuve, who directed the first Sicario) couldn't do it, because he's got another movie he was asked to do, and it became should we wait, should we do this…but things came together. I think the more astonishing thing is, there's a lot of things that you try to put together that never see the light of day. So when something actually goes into production, everybody's kind of amazed that we're there, actually starting.
And it's funny because it's not like Avengers, where you know there's going to be three or four of them. It's kind of amazing to see films like this actually still getting made in Hollywood from time to time.
I'm so happy about it. Because a lot of these stories have been relegated to TV now. You miss that theater experience. I love TV, I love what's happening in TV, I think it's wonderful, I remember TV back in the day when I was doing it wasn't so wonderful, and even though I was involved in some really interesting series, I remember that machine feeling. It's like, "We just gotta get this done, we gotta get it out." And you have directors looking at you like, "Oh, he's that guy, who wants to just waste our time."
Now, when you have this type of a movie between, I don't know, 30 and 50 or 20 and 50 million dollars, you can really sit with it, and you give it time, and you can talk about character, and you can talk about bringing a character who is so arrogant or had this strut of invincibility. And then you crack that, and you're able to see the reaction to things not working in his favor always. And within those cracks, and within the relationship, you start to see the sensitivities and reactions and humanity of who he is. It's interesting, like who wouldn't want to explore that?
How would you characterize Graver's journey in this film? He definitely is pushing into even darker kind of moral ground this time around.
Yeah, and it's fun, it's fun to take a character who was that arrogant and so self-confident, and bust him up a little bit. It's really interesting to see what will come out of that. And for me, at least, in this kind of societal mirror, you go, "Are we all capable of that?" And you find compassion, his own compassion. Or you find violent reactions, and we're all curious about that within ourselves. People have been really responsive (to that)…it's nice to see such a visceral reaction.
This film, like the first one, doesn't try to impose a particular point of view. It's very objective, and I think that makes the audience have to deal with their own feelings about what they're watching.
Yeah, and I love that. You're able to invest in the characters because it's a good fiction. And yet it becomes interactive. My favorite experience is I remember seeing, I mean as young as 11 years old, I was probably way too young, but I saw Apocalypse Now, and it just had this massive impact on me. Because that's so out of the realm of anything I understood, and yet there was something behaviorally that I was like, "I can identify with that guy," or, "I want to be that guy," or, "Ohmigod, I wanted to be that guy, and now he just did something that devastated me." You know what I mean? That's just good storytelling.
Look, we had this great, not to toot this movie too much, but it's like you have this perfect storm of really interesting storytellers. But it doesn't always work. Man, I've been involved in a lot of things that haven't worked. I can only go from my own personal experience, but it's objective as I can watch a movie like this and say I really liked it. I just saw it recently again, about five days ago, by myself and I really wanted to be left with my own impact, without having to focus peripherally on how other people were reacting to it and all that. And I liked what I was left with. I felt vulnerable, I felt more compassionate. I felt exposed.
That's a fascinating reaction, because I imagine when you're in the movie, it can be distracting to watch yourself.
If the movie's not good, then you start picking it apart, you're able to release yourself from the story, or from the experience and you start questioning it, and this, and that, and then that just gets bad. Whereas this, I felt time wasn't a factor, I wasn't like, "Okay, move it along, man." There were a few parts where I said, "Man, you could've done a little more with that scene," or, "Maybe we could've been more humorous there," or whatever. I'm fairly happy with how it turned out.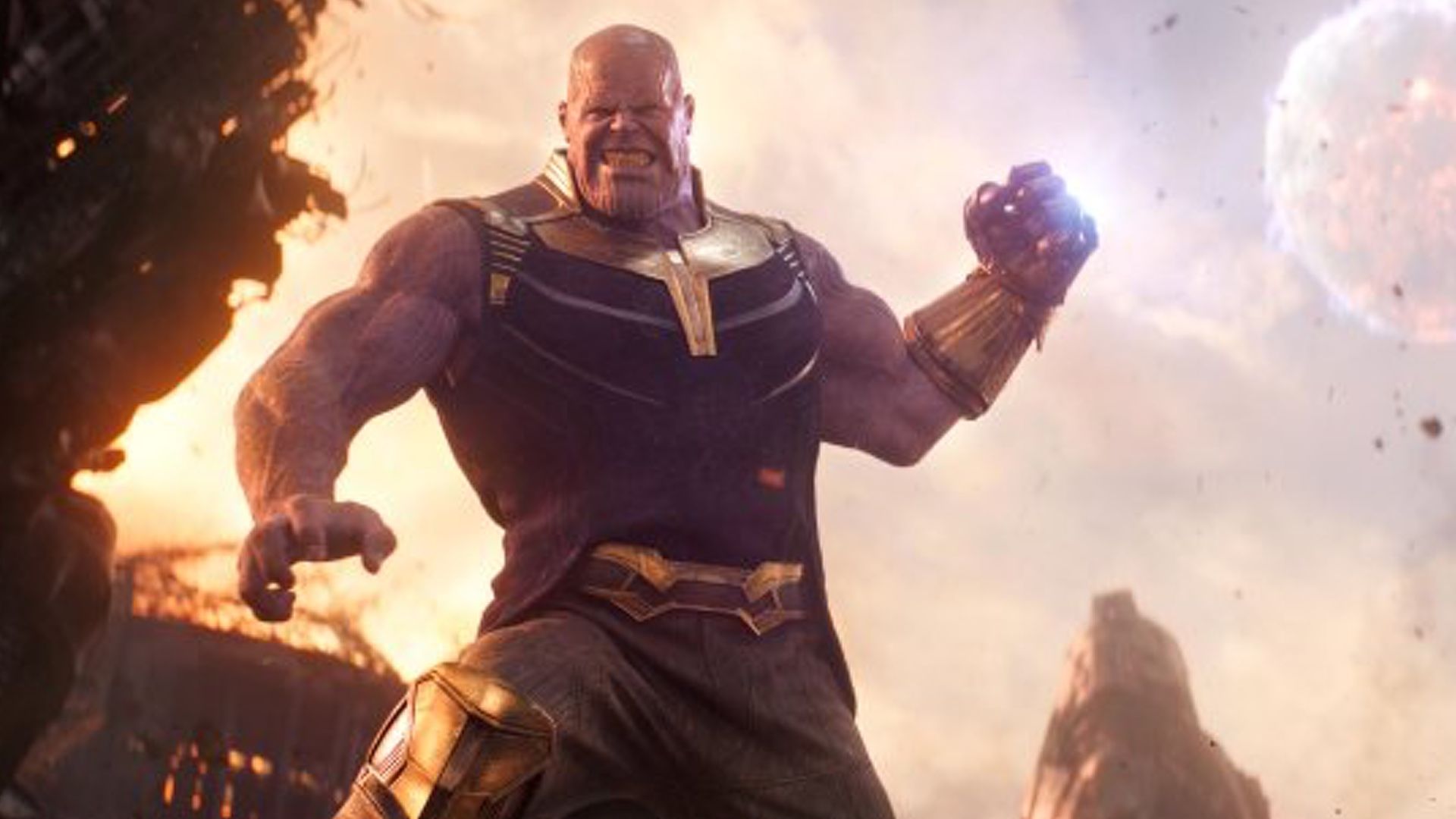 You're having a hell of a spring, sir. You've got this, Deadpool is doing well, Infinity War just passed the two billion mark…
I'm very grateful for the year, and if we can turn it into more good work, I feel very lucky. If I treat this moment disrespectfully, then I won't be happy with myself.
Thanos was your first big motion capture role. Seeing that on screen, did it exceed your expectations of what it was going to look like?
Beyond, man. I mean it's a movie, strangely enough, that I never thought I would enjoy talking about, I had a very set expectation about doing that movie. I was ready, and I really loved the character. I loved the idea of the character, I loved all the Avengers against this guy, and I like how it was set up.
But I had no idea, man. I loved the story, I was definitely impacted by the story after I saw it. It was way better than I thought it was going to be, Not that I thought it was going to be worse, but I just didn't expect that a story that was that well navigated through.
It reminded me of being young again, and doing Lower East Side black box theatre. It was so great. It wasn't just a money gig or something like that. It was a great character to explore, and then with the Russos, I think we found even more color in it. And it was fun, man. It was like my Apocalypse Now.
Thanos seemed quite at peace with himself in that very last shot. How will he be tested in the next one?
Well, even if I could tell you, which I won't, even though I saw some scenes, the Russos were so covert. They did this genius thing like give you wrong scripts. By the time you did the scene and learned the scene, your mind was so fucked up and convoluted, you didn't know exactly what you were doing and what the throughline was.
So when I saw the movie, I was like, 'I didn't see that coming. I don't remember that happening. I didn't remember that being a story point.' They're kind of geniuses at hiding things from the people who may give them up in a reaction or a moment.
But to answer your question, there's a lot of things in the fourth one that I think are absolutely mind blowing.
What else is on your plate right now?
I wrote a series that we just sold to Hulu that I'll do if I really feel good about it. But there's an interesting storyline revolving around fame and that kind of thing, like the study of celebrity, and what that is. It's a comedy. It's a totally absurd, ridiculous comedy, which fame is, anyway. At least to me. So there's that.
There's The Hunchback of Notre Dame, that we've kind of taken off the shelves and are looking at again. There's a book with (producer) Lorenzo di Bonaventura called The Wolf, that we're having written into a script, which I think is a great kind of international mafia story. We're looking at some interesting stuff. We're having a lot of conversations with a lot of studios right now about what we might want to develop.
Sicario: Day of the Soldado is out in theaters this Friday (June 29).