News
James Gunn Teases That No One Will Be Safe in The Suicide Squad
Franchise armor will not be a factor in upcoming sequel The Suicide Squad, as director James Gunn hints.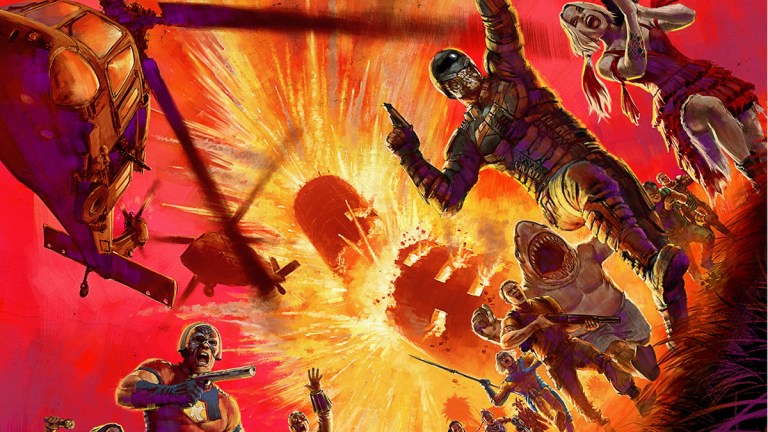 Sequel The Suicide Squad may have been described in this past summer's FanDome teaser trailer as "a gritty 1970s war movie," but director James Gunn recently addressed audience incredulity regarding the stakes evocative of such a description, specifically when it comes to the survivability of its immense ensemble of DC Comics antiheroes. No one is safe, and he means no one.
Gunn, never one to shy away from direct interaction with fan comments, started a Twitter conversation promoting The Suicide Squad's upcoming photo-debuting Empire cover story by asking fans which two characters are likely to survive. However, one critical response pointed to the "franchise armor" that would protect some characters—specifically those for whom DC and Warner Bros. has future plans. Indeed, the purportedly protected class of characters includes Margot Robbie's Harley Quinn (who makes her third DCEU appearance), Viola Davis's returning team overseer, Amanda Waller, and the big-screen-debuting iconic DC villain, King Shark, played here by Steve Agee. Yet, Gunn emphatically refutes the notion that Warner or DC restricted his creativity.
"No character was protected by DC. They gave me carte blanche to do what I wanted." Gunn tweets back, further explaining, "That was one of the things we agreed to before I came to work for them. I wasn't looking for shock value but I wanted the audience to know anything could happen. #StoryReignsSupreme #TheSuicideSquad"
Of course, discussions about who may or may not have franchise armor are certainly reasonable to have, especially since The Suicide Squad will feature at least 15 notable members of its titular team of duress-dictated DC supervillains, most of whom do not conventionally qualify as future franchise material. Joining the aforementioned Harley Quinn and Amanda Waller in the sequel are fellow returnees Joel Kinnaman as field leader Col. Rick Flag and Jai Courtney as Captain Boomerang. They will be flanked by franchise newcomers such as Idris Elba as Bloodsport (a character change after he was originally cast to replace Will Smith as Deadshot), Peter Capaldi as The Thinker, Michael Rooker as Savant, Pete Davidson as Blackguard, Alice Braga as Sol Soria, David Dastmalchian as Polka-Dot Man, Nathan Fillion as T.D.K., Mayling Ng as Mongal and Agee's King Shark.
However, also amongst the sequel's gaggle of newcomers is former WWE superstar and rising Hollywood prospect John Cena, who joins the team as ultraviolent vigilante Peacemaker. The character in particular has the best argument for prospective "franchise armor" out of everyone in the film, seeing as Cena is already set to reprise him in an HBO Max spinoff television series, which will even be written by Gunn, no less. Yet, Gunn's apparent commitment to the supremacy of the film's story over franchise plans could still manifest with Peacemaker's demise in The Suicide Squad; an event that would simply render the already-greenlit television series as a prequel story.
While the prospective death of Peacemaker in the film might lessen the television show's impact, Gunn's control over its story might allow him some creative leeway in the multi-medium transition. Yet, the carte blanch that he claims to have been given only extends to the film's approved cast of characters, none of whom—with Harley Quinn being the obvious exception—do not meet the iconic status of, say, Batman. Pointing to the permanence of prospective deaths in The Suicide Squad, Gunn retorts to another twitter user who brought up the extreme theoretical example of the Dark Knight, stating, "No one can return, obviously. Secondly, Batman wasn't one of the characters I was putting in the movie."
Nevertheless, Gunn's comments and the law of averages indicates that there will be significant casualties here. In fact, so does precedence, seeing as the film's 2016 David Ayer-directed predecessor, Suicide Squad, saw main cast team members Slipknot (Adam Beach) and El Diablo (Jay Hernandez) meet their makers onscreen. Yet, Gunn's ominous idea of no one being safe this time around could make for some memorable deaths, especially if (using another extreme example,) Margot Robbie secretly confided that she's finished playing Harley Quinn and wants to go out in an impactful manner—unlikely as that may be.
The Suicide Squad is currently scheduled to premiere (presumably for a post-COVID theatrical experience,) on August 6, 2021.