News
Will Ferrell and Zooey Deschanel Sing 'Baby It's Cold Outside' Again for Elf Reunion
Nearly 20 years after Elf became a Christmas classic, Will Ferrell and Zooey Deschanel sing "Baby, It's Cold Outside" for a virtual reunion.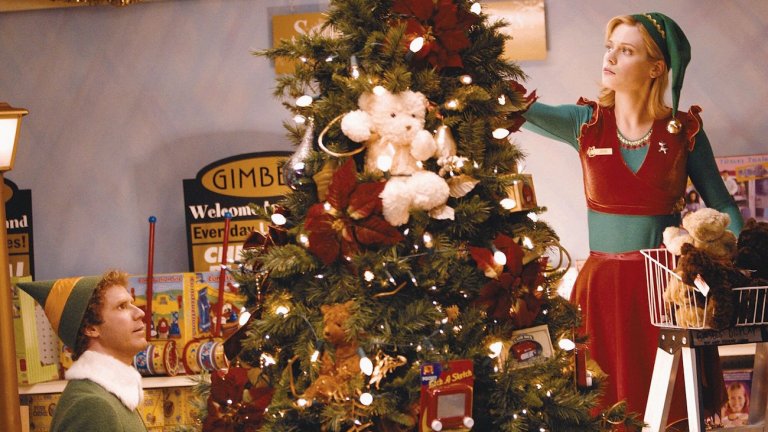 In the 17 years since Jon Favreau's Elf swept into theaters and became an instant Christmas movie classic, the conversation around the song "Baby, It's Cold Outside" has evolved. A lot. Once, and still in some quarters, a holiday season standard, "Baby, It's Cold Outside" doesn't see a December pass without a new think piece saying the song needs to be retired due to its questionable lyrics. Yet no one thinks that about Will Ferrell and Zooey Deschanel's sweet chemistry in Elf.
In roles that proved to be star-makers for both actors, Ferrell and Deschanel played Buddy and Jovie, an unlikely romantic couple in an unlikely family favorite. See, Buddy is a 30-year-old man who until a few days ago believed he was an elf, having been raised in the North Pole at Santa's workshop. Jovie, by contrast, is struggling with just enduring the holidays as a working gal in the Big City. When Buddy sees her dressed as an elf at a department store, he mistakes her attire as evidence of a kindred spirit, as opposed to part of her job requirement.
On paper, this setup should cause plenty of people in 2020 to be upset about the 2003 movie—especially when Buddy follows Jovie's singing voice into the bathroom where she's taking a shower; he then joins without permission in a duet of "Baby, It's Cold Outside." And yet, the warmth of both performances, with Ferrell's singular blend of innocence and silliness particularly selling sincere naiveté, makes Elf impervious to any Scroogian hot takes.
Here is a sweet lad approaching middle age that believes he's an elf (or at least an elfin enthusiast). And through his infectious joy of spreading Christmas Cheer and singling loud for all to hear, plus Ferrell's unusually big hearted screen persona in the film, he can make a connection with Jovie. Admittedly, the latter character is fairly underwritten, but she's also given a tangible kindness and sense of charity by Deschanel, who makes the smart choice to regularly underplay the emotions of her scenes—and of course to sing the hell out of "Baby, It's Cold Outside" and "Auld Lang Syne."
Perhaps it should be no surprise, then, that the songs were included and the part rewritten specifically for Deschanel after director Favreau learned she could sing.
Their scenes are one some of the many elements that have aged so gracefully in Elf, and so unlike most comedies of that era. And it's probably why many will welcome hearing the two sing "Baby, It's Cold Outside" once again. In the below video, Ferrell and Deschanel reprise the duet over Zoom for a virtual Elf reunion.
As part of their table read of the David Berenbaum screenplay, Ferrell and Deschanel once more sing about inclement weather and a series of events that as lyrics can be read as playfully romantic or creepily coercive. How ever you might read the sequence though, there's still a gentle amiability about the pair crooning an old standard.
It's also for a cause both actors hold dearly to their hearts: support for the Democratic Party of Georgia. All proceeds raised by the virtual reunion are going towards efforts to elect Jon Ossoff and Rev. Raphael Warnock to the U.S. Senate, which, by the by, would put the upper Congressional chamber in Democratic control.
Obviously for the talent involved it's a noble effort, as well as a chance to hear Ferrell and Deschanel's still sweet harmonies, even over Zoom, for a movie we consider one of the last great Christmas classics to come out of Hollywood.