News
Christmas Movies and TV Specials: Full 2022 Schedule
Here is a list of essential Christmas movies and TV specials to serve as your viewing guide this holiday season!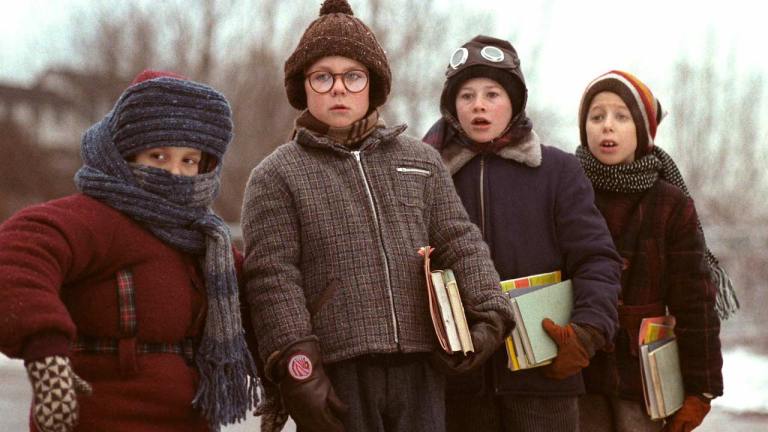 It's the most wonderful time of the year! Or so they say. Some people love the holiday season. And then there are those grinches who don't see the whole appeal. But if there's one tried and true way to get into holiday spirit, it's through exposure therapy to Christmas movies and specials.
In the streaming era, there are more options than ever to catch a Christmas movie or a holiday TV special pretty much whenever you need it. Still, each day in the late November and December calendars brings a whole host of new options to the table. Here we've gathered all of those options that we can find in a helpful day-by-day format. Read on to find out when your favorite holiday specials will be airing or streaming and learn how to find some new favorites!
A note: IF YOU'RE LOOKING FOR HALLMARK MOVIES, we've decided not to include them in our curated schedule this year, save for new releases. Instead, please check out Hallmark Channel's official schedule and Hallmark Movies & Mysteries's official schedule for every single Christmas movie Hallmark has to offer during the 2022 holiday season. Some Hallmark titles will be available on Peacock, and you can find those on our list. Additionally, a list of notable U.K. holiday specials can be found over here.
Now, without further ado, check out our holiday movies and TV schedule below!
Christmas Movies and TV Specials 2022
All times are EST.
Sunday, December 18
| | |
| --- | --- |
| When Hope Calls Christmas | Prime Video |
| Hanukkah on Rye | Peacock |
| When Christmas Was Young (8:00 p.m.) | CBS |
| Cricket on the Hearth (7:00 a.m.) | Freeform |
| Call Me Claus (8:00 a.m.) | Freeform |
| The Santa Clause (10:00 a.m.) | Freeform |
| The Santa Clause 2 (12:10 p.m.) | Freeform |
| The Santa Clause 3: The Escape Clause (2:40 p.m.) | Freeform |
| Dr. Seuss' The Grinch (4:45 p.m.) | Freeform |
| Home Alone (6:45 p.m.) | Freeform |
| Home Alone 2: Lost in New York (9:15 p.m.) | Freeform |
| Scrooged (11:55 p.m.) | Freeform |
| The Holiday Dating Guide (12:01 a.m.) | Lifetime |
| Scentsational Christmas (2:04 a.m.) | Lifetime |
| A Christmas Spark (10:00 a.m.) | Lifetime |
| A New Orleans Noel (12:00 p.m.) | Lifetime |
| Cloudy with a Chance of Christmas (2:00 p.m.) | Lifetime |
| A Christmas to Treasure (4:00 p.m.) | Lifetime |
| Record Breaking Christmas (6:00 p.m.) | Lifetime |
| Wrapped Up in Love (8:00 p.m.) | Lifetime |
| Mistletoe & Menorahs (10:03 p.m.) | Lifetime |
| Fred Claus (1:00 a.m.) | AMC |
| 'Twas the Night Before Christmas (6:00 a.m.) | AMC |
| Jack Frost (6:30 a.m.) | AMC |
| White Christmas (9:45 a.m.) | AMC |
| National Lampoon's Christmas Vacation (7:00 p.m.) | AMC |
| National Lampoon's Christmas Vacation (9:15 p.m.) | AMC |
| Christmas With the Kranks (11:30 p.m.) | AMC |
| When Christmas Was Young (8:30 p.m.) | CBS |
Monday, December 19
| | |
| --- | --- |
| Marry Berry's Ultimate Christmas (9:00 p.m.) | PBS |
| Family Guy (7:00 a.m.) | Freeform |
| Family Guy (10:30 a.m.) | Freeform |
| Home Alone (11:30 a.m.) | Freeform |
| Home Alone 2: Lost in New York (2:00 p.m.) | Freeform |
| Scrooged (4:30 p.m.) | Freeform |
| The Santa Clause (6:30 p.m.) | Freeform |
| The Santa Clause 2 (8:30 p.m.) | Freeform |
| The Santa Clause 3: The Escape Clause (12:00 a.m.) | Freeform |
| Wrapped Up in Love (12:01 a.m.) | Lifetime |
| Mistletoe & Menorahs (2:04 a.m.) | Lifetime |
| Holiday in Santa Fe (8:00 a.m.) | Lifetime |
| Christmas Hotel (10:00 a.m.) | Lifetime |
| Christmas 9 to 5 (12:00 p.m.) | Lifetime |
| My Favorite Christmas Melody (2:00 p.m.) | Lifetime |
| Wrapped Up in Love (4:00 p.m.) | Lifetime |
| Well Suited for Christmas (6:00 p.m.) | Lifetime |
| Santa Bootcamp (8:00 p.m.) | Lifetime |
| Reindeer Games Homecoming (10:03 p.m.) | Lifetime |
| Christmas With the Kranks (6:00 p.m.) | AMC |
| The Polar Express (8:00 p.m.) | AMC |
| Elf (10:00 p.m.) | AMC |
| Greatest Holiday Commercials Countdown (8:00 p.m.) | The CW |
| World's Funniest Animals: Christmas (9:00 p.m.) | The CW |
| LEGO Masters: Celebrity Holiday Bricktacular (8:00 p.m.) | Fox |
Tuesday, December 20
| | |
| --- | --- |
| A Not So Merry Christmas | Netflix |
| When Hope Calls Christmas | Prime Video |
| Family Guy (7:00 a.m.) | Freeform |
| Mickey's Once Upon a Christmas (10:30 a.m.) | Freeform |
| Mickey's Twice Upon a Christmas (12:00 p.m.) | Freeform |
| Disney's A Christmas Carol (1:30 p.m.) | Freeform |
| Home Alone (3:30 p.m.) | Freeform |
| Home Alone 2: Lost in New York (6:00 p.m.) | Freeform |
| Last Christmas (8:30 p.m.) | Freeform |
| Prancer Returns (12:00 a.m.) | Freeform |
| Santa Bootcamp (12:01 a.m.) | Lifetime |
| Reindeer Games Homecoming (2:04 a.m.) | Lifetime |
| A Christmas in Tennessee (8:00 a.m.) | Lifetime |
| Mistletoe in Montana (10:00 a.m.) | Lifetime |
| You Light Up My Christmas (12:00 p.m.) | Lifetime |
| The Road Home for Christmas (2:00 p.m.) | Lifetime |
| Writing Around the Christmas Tree (4:00 p.m.) | Lifetime |
| A Christmas to Treasure (6:00 p.m.) | Lifetime |
| The Flight Before Christmas (8:00 p.m.) | Lifetime |
| Snowed-Inn Christmas (10:03 p.m.) | Lifetime |
| The Legend of Frosty the Snowman (4:30 a.m.) | AMC |
| The Leprechauns' Christmas Gold (9:00 a.m.) | AMC |
| Richie Rich's Christmas Wish (4:00 p.m.) | AMC |
| The Polar Express (6:00 p.m.) | AMC |
| Elf (8:00 p.m.) | AMC |
| Christmas with the Kranks (10:02 p.m.) | AMC |
| CBS Special: Mariah Carey "Merry Christmas to All" (8:00 p.m.) | CBS |
| Illumination Presents: Dr. Seuss' The Grinch (8:00 p.m.) | NBC |
| Santa Claus is Comin' to Town (8:00 p.m.) | ABC |
| Toy Story That Time Forgot (9:00 p.m.) | ABC |
| Shrek the Halls (9:30 p.m.) | ABC |
Wednesday, December 21
| | |
| --- | --- |
| Prancer Returns (7:00 a.m.) | Freeform |
| Last Christmas (10:30 a.m.) | Freeform |
| Home Alone (1:00 p.m.) | Freeform |
| Home Alone 2: Lost in New York (3:30 p.m.) | Freeform |
| Disney's A Christmas Carol (6:00 p.m.) | Freeform |
| Olaf's Frozen Adventure (8:00 p.m.) | Freeform |
| Frosty the Snowman (8:30 p.m.) | Freeform |
| Rudolph the Red-Nosed Reindeer (9:00 p.m.) | Freeform |
| Santa Claus Is Comin' to Town (10:00 p.m.) | Freeform |
| The Simpsons (12:00 a.m.) | Freeform |
| The Flight Before Christmas (12:01 a.m.) | Lifetime |
| Snowed-Inn Christmas (2:04 a.m.) | Lifetime |
| Christmas in Louisiana (8:00 a.m.) | Lifetime |
| People Presents: Blending Christmas (10:00 a.m.) | Lifetime |
| The Christmas Contract (12:00 p.m.) | Lifetime |
| Miracle in Motor City (2:00 p.m.) | Lifetime |
| Ghosts of Christmas Past (4:00 p.m.) | Lifetime |
| Scentsational Christmas (6:00 p.m.) | Lifetime |
| Single and Ready to Jingle (8:00 p.m.) | Lifetime |
| The Holiday Fix Up (10:03 p.m.) | Lifetime |
| Richie Rich's Christmas Wish (12:00 a.m.) | AMC |
| To Grandmother's House We Go (2:00 a.m.) | AMC |
| Mariah Carey's All I Want For Christmas Is You (4:00 a.m.) | AMC |
| To Grandmother's House We Go (9:00 a.m.) | AMC |
| Surviving Christmas (11:00 a.m.) | AMC |
| Jack Frost (1:00 p.m.) | AMC |
| Christmas With the Kranks (3:30 p.m.) | AMC |
| Four Christmases (8:00 p.m.) | AMC |
| National Lampoon's Christmas Vacation (10:00 p.m.) | AMC |
| Fuhgeddabbout Christmas (8:00 p.m.) | VH1 |
| Beebo Saves Christmas (9:00 p.m.) | The CW |
| The Price is Right At Night (8:00 p.m.) | CBS |
Thursday, December 22
| | |
| --- | --- |
| A Christmas Gift | BET+ |
| A Charlie Brown Christmas | Apple TV+ |
| Santa Buddies: The Legend of Santa Paws (7:00 a.m.) | Freeform |
| The Search for Santa Paws (9:00 a.m.) | Freeform |
| Santa Paws 2: The Santa Pups (11:00 a.m.) | Freeform |
| Kung Fu Panda Holiday (1:00 p.m.) | Freeform |
| Mickey's Once Upon a Christmas (1:30 p.m.) | Freeform |
| Mickey's Twice Upon a Christmas (3:00 p.m.) | Freeform |
| The Star (4:30 p.m.) | Freeform |
| Santa Claus Is Comin' to Town (6:30 p.m.) | Freeform |
| Frosty the Snowman (7:30 p.m.) | Freeform |
| Rudolph the Red-Nosed Reindeer (8:00 p.m.) | Freeform |
| Dr. Seuss' The Grinch (9:00 p.m.) | Freeform |
| Prep & Landing (11:00 p.m.) | Freeform |
| Prep & Landing: Naughty vs. Nice (11:30 p.m.) | Freeform |
| The Star (12:00 a.m.) | Freeform |
| Single and Ready to Jingle (12:01 a.m.) | Lifetime |
| The Holiday Fix Up (2:04 a.m.) | Lifetime |
| My Christmas Inn (8:00 a.m.) | Lifetime |
| A Very Charming Christmas Town (10:00 a.m.) | Lifetime |
| Jingle Belle (12:00 p.m.) | Lifetime |
| Christmas Reservations (2:00 p.m.) | Lifetime |
| Santa's Boots (4:00 p.m.) | Lifetime |
| The Dog Days of Christmas (6:00 p.m.) | Lifetime |
| A Country Christmas Holiday (8:00 p.m.) | Lifetime |
| Cloudy With a Chance of Christmas (10:03 p.m.) | Lifetime |
| Jack Frost (2:15 a.m.) | AMC |
| The Life & Adventures of Santa Claus (4:45 a.m.) | AMC |
| The Sons of Mistletoe (9:00 a.m.) | AMC |
| Four Christmases (6:00 p.m.) | AMC |
| National Lampoon's Christmas Vacation (8:00 p.m.) | AMC |
| White Christmas (10:15 p.m.) | AMC |
| iHeartRadio Jingle Ball (8:00 p.m.) | The CW |
| A Saturday Night Live Christmas Special (9:00 p.m.) | NBC |
Friday, December 23
| | |
| --- | --- |
| Kung Fu Panda Holiday (7:00 a.m.) | Freeform |
| Home Alone (7:30 a.m.) | Freeform |
| Home Alone 2: Lost in New York (10:00 a.m.) | Freeform |
| Miracle on 34th Street (12:40 p.m.) | Freeform |
| Tim Burton's The Nightmare Before Christmas (3:20 p.m.) | Freeform |
| Dr. Seuss' The Grinch (5:00 p.m.) | Freeform |
| Home Alone (7:00 p.m.) | Freeform |
| Home Alone 2: Lost in New York (9:30 p.m.) | Freeform |
| Disney's A Christmas Carol (12:00 a.m.) | Freeform |
| A Country Christmas Harmony (12:01 a.m.) | Lifetime |
| Cloudy with a Chance of Christmas (2:04 a.m.) | Lifetime |
| Merry Liddle Christmas Wedding (2:00 p.m.) | Lifetime |
| Merry Liddle Christmas Baby (4:00 p.m.) | Lifetime |
| Merry Swissmas (6:00 p.m.) | Lifetime |
| A New Orleans Noel (8:00 p.m.) | Lifetime |
| Kirk Franklin's The Night Before Christmas (10:03 p.m.) | Lifetime |
| Miracle on 34th Street (1:00 a.m.) | AMC |
| Miracle on 34th Street (1:45 p.m.) | AMC |
| White Christmas (4:00 p.m.) | AMC |
| The Year Without a Santa Claus (6:45 p.m.) | AMC |
| The Polar Express (8:00 p.m.) | AMC |
| Elf (10:00 p.m.) | AMC |
| Grandma Got Run Over By a Reindeer (8:00 p.m.) | The CW |
| Masters of Illusion: Christmas Magic 2022 (9:00 p.m.) | The CW |
| The 24th Annual A Home For The Holidays At The Grove (8:00 p.m.) | CBS |
| Christmas Takes Flight (9:00 p.m.) | CBS |
| How The Grinch Stole Christmas (8:00 p.m.) | NBC |
| 5 More Sleeps 'Til Christmas (8:30 p.m.) | NBC |
| Dolly Parton's Christmas of Many Colors: Circle of Love (9:00 p.m.) | NBC |
Saturday, December 24
| | |
| --- | --- |
| A Christmas Story (8:00 p.m. through Christmas Day) | TBS/TNT |
| Love the Coopers (7:00 a.m.) | Freeform |
| Miracle on 34th Street (9:30 a.m.) | Freeform |
| Disney's A Christmas Carol (12:00 p.m.) | Freeform |
| Home Alone 2: Lost in New York (2:00 p.m.) | Freeform |
| Santa Claus Is Comin' to Town (4:40 p.m.) | Freeform |
| Rudolph the Red-Nosed Reindeer (5:45 p.m.) | Freeform |
| Frosty the Snowman (6:50 p.m.) | Freeform |
| The Santa Clause (7:20 p.m.) | Freeform |
| The Santa Clause 2 (9:30 p.m.) | Freeform |
| The Santa Clause 3: The Escape Clause (12:00 a.m.) | Freeform |
| A New Orleans Noel (12:01 a.m.) | Lifetime |
| Kirk Franklin's The Night Before Christmas (2:04 a.m.) | Lifetime |
| Why the Nativity? (10:00 a.m.) | Lifetime |
| A Date by Christmas Eve (10:59 a.m.) | Lifetime |
| Let's Meet Again on Christmas Eve (12:30 p.m.) | Lifetime |
| Reindeer Games Homecoming (2:00 p.m.) | Lifetime |
| Feliz NaviDAD (4:00 p.m.) | Lifetime |
| Dear Christmas (6:00 p.m.) | Lifetime |
| The 12 Days of Christmas Eve (8:00 p.m.) | Lifetime |
| A Christmas Spark (10:03 p.m.) | Lifetime |
| Love Actually (12:00 a.m.) | AMC |
| The Year Without a Santa Claus (3:00 a.m.) | AMC |
| Pinocchio's Christmas (4:15 a.m.) | AMC |
| Frosty's Winter Wonderland (5:30 a.m.) | AMC |
| Jack Frost (6:00 a.m.) | AMC |
| Rudolph and Frosty's Christmas in July (7:15 a.m.) | AMC |
| Rudolph's Shiny New Year (9:45 a.m.) | AMC |
| White Christmas (11:00 a.m.) | AMC |
| 'Twas the Night Before Christmas (1:45 p.m.) | AMC |
| Frosty's Winter Wonderland (2:15 p.m.) | AMC |
| The Year Without a Santa Claus (2:45 p.m.) | AMC |
| The Polar Express (4:00 p.m.) | AMC |
| Four Christmases (6:00 p.m.) | AMC |
| Elf (8:00 p.m.) | AMC |
| National Lampoon's Christmas Vacation (10:00 p.m.) | AMC |
| Christmas Around the World (8:00 p.m.) | The CW |
| It's a Wonderful Life (8 a.m. to 11:00 p.m.) | NBC |
| The Wonderful World of Disney: Home Alone (8:00 p.m.) | ABC |
Sunday, December 25
| | |
| --- | --- |
| The Boy, the Mole, the Fox and the Horse | Apple TV+ |
| Home Alone (7:00 a.m.) | Freeform |
| Home Alone 2: Lost in New York (9:30 a.m.) | Freeform |
| Santa Claus Is Comin' to Town (12:00 p.m.) | Freeform |
| Rudolph the Red-Nosed Reindeer (1:00 p.m.) | Freeform |
| Frosty the Snowman (2:00 p.m.) | Freeform |
| The Santa Clause (2:30 p.m.) | Freeform |
| The Santa Clause 2 (4:30 p.m.) | Freeform |
| The Santa Clause 3: The Escape Clause (7:00 p.m.) | Freeform |
| Home Alone (9:00 p.m.) | Freeform |
| Home Alone 2: Lost in New York (11:30 p.m.) | Freeform |
| The 12 Days of Christmas Eve (12:01 a.m.) | Lifetime |
| A Christmas Spark (2:04 a.m.) | Lifetime |
| Christmas on the Menu (10:59 a.m.) | Lifetime |
| Christmas on Wheels (12:30 p.m.) | Lifetime |
| Wrapped Up in Love (2:00 p.m.) | Lifetime |
| A Recipe For Joy (4:00 p.m.) | Lifetime |
| Merry Textmas (6:00 p.m.) | Lifetime |
| The Holiday Dating Guide (8:00 p.m.) | Lifetime |
| A Christmas to Treasure (10:03 p.m.) | Lifetime |
| Christmas With the Kranks (12:15 a.m.) | AMC |
| Fred Claus (2:15 a.m.) | AMC |
| Rudolph's Shiny New Year (4:45 a.m.) | AMC |
| The Year Without a Santa Claus (6:00 a.m.) | AMC |
| Miracle on 34th Street (7:15 a.m.) | AMC |
| The Polar Express (9:30 a.m.) | AMC |
| Fred Claus (11:30 a.m.) | AMC |
| Christmas With the Kranks (2:00 p.m.) | AMC |
| Four Christmases (4:00 p.m.) | AMC |
| Elf (6:00 p.m.) | AMC |
| National Lampoon's Christmas Vacation (8:00 p.m.) | AMC |
| Elf (10:15 p.m.) | AMC |
| Christmas Around the USA (8:00 p.m.) | The CW |
| Disney Parks Magical Christmas Day Parade (7:00 a.m.) | ABC |
| Call the Midwife Holiday Special (9:00 p.m.) | PBS |