Features
How Z100 Dominated New York Radio
Don't touch that dial. Worst to First director Mitchell Stuart spins the origin story of legendary New York radio station Z100.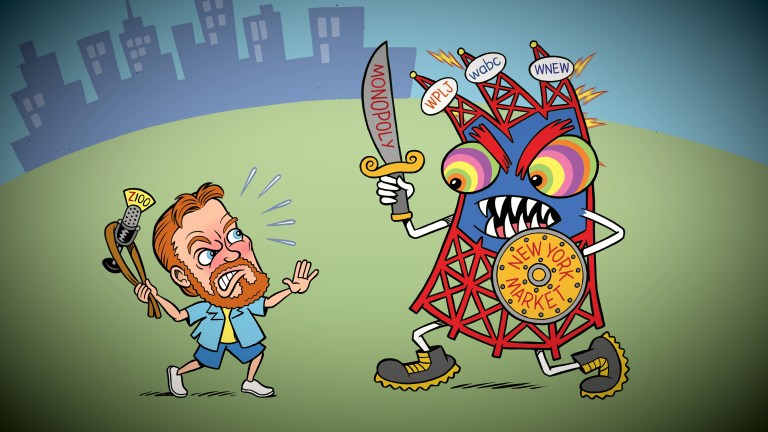 Scott Shannon is the King Kong of rock and roll radio. The new feature-length documentary Worst to First: The True Story of Z100 New York describes how he arrived in New York to save a bottom-place radio station, and turned it into a major media force.
"Coming to you live from the top of the Empire State Building," like every other New York station sharing the city's antenna, Z100 was one of the eight wonders of the radio world. The DJs broadcast from the swamps of New Jersey, when the Meadowlands might as well have been Skull Island, on-air talent had to buy their own records, and the station wasn't on rotation when musicians came to town to promote shows. Shannon and his fellow radio personalities turned it into a first-stop music shop.
Jon Bon Jovi, Joan Jett, and Nile Rodgers, who are interviewed in the documentary, broke through because of Z100 airplay. Madonna camped out until she got a song on. She paid the station back when she became a star, delivering on a promise which Shannon still considers his favorite memory of the time. Tune in to see what that was.
Worst to First is directed by Emmy-Award winning filmmaker and soundtrack composer Mitchell Stuart, who infuses the story with infectious rhythm. The versatile director and his partner, Cheryl Halpern, documented female freedom fighters in Africa in Natsanat, and continued exploring social justice and humanitarian stories in Fighting to be Free and Remembering Maurits Kiekhas. He's worked Z100's Jingle Ball concerts with Lady Gaga, as well as with artists as diverse as Jay-Z, Earth Wind & Fire, Chicago, Katy Perry, John Mayer, and Taylor Swift. His program Stripped became the signature series for Clear Channel Digital Radio. Stuart spoke with Den of Geek about climbing radio's highest antenna.
Den of Geek: Why was the idea of broadcasting from the top of the Empire State Building so important?
Mitchell Stuart: That's a critical part of the movie. When Malrite first bought this little station that reached 18 people in Jersey, right out of Secaucus, they wanted to really take on the world. You have to think about how the landscape was for 80s radio. Everything was iconic, monolithic. It was the Gamblings. It was Imus in his prime. It was the "heart throb" in Jim Kerr at WPLJ. And in comes this station out of Cleveland, who's going to try to inculcate and get into New York City.
Though they bought this little station, they had the rights to also broadcast from the top of the Empire State Building. So, their reach went from 18 people to New York. And that was the key point. They were trying to find someone who was naive enough to take on the world as well as had the courage to play David against all these Goliaths and hence got Shannon.
So, do you see Scott Shannon as a King Kong character?
One-hundred percent. They thought he was going to be Fay Wray but he ended up being King Kong.
One of my favorite sequences is the drums behind Shannon during one of his spiels. How did musical rhythm inform the editing?
Scott did, for radio people, one of the most famous rants in radio history in Worst to First. It's analogous to the Peter Finch speech from Network: "I'm mad as hell and I'm not going to take it anymore." I got to score the film. I started to play around with a chord here or a chord there. And the obvious choice would be hitting some typical power chords. I said, no. Scott speaks in musical rhythm, so let's support him, and let's go and riff with him. I got a legendary drummer I used to play with, Michael Rady, who's phenomenal, has played all kinds of music. First time I got to see him play, I was a kid and he's playing the Garden.
I said to Mike. We're going to play Scott's rant and we're going to jam. I'm going to lead you through it like a conductor. I appreciate you noticing that, because that was an avant garde moment in an entertainment doc. But it couldn't have been anything else. It had to just be drums.
Shannon's trip to buy his first transistor reminds me of musician's stories about buying their first instruments. Is radio a musical instrument to the DJs?
You're so right on that. As you've seen in the film, he still has that radio. He saves up forever as a kid in the Midwest, and there was a DJ who's literally spinning records in a storefront window, and he would go downtown and he'd watch this guy. To him, I'm thinking of Mickey Mouse in Fantasia: He's the sorcerer's apprentice. It was such a transformative moment for him, and he saved up to get the radio.
He just wanted to be on the radio. That's all he's ever wanted to be. In fact, we did an interview with him this morning for another show that I do. And I learned that when he started Z100, he would go on under a different name on the weekends because he never wanted to not be on the air. He would go on a Saturday as his character Super Shan and do a show.
Because it's local to me, can you tease the significance of Ray's Pizza on 11th and Sixth for future viewers?
When I was a kid growing up in Brooklyn, the only place I'd ever go to in the city was 48th Street to look at guitars or Times Square to watch Kung Fu movies. Both integral parts of my life, even to today. My wife, Enid Stuart, was also from Brooklyn, but would go to the Village because she was cool. She introduced me to Ray's Pizza. The original on 11th Street. It was Pizza Ambrosia. Nothing better could ever, ever enter your mouth in the pizza world. The most pizza cheese, an exquisite sauce, am I lying?
It even got on Seinfeld. And it always played the hits.
Michael Ellis, who was one of the original music directors for Scott, would go by Ray's Pizza as the barometer of success for the station. Some people go to the mall, some people would listen to car radios as they go by. Some people would look at Arbitron and Nielsen. Michael Ellis had his ears to the ground. He'd go to Ray's Pizza. And when they switched over to Z100, he knew that they were rocketing straight ahead.
Now that most media is very corporate, how does another Z100 happen?
I was so attracted to the story, not just because Z100 touched my career, it's just like the equivalent of being on Yankees. Once you're a Yankee, you're always a Yankee. But David and Goliath stories, people tell you it's the worst time to be in music. It's the best time to be in music. You go and make your own music. You don't need permission. And then if you find an audience, radio will come to you, podcasting will come to you.
I think the best part about this story is that one person can change the world if you don't give up, if you have a dream and you just keep hammering.
How did the fans and musicians come together to make Z100 the biggest station?
Unless you've gone to a Z100 Jingle Ball, now iHeart Jingle Ball, you have no idea how the fans feel about this concert and the station. Fans love this station. That concert sells out in five minutes. The fans felt that same passion back in Scott's day. People would make their own banners and hang them out the windows. There's always been a connection between Z100 and New York and musicians.
When you talk to musicians about the first time they hear the song on the radio, and you say, "and Z100?" That's their moment. That's the moment where they have a chance to change their lives. And it's still that way. Now, everyone wants to be on the Z100 playlist. It's not an antiquated idea because Z100 now is not just a local station. It's a global station.
Coming to film as a soundtrack writer, how did that shape your flow?
Music is extraordinarily important. Very often when we do a doc, I get to work with some of the best musicians in the world and co-write with them. That goes back to the show Stripped. We did 100 episodes with the biggest artists in the world, and you had to play live and there were no tricks. I got to be friends with a lot of really remarkable musicians, and they recognized me not just as a director, but music people know music people. I write with a number of different people.In this case, because we're so guitar centric, I work with Martin John Butler, who's a brilliant guitar player and songwriter.
I wanted the score to reflect the music of the time. You want the music to marry the film. Hence, drums when Scott's giving his percussive rant, Buddy Holly-sounding guitars when he's talking about that period. When they have that moment with The Who, the 14-year-old in me couldn't wait to go do a power cord in the studio and play. I got to do that myself with my drum friend Mike Rady. I just said, go be Keith Moon and I'll be Pete Townshend and John Entwistle.
Would you have ever had the balls to do what Madonna did, and walk up and say I got to talk to Scott Shannon?
Not then. I give her credit because she was extremely young. Now I'd walk up to anybody, but that comes from an inner sense of confidence from being around. You heard stories in New York about Madonna and she was going to take no prisoners and she was going to make it. And look what she did, at a time when women didn't do it, at a time when she didn't know anybody, she just made it happen.
I got to interview Lady Gaga when she was just starting. And it was the same thing. She had all of her plans when she was 22. Some people just have it, and won't take no for an answer. And it's not enough just to be talented. You have to have the drive and the belief and extremely thick skin. And to Madonna's credit, go for it.
What drew you to Africa for Natsanat and Fighting to Be Free?
My partner, Cheryl Halper, has just been nominated, for our docs and the work she does, for a Nobel Peace Prize in the Philippines. She is a rare human being. When we first became partners, she asked me to make docs with her, because I was doing mostly music docs. She introduced me to someone, at a restaurant, who was the First Lady of Ethiopia, who was like a ridiculously cool human being. I thought she was kind of like Beyoncé. They're talking about this movie they want to make, and they're talking about the music of Ethiopia. I had played African music. And they said, well, someone should make a documentary about this. I said, yeah, somebody should. And they basically said, we're going to go next week. Go get your visa and figure it out.
We actually went to make another movie in Ethiopia. We started shooting, in Israel first, a comparison story about King Solomon and the Queen of Sheba called The Two Zions. The First Lady of Ethiopia says to me, I've heard good things about you, we want you to tell our story. She talked about Davida versus Goliath stories. She talked about how women actually came into equal rights in Ethiopia, became equal-footing fighters for freedom against the Dergs in Ethiopia in the 90s. She asked if I would make their movie. I said I'd only make it, with all due respect, if we could talk about the female freedom fighters, because that was never done. She said "in the next room is the woman that raised me when we were in the Bush." We ended up doing a four-and-a-half-hour interview with that woman and it was great.
Doing Worst to First was a different kind of joy. It was about music, it was about making an entertaining doc, and we wanted to make it quick.
Worst To First: The True Story of Z100 New York will be released on Video-on-Demand on Friday, Feb. 11.