Features
Why Wayne's World Needed Bohemian Rhapsody
Wayne's World director Penelope Spheeris says Guns N' Roses was not worthy of the headbanging ride driven by Queen's "Bohemian Rhapsody."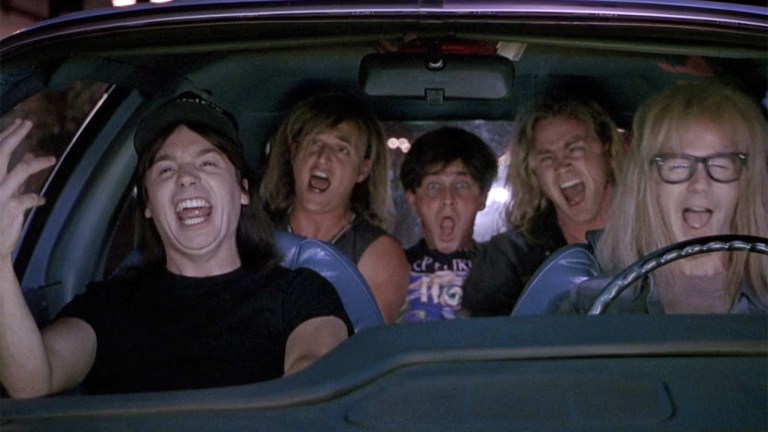 Premiering on Feb. 14, 1992, Wayne's World was a Valentine's Day gift to heavy metal music. Starring Mike Myers as lo-fi cable host Wayne Campbell and Dana Carvey as his best friend/chimp/"with you as always" Garth Algar, the film followed in the tradition of The Blues Brothers, a Saturday Night Live skit that became a big screen buddy movie which had that box office "schwing." Both films highlighted a particular music genre, and each brought on experts in the sonic reality.
Penelope Spheeris directed the cult punk rock/heavy metal masterpiece documentary film series The Decline of Western Civilization, and turned down the heavy metal satire This Is Spinal Tap because it wasn't headbanging enough. She'd also caught the dark side of punk squatter slacking in the 1984 coming of age drama Suburbia. In directing Wayne's World, Spheeris captures the subtle tension between a metal-head's manic persona and the person beneath the hair who secretly listens to "Hey Mickey" and fantasizes to Gary Wright's "Dreamweaver."
Wayne's World, which is receiving its 30th anniversary SteelBook Blu-ray release this month, has been getting people to bang their heads ever since. How could it not? In the movie's very first scene, we see the "Wayne's World" cable show crew, plus one inebriated friend ready to hurl, cruise Aurora, Illinois in Garth's 1976 AMC Pacer, the Mirthmobile. Wayne pops a cassette into the tape player, and they all thrash their heads, singing dramatically along to Queen's unlikely 1975 hit "Bohemian Rhapsody." It's comedy gold now, but at the time some of the creative minds didn't think it was excellent enough.
Producer Lorne Michaels was pushing for a Guns N' Roses song. Freddy Mercury's epic five-minute and 55-second operetta sang to an older time, and Axl Rose and Slash's band were on the rise. Legend has it, director Spheeris supported Michaels' choice. But the director is quick to point out that was never the case.
"I must officially clarify that that is urban myth," Spheeris told Den of Geek during an interview about the comedy classic's anniversary ahead of the SteelBook release. "I would have never wanted Guns N' Roses in Wayne's World because I was pissed off at them at the time. I forgive them now, but at the time, I had just finished doing [The Decline of Western Civilization Part II] The Metal Years and their manager, Alan Niven, at the last minute, pulled them out of the movie."
Spheeris had been working with Michaels throughout the run of Saturday Night Live, producing the short films Albert Brooks directed for the sketch show. As Wayne's World amassed a mainstream following, the mythology behind it grew, and its fans always accepted the conspiratorial narrative.
"Why do people believe that? Do you know where I think it came from? I think either Mike or Dana, one of the actors, just came up with that so they could support the fact that they thought of 'Bohemian Rhapsody,'" Spheeris tells us. "And they don't need to do that because I give total credit to Mike for writing 'Bohemian Rhapsody' into the original Wayne's World script. I give credit to myself for the way it was shot, but the actual use of the song was Mike."
Long before it was a film, "Wayne's World" debuted on Saturday Night Live on Feb. 18, 1989, but Myers had been doing a version of the Wayne character before he even began performing. Myers first brought it public in 1983 as a recurring segment on CITY-TV's overnight show City Limits. In 1987, he brought his "Wayne's Power Minute" to CBC Television series It's Only Rock & Roll. Wayne Campbell was a stereotypical Canadian guy, who loved hockey, beer, and was very particular about his music.
The song dispute was very personal to the star and co-screenwriter. The script drew from Myers' childhood memory of driving around Toronto with friends, not only singing along to the song, but each taking specific parts.
"At that time, the public had kind of forgotten about Queen a little bit. Lorne was suggesting Guns N Roses," Myers told Rolling Stone. "I don't even remember the song." Myers gave the producers an ultimatum, threatening to quit the film if he couldn't use "Bohemian Rhapsody." He understood the argument for using a more popular band, but "didn't have any jokes for a Guns N Roses song."
With Mercury on lead vocals and piano, Brian May on guitar, Roger Taylor on drums, and John Deacon on bass, "Bohemian Rhapsody" is an aural oddity. It is theatrical, progressive, erratic, epic, and "inherently comedic," according to Myers. Queen expertly layered 160 tracks of vocal overdubs to get it right. A mixture of three songs, the structure and harmonization defied pop sensibilities. Appearing as the lead single from Queen's 1975 album A Night at the Opera, no one expected it to be a hit, except the band, who put up a unified front in support of the unlikely single.
Myers got to recreate that scene in the 2018 Freddie Mercury biopic, Bohemian Rhapsody, in the role of EMI Records suit Ray Foster. "What you need is a song that teenagers can get in their cars and bang their heads to, and that song is not 'Bohemian Rhapsody,'" he declares.
The band was right. From the a cappella five-part harmony opening through May's powerful guitar solo to the final gong, "Bohemian Rhapsody" hit all the right notes. It reached No. 1 on the UK charts, and No. 9 on the U.S. Billboard Hot 100. Wayne's World helped propel "Bohemian Rhapsody" back into the charts in 1992, where it peaked at No. 2.
Mercury died of AIDS three months before the premiere of Wayne's World, but May showed him an early cut of the film, according to Rolling Stone, and the singer "laughed and laughed."
Teenage joyrides to pop music have been a filmmaking staple since the rock and roll generation began making their own films. It can be seen in George Lucas' American Graffiti, and in Philip Kaufman's 1979 adaptation of Richard Price's novel The Wanderers, when the Bronx gang doo-wop their way into Ducky Boy turf. In 1987, Spheeris proved any song could be a motion picture banger.
"I did the same scene in Dudes, when Flea and John Cryer banged their heads to 'Hava Nagila,'" Spheeris tells us. "If anybody wants to go and see where the headbanging in the car came from? They can look at that."
The "Bohemian Rhapsody" sequence is now a comedy standard, and its influence can be seen in film and TV series to this day. "As far as people using it and referring to it and all that, I'm going to have to throw that into the category of homage," Spheeris, who quit Hollywood in 2012, tells Den of Geek. "To me, it's flattering that it is used by other people and respected, and if I don't get credit for it, that's fine."
Wayne's World's 30th anniversary SteelBook edition was released on Feb. 1.