Features
How the Shazam Movie Brings Magic to the DCEU
The Shazam movie introduces a new tone to the DCEU. We spoke to Zachary Levi, David F. Sandberg, and more to learn all about it.
It's Christmas in Philadelphia. Well, not really. It's April in Toronto, but as far as the Shazam movie is concerned, it's the holiday season in the City of Brotherly Love. The weather is getting in on the act, too. There's snow on the ground, the temperatures dip below freezing, and despite it being the start of baseball season, a North American cultural rite of spring, a Blue Jays game was just canceled because a piece of falling ice damaged the roof of the Rogers Center.
If you know where to look, there's even a Christmas carnival—although, unlike the authentic snow and ice, this one is manufactured by Hollywood magic. There are seemingly functional games and prize booths (sharp-eyed Shazam fans will note that they're stocked with stuffed tigers) sporting hand-painted signage; ride and prize tickets litter the ground; there's even a massive (but weathered) Christmas tree. Oh, and there's a full sized Ferris Wheel that has toppled over ("We had to buy it because, obviously, we're not going to be able to return it in the same condition," production designer Jennifer Spence says. "It's slightly used.") with the remains of other carnival huts in splinters beneath it.
Some of the chaos is a result of Toronto's actual weather. "The weather has been particularly hard on us this spring in Toronto," key scenic artist Cameron Brooke tells a group of shivering journalists during a walkthrough of the carnival set. But the vast majority is a result of a superhero battle of some kind. The presence of the downed Ferris Wheel is a welcome indicator of a more practical approach rather than the CGI-heavy affairs audiences have come to expect.
These details, along with the Christmas setting seem to indicate that Shazam, like its title character, is a little more old fashioned in its approach to superheroics.
And there is no more of an old fashioned superhero concept than Shazam, a character who beat Captain America to the stands, and whose popularity once outstripped that of Superman himself. The ultimate in comic book wish fulfillment, with an origin story so simple you'd think a kid dreamed it up, Shazam is the story of how a young boy learns a magic word that grants him the wisdom of Solomon, the strength of Hercules, the stamina of Atlas, the power of Zeus, the courage of Achilles, and the speed of Mercury. In other words…SHAZAM!
So perhaps it's only natural that Shazam isn't about cosmic consequences, half of all life in the universe being wiped out, planet hopping, or time travel. Instead, its big action sequences take place in a mall, a toy store, and a Christmas carnival. It's not about a driven vigilante, but rather a good–if troubled–kid (Asher Angel) who suddenly becomes a superhero with the power of the gods (Zachary Levi), and all the fun and magic that comes with it.
"We try to do as much as we can practically with explosions and flying … being on wires and all of that," Shazam director David F. Sandberg says later, indoors and at a far more reasonable temperature. "Yeah, take it as far as we can, and then CG will have to take over when we can't get there."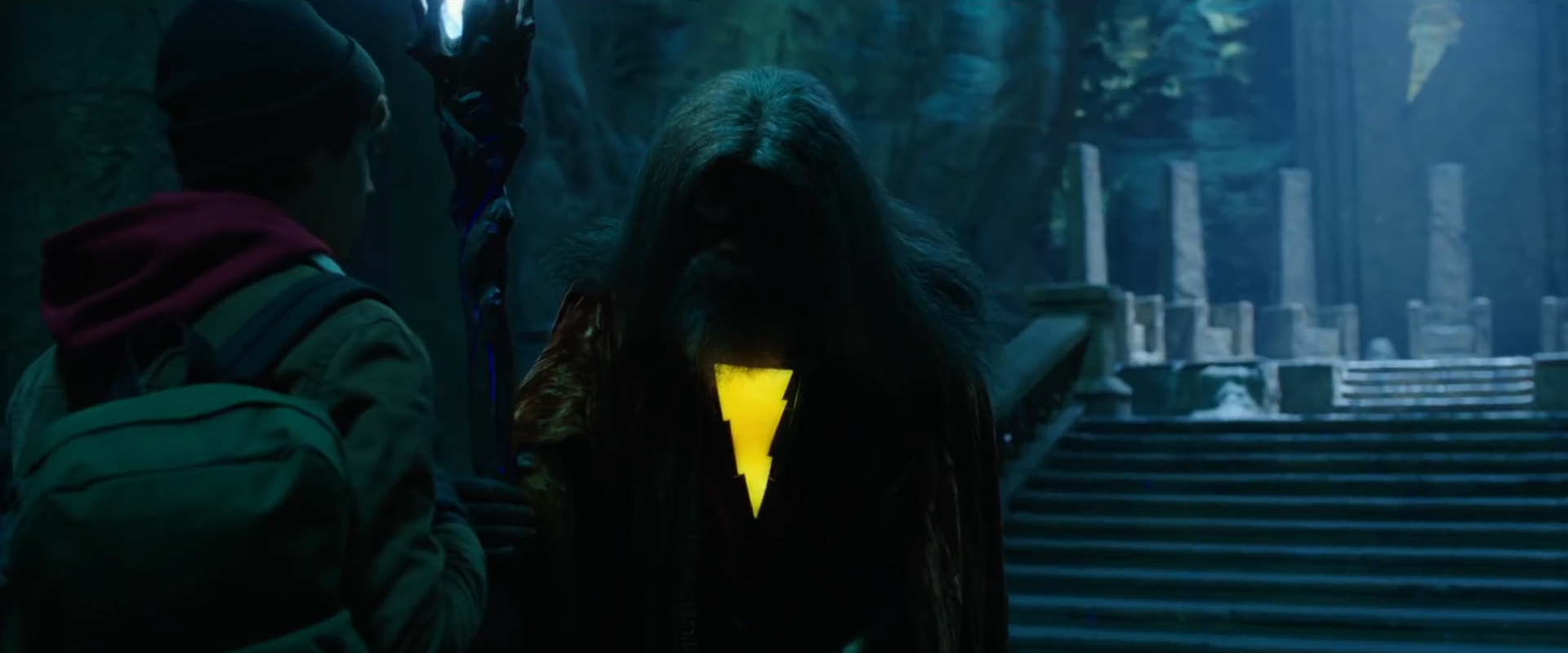 Sandberg is speaking to journalists from the entrance to the Rock of Eternity, the enchanted magical throne room that exists outside of space and time, and the site of the genesis of Shazam's powers. Although, here on our world, the Rock of Eternity is just a set on another soundstage in Toronto. While the Shazam origin story–a young orphan boy finds himself in a mysterious, torch lit hallway where an ancient wizard grants him the powers of six mythological figures–may not be as well-known as other heroes, to fans of the character, it's as iconic as a rocket from Krypton or Martha Wayne's pearls.
For Shazam fans, it's all here: Massively high ceilings, the left wall lined with pedestals outlining the Seven Deadly Sins, and, at the end of it, a throne fit for a wizard who embodies the power of the gods. Lit by an eerie, blue luminescence, as if it's being reflected off a body of water, the Rock of Eternity has the feeling of an underground cavern carved out by some ancient river. Spence says the rocks themselves were inspired by rock formations in Arizona. But look closely at the pillars among the stones, and you'll spot mysterious hieroglyphics, adding to the mystical feel, and giving the impression that the power of Shazam emanates from somewhere in the distant past, rather than rocks made of plywood and plaster.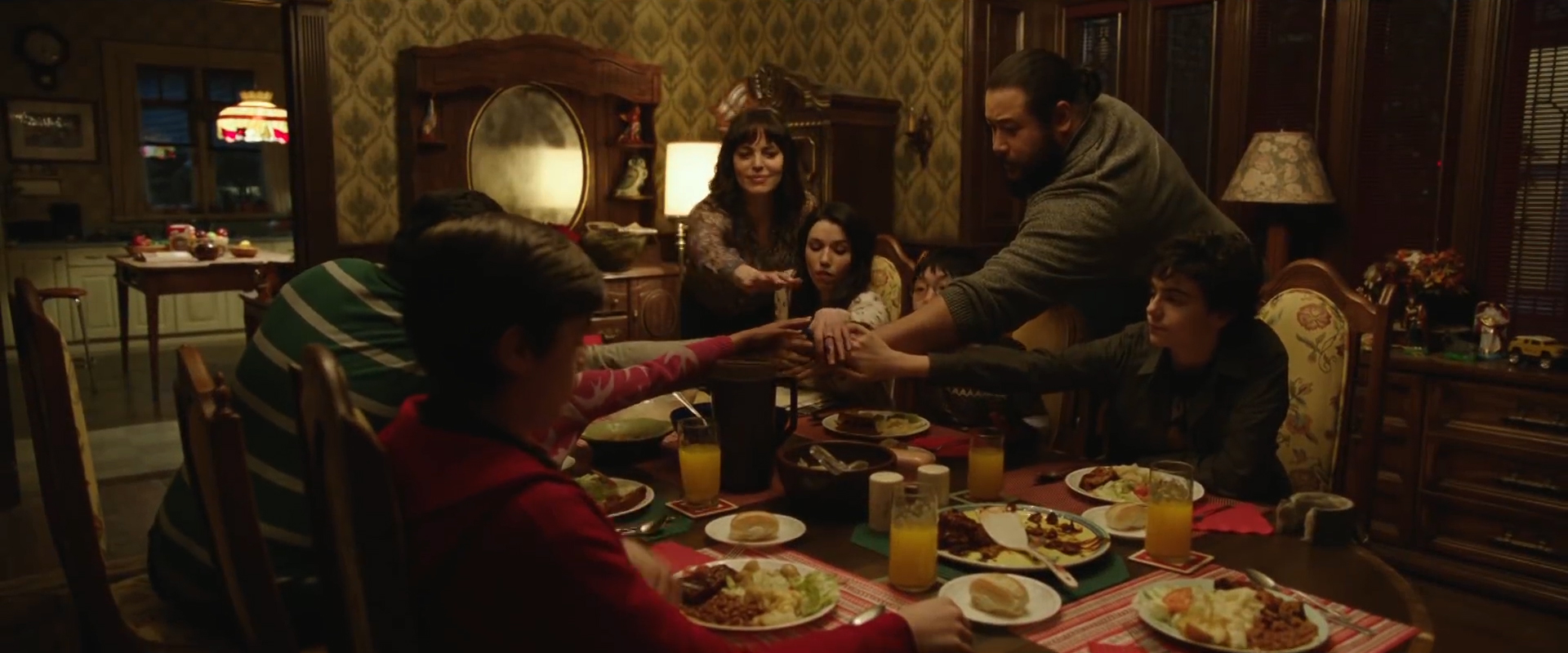 For all of the Rock of Eternity's weighty blockbuster mysticism, just on the other side of the wall, a very different scene is playing out that gets to the heart of the duality of both the Shazam character and the movie. Sandberg and company are executing a long tracking shot as Billy Batson (Asher Angel) arrives at his new foster home. For as cold as it is outside, and as remote as the Rock of Eternity set feels, the group home is warmly lit and cozily furnished, the kind of place you could pull up a chair at the already crowded dinner table and feel welcome. Billy winds his way from the front porch into the living room, the dining room, and up the stairs, encountering his new foster siblings along the way. He encounters them over and over as the take is run repeatedly, and Angel's Billy takes it all in with some skepticism.
"[Billy] does not want to be with these people, he does not want to be here," Angel says later. "He just wants his mom, that's it."
There seems to be none of Billy's world weariness in the young actor, who exuberantly describes the experience of working on Shazam with words like "a dream come true" and "life changing." But he understands where his character is coming from.
"You know, he's had a hard life," Angel says. "He lost his mom when he was really young and he's basically just been searching for her his entire life. And once he meets this Wizard, he's like, 'Who's this crazy guy?' I think deeper into the conversation with the Wizard he finally realizes, 'Woah! I actually mean something.' So I think that's really just the turning point."
Of course, it's that wizard who gives Billy the magic word that grants him super powers. It also transforms him into an adult superhero played by Zachary Levi.
Levi already has a devoted genre audience of his own thanks in large part to his five seasons as the title character on action-comedy Chuck, not to mention popping up as Fandral in Marvel's Thor movies. He notoriously lost out on the role of Star-Lord to Chris Pratt for Guardians of the Galaxy, but it's easy to see how his earnest, comedic energy would have been a good fit for Peter Quill. That same earnestness and enthusiasm makes him a perfect match for the World's Mightiest Mortal, a 14-year-old brain in a superhero body.
Levi was surprised when he first got the notice about the role. "My first reaction is, 'Why the hell are they sending me this right now?'" Levi recalls. "I emailed them and I said, 'Hey, aren't they looking for a) massive stars, or, at the very least, b) someone who is a massive person?'"
The result was that Levi passed on the role. But, as if the ancient wizard himself had chosen him, the opportunity presented itself again two months later, and this time he sent in an audition tape.
"We did very extensive casting," Sandberg says of the search for Shazam. "I think it was over a hundred people for the role of Shazam. I mean, that's usually the case. You just read tons and tons of people until you see right away that it's like, 'Ooh, that's the guy.' And that's kind of what happened with Zack once I saw [his audition]."
"They knew they needed to cast someone that could be as exuberant or optimistic or sassy as a 14-year-old boy and, dammit, that's me in a nutshell," Levi says. "My particular energy has gotten me into a lot of incredible jobs like Chuck, Tangled, Alvin and the Chipmunks, or whatever. It's always something that's got a lot of heart to these characters. There was definitely a part of me that felt like maybe I'm never really going to have my shot at something like this because you need to be–I don't know, super-ripped or super-moody, or super-sexy, whatever that is. I always felt like I was more of an every-guy. I felt like I was following in a Tom Hanks kind of trajectory. But when I realized that we genuinely were making something between Superman and Big, I was like, 'Damn, this is a dream job.'"
read more: Secrets of the Shazam Movie Costume Revealed
That energy helped Levi inhabit the mindset of a teenager. Since he and Angel have to essentially embody the same person on screen, that posed challenges for how Levi could approach his half of the role, especially since Angel had to finish his commitments to shooting the Disney Channel's Andi Mack before he could start filming as Billy Batson.
"Fortunately, he's just a really good, cool kid who also really loves life and video games and sings and dances, and things I can relate to," Levi says. "Because you are shooting out of order, it's not like I could really watch him do all of his stuff. I started off in one of my scenes and I was like, 'Okay, I think this is the choice I am going to make,' and then once you do, you just have to commit to that choice. Otherwise, your performance is all over the place throughout the movie."
One of the key Shazam powers is the "wisdom of Solomon," a quality that one doesn't usually associate with a teenager—even a teenager in an adult's body. Levi went to the director early in filming to help find his way into that aspect of the role.
"Essentially what was settled on is the idea that, while some of these powers are a little more evident [than others]," Levi says, "with the wisdom, it's not quite as evident. He's growing into that a little bit. It's magic. But he does show his wisdom in certain areas throughout the movie where you see him make a decisive move or he does something where you go, 'Oh, that would be a more wisdom of Solomon-type of thing.'"
Jack Dylan Grazer, who plays Freddy Freeman, one of those foster kids Billy seems so skeptical of and the one who becomes Billy's confidante when he gets his powers, has an outsider's perspective on some of the other differences between Billy and Shazam.
"I feel like Billy's nicer when he's Shazam," Grazer says. "I don't know what that means. I get it, though, because he's being brought into this foster home and he doesn't really feel like he wants to embrace anybody because he's like, 'I don't want to be here.' That's understandable."
While the Marvel Studios blockbuster factory ticks along with stunning regularity, the DCEU has had its share of growing pains. With every middling review, every whisper of behind-the-scenes trouble, every hot take about how Justice League only brought in a fraction of the business it was expected to, the internet speculation machine finds yet another gear, churning out take after take about how Warner Bros. can right the ship. Some of them even whisper the dreaded word: reboot. It's a magic word that doesn't grant superpowers, but usually spells doom for franchises, not to mention the tearing down of the delicate, intricate spider web of the "shared cinematic universe," the IP hydra by which studio executives count their bonuses.
Of course, most hyper-critical takes conveniently miss the fact that while Suicide Squad and Batman v Superman: Dawn of Justice weren't critical successes, they sure did make money. And then there was a little movie called Wonder Woman. Oh, and did you hear that Aquaman stormed his way to a billion dollars at the box office, the first DC superhero movie to do so since Christopher Nolan was driving the Batmobile at previously unseen creative speeds?
In other words, the DCEU isn't going anywhere, and Shazam is absolutely the next piece in the world they've been building since 2013's Man of Steel.
While the old model of making sure all of your already-big blockbuster superhero movies build to an even bigger blockbuster superhero team-up movie may be on its way out, Warner Bros. isn't abandoning the framework of its big screen DC Universe. Shazam appears to deal in relatively small-scale themes like friendship and family, with a sense of innocence and wonder perhaps amplified by its Christmastime setting. The cast and crew are happily forging their own corner of the DC Universe, all while existing alongside what has come before.
And while Shazam was the first DC superhero movie to go into production after Justice League underperformed at the box office in November 2017, you wouldn't know it talking to the people involved. Sandberg dismisses the notion that the struggles of Justice League had an effect on Shazam. "I mean, it's such a separate film that I don't think it changed anything really," he says. "It's very different from Justice League. It's still the same universe, but just has a very different tone."
Based on the trailers, as well as what we've seen on set, that tone is far more in line with Wonder Woman and Aquaman than Man of Steel or Batman v Superman. "It's not a pure comedy, because you still have those touches of some pretty dark subjects and some pretty scary monsters," Sandberg elaborates. "I like to compare it to '80s movies like Goonies, Ghostbusters, and Back to the Future."
Tonal considerations aside, Shazam is still firmly in continuity with the films that came before it.
"We are definitely within the DCEU world," Levi says. "The bulk of what has happened essentially, I think, since Man of Steel, all of that has really happened in our world. All of that stuff, theoretically, we could have been watching on the news as it was going down."
What's interesting is that, despite being granted the powers of a superhero, that's not really Billy Batson's thing. "Billy isn't a big superhero aficionado," Levi says. "Billy's been so obsessed with trying to find his parents, trying to find his family. And he's lived on the streets quite a few times in between all that. To him, that stuff is going on, but he's not caring so much about that."
Instead, it's Grazer's Freddy Freeman who fills the role of superhero expert in the film. In particular, Freddy idolizes Superman, which is appropriate considering how his friend Billy becomes a flying, super strong, nigh invulnerable hero. There's seems to be an parallel with the sports superfan in "our world" in how Freddy collects Superman newspaper clippings as if they are comic books and authentic Batarangs recovered from crime scenes as if they are game used baseballs or jerseys.
As if to drive that point home, Grazer, fresh from filming a scene, is wearing an orange t-shirt emblazoned with Aquaman's Atlantean glyph. And while the young actor doesn't make the connection explicit, Freddy is a window into how superheroes are seen by everyday people in the DCEU, a theme that hasn't yet been explored in other big screen adventures. There are hints of this in the first trailer, with Freddy filming what is presumably Shazam's first crime-fighting encounter in a convenience store, taking an active part in in-universe superhero fandom.
When asked if Freddy's fandom is a direct parallel to sports superfans in the real world, he says, "I guess people kind of idolize the superheroes that are saving the world," he says, "So I guess, yeah."
And while Grazer himself is a fan, he had to take it to another level to get into Freddy's head. "I grew up with DC, with Batman, the Justice League, all those, but going into Freddy, I did have to look deeper into all these crazy universes and stuff that I knew nothing about," Grazer says. "I wish I could know all that."
And, of course, being a superhero fan makes Freddy the perfect person to assist Shazam in his adventures. "I feel like Alfred in Batman, like I know everything. It's like, 'Yeah, he's gonna be hiding there and he's gonna be over there.' Because I know all about this and I plan everything out. It's pretty cool."
Even though Shazam is an origin story, and one that has no story obligations to any other movie in the DC pantheon, there are franchise considerations to be had. For one thing, for years the plan was to simultaneously introduce Dwayne Johnson as Black Adam to play opposite the more traditionally heroic lead. Instead, this movie will introduce Dr. Sivana (played by Mark Strong), coincidentally the first villain Shazam ever faced in the comics, and one of the earliest examples of a reoccurring supervillain in comics history.
"This movie's mostly just about introducing Billy Batson and Shazam, who he is, and how he came to be," Sandberg says. "Yeah, it takes place in this DC world, where all these heroes exist, but in some ways, it's both self-contained while also being a part of something bigger. You don't need to have seen any of the other films, because it's its own contained story. It's just more the world that it's part of."
Nobody would say if Johnson's Black Adam would rear his head in any kind of post-credits scene. But that's the kind of magic best experienced with some popcorn and in the dark of a movie theater.