News
Marvel Announces New Projects That Could Tease MCU Future, Avengers 5 Title
Marvel has announced eight new projects dealing with Kang, The Fantastic Four, She-Hulk, and the Avengers, that could point to what's next in the MCU.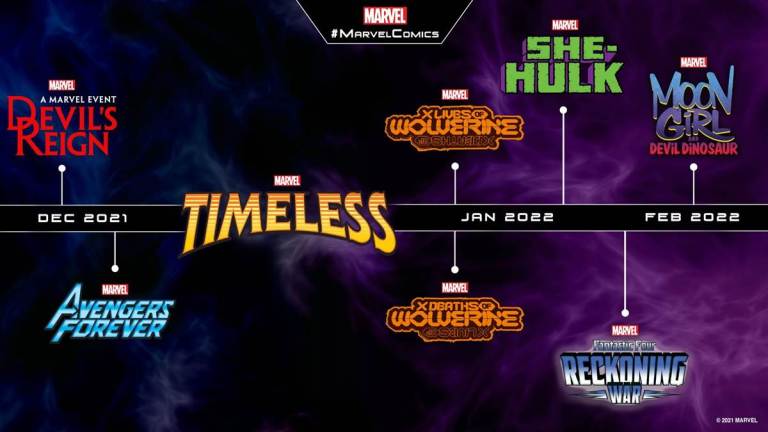 If you want to know what the future of the MCU looks like, just look at what Marvel Comics is publishing right now. As a general rule, whatever is being prioritized in Marvel's publishing wing is usually a good indicator of which way the wind is blowing for their Marvel Studios counterparts over the next few years. Sometimes this takes the form of which storylines are suddenly being reprinted in prestigious collected editions, while others it's about the launch of new series which position old characters, titles, and trademarks in prominent ways. Whether it's Sam Wilson becoming Captain America or Jane Foster becoming Thor, the Marvel Comics events of today are often the MCU milestones of tomorrow.
And Marvel isn't messing around with big event stories right now, announcing a whopping eight titles that all should feel very familiar to fans who enjoy speculation about the next evolution of the MCU. Some might be more immediately significant than others, but all of these books sound intriguing, with some top tier talent on board.
First up are two Wolverine series (X Lives of Wolverine and X Deaths of Wolverine by Benjamin Percy, Joshua Cassara, and Federico Vicentini) are, of course, no surprise. Logan is still the most popular X-Man and there's pretty much never gonna be a time when there isn't at least one Wolverine book on the stands. Moon Girl & Devil Dinosaur is the return of a fan favorite series, and a concept that sure would work well in live action were Marvel Studios to go that route. Devil's Reign is significant in that writer Chip Zdarsky has recently been delivering one of the all-time great Daredevil runs, but the prominent inclusion of the Thunderbolts here should give MCU fans something to think about given recent onscreen events. The new She-Hulk series by Rainbow Rowell and Rogê Antônio looks like a great primer for the character for those looking to learn a bit about her ahead of her MCU debut on Disney+ next year.
But some of these others feel a little more significant. Fantastic Four: Reckoning War (by Dan Slott and Carlos Pacheco), promises an "epic saga over 15 years in the making. The original secret war of the Marvel Universe has been reignited and every living being in reality is in danger, for we are finally at…Our Day Of Reckoning." The use of the term "secret war" is bound to ignite speculation, especially in light of recent comments by former Marvel Editor-in-Chief Jim Shooter that indicated Marvel Studios is looking to do an MCU version of Secret Wars. Expect the company to keep raising the FF's profile over the coming year to prepare them for their imminent arrival as part of the MCU's Phase 4.
But the two big ones are Timeless and Avengers Forever. Timeless (by Jed MacKay, Kev Walker, Joe Bennett, Mark Bagley, and others) promises that this is where "the future of the Marvel Universe" begins. And the synopsis for it is definitely eyebrow-raising for Loki fans…
"When a threatening new timeline emerges, Kang the Conqueror must fight his way through the coming year to protect the main 616 timeline he's worked centuries to solidify as his own. Jed MacKay, Kev Walker, Joe Bennett, Mark Bagley, and more provide a first look at what's coming to the Marvel Universe in 2022 in a story that will prove…the Future is Timeless."
So, "a threatening new timeline," eh? And Kang as a hero? This sure sounds like concepts that were just immensely popularized by Loki on Disney+. While that show introduced us to He Who Remains, who will ultimately be a variant of Kang the Conqueror (played by Jonathan Majors), does this mean that the MCU Kang who we'll meet in Ant-Man & The Wasp: Quantumania might not be as malevolent as the character has often been portrayed in the comics?
And alongside Timeless comes an even more significant title, one that many of us have speculated is actually the next big event story that the MCU itself will build to after the events of Loki:, it's called Avengers Forever.
Avengers Forever (by Jason Aaron and Aaron Kuder) "pulls together archeologist Tony Stark aka the Invincible Ant-Man and Avengers from across the multiverse to bring order to timelines where 'hope' is a four letter word. Jason Aaron and Aaron Kuder present an all-new series that will redefine the Avengers as…the Multiverse's Mightiest Heroes."
Ever since the multiversal shenanigans of Loki and the arrival of He Who Remains, we've been speculating that Avengers 5 could in fact end up being Avengers Forever, a time-hopping, multiverse spanning story that would allow characters to return for a curtain call. Of course, there's no confirmation of that as of this writing, but keep in mind that there continue to be reports that Chris Evans is expected to return as Steve Rogers, in a project that isn't the recently confirmed Captain America 4. Playing around with the timeline is one way to make that happen.
The fun and weirdness begins in the comics, though, with these new titles launching between December 2021 and February 2022.
What do you think all these titles mean for the future of the MCU? Let us know in the comments!