Features
How Nanny Explores the Horror of the Mundane in America
Nikyatu Jusu talks us through her stylish and emotional debut horror feature.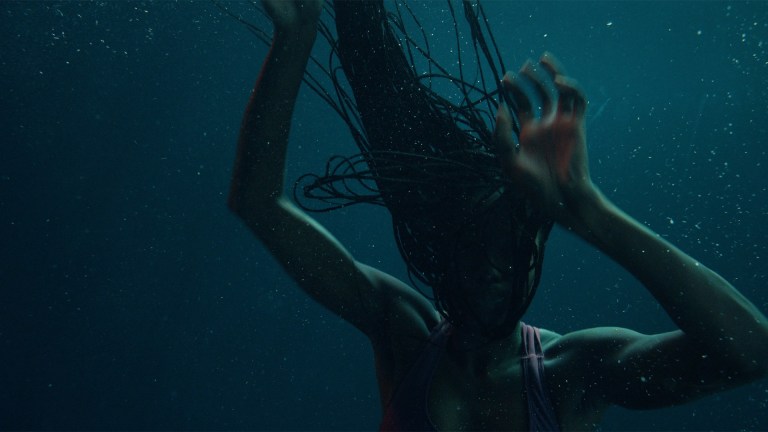 "I love horror. I love elevated horror. I love psychological horror. I love an unreliable protagonist."
Nikyatu Jusu's love of horror is undeniable, evidenced in her short film Suicide By Sunlight (2018), and now even more so in her debut feature Nanny (2022).
"I usually start every project with imagery. And as I've said many times, the springboard is my mother's story, loosely… and I'm just fiercely protective of my mother," Jusu explains about the entry point for this script and her personal connection to the story of Aisha (Anna Diop), a Senegalese immigrant in New York and the nanny for the child of an affluent white family.
On the surface, the setup seems workaday, mundane even, but that's the point; Jusu enjoys exploring horror in the everyday.
"The mundane is horrific for so many of us," she says. "I think in real life, you have a day where you're taking the train to work, and you're having an existential crisis about your entire life… we're constantly barraged with the precarity of our existence." This is especially true for Aisha, who is working a cash-in-hand job in the hopes she can save enough to bring her son to the US.
Aisha's employer, Amy (Michelle Monaghan), is emotional, unhappy, and controlling, and while she demands more and more of Aisha, she gets slower at paying what is owed. "You have to perform the decorum… and you have to be graceful because you don't want to come across as the angry black woman in this space," Jusu says. For certain people in America, in this instance, Black people, particularly Black women, there is horror that has to be navigated at all times. "I'm always thinking about the ways that Black women have to bite our tongues and swallow indignities and the toll that it takes on our spirits and our health and our bodies."
The more time Aisha spends in the sleek New York apartment, the more darkness seems to surround her. Nightmares and visions become a regular occurrence and often feature creeping spiders and deep, cold water. 
"I think water is very prevalent in my work and in the work of women I admire," Jusu says. "Toni Morrison talks about water all the time in her work. She said water has perfect memory, and I just think that's so profound based on our histories."
Her connection to the power and transformative properties of water and Jusu's desire to show culturally significant supernatural elements is what led to the inclusion of figures like Mami Wata, an "organic mermaid for our culture" and water spirit that is known throughout the African diaspora, and Anansi, the trickster spider character of stories and parables, from similar origins. Aisha feels she is being haunted by both.
"I just love chaos agents, and I love the idea of just burning shit down and fighting oppression with very rebellious means," says Jusu, referring to the ways they upend Aisha's life. To Aisha, their presence feels like a threat, but once she starts dating Malik (Sinqua Walls), his clairvoyant grandmother Kathleen (Leslie Uggams) suggests that these hauntings may, in fact, be warnings.
The crossover of cultural stories, myths, and legends is expertly done.
"I grew up… in African diasporic households…. my parents had parties all the time where we had people from Trinidad and Liberia and from all over the place, Black Americans," Jusu says. "It was very organic for me to write the ways that we intersect in America, just through our blackness." Aisha meets several Black women throughout her journey who are purposefully from across the diaspora, and although their stories may be different from Aisha's, they recognize they are more similar than not. This feeling of community, even in a foreign land, exists in stark contrast to the often uncomfortable, eventually unbearable, time Aisha spends at her job.
Jusu is always keen to work with Black actresses and had been hoping to work with Diop for a while. "I saw a lot of Aishas," notes Jusu. "But I was always rooting for Anna to kill her audition. And she really did."
Diop brings complexity to what could be a two-dimensional character—Aisha is just as good at playing made-up games with Rose as she is at charming Malik and eventually fighting her demons. "Once I got her, it was a matter of putting the other pieces of the puzzle together."
One of those key pieces is Monaghan, whose emotional and controlling Amy bounces erratically between being Aisha's friend, employer, and rival. So much so that a couple of the times she appears onscreen unexpectedly work as little jump scares.
Jusu took around eight years to write the script for Nanny, with the help of mentors such as Kasi Lemmons, Karyn Kusama, and Michael Arndt. Jusu's next project, which she has already started working on, will be in collaboration with Jordan Peele's Monkeypaw Productions and Universal, and Jusu promises more horror that will be made "with [her] style of social resonance [and] a Black woman protagonist."