News
How a Late-Night Idea Made M3GAN a Viral Hit
The dancing clip that turned M3GAN into the internet's most anticipated movie wasn't the result of careful planning by Universal, Blumhouse, or even producer James Wan. It was a crazy idea that kept director Gerard Johnstone up at night.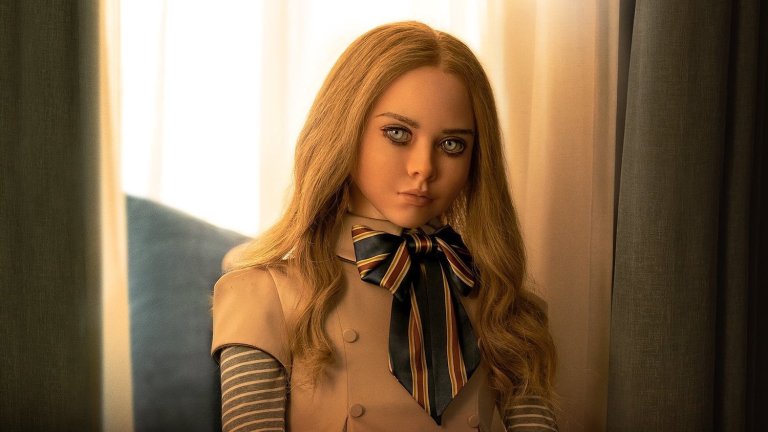 Once you see M3GAN dancing, you can't unsee it. While killer dolls have always been fertile ground for horror movie directors to explore, the creators of the new Blumhouse movie M3GAN knew they needed something special for their story of an AI robot going to lethal ends to protect young orphan girl Cady (Violet McGraw). By the time the first trailer dropped late last year, it was clear that they found that something. From Twitter to TikTok, movie fans were recreating a clip of M3GAN dancing before grabbing a paper cutter, presumably to do something murderous.
Although M3GAN boasts creative talent such as James Wan and Jason Blum producing — as well as Akela Cooper, the writer behind 2021's gonzo horror masterpiece Malignant — the dancing bit came from director Gerard Johnstone. The idea occurred to the New Zealand-born director of the horror comedy favorite Housebound late at night.
"It was one of those crazy, sleep-deprived, 3 a.m. thoughts," Johnstone told EW.com. "Wouldn't it kind of be funny if the soundtrack suddenly became real and M3GAN ended up busting a move to whatever music was playing?"
Once the thought got into Johnstone's head, it wouldn't leave, adding another challenge for the film's special effects team. Using a combination of puppetry, animatronics, and a live-action actor, the team worked to create something that felt just off from human. "Gerard was pretty instrumental early on about wanting to make M3GAN as realistic as possible," explained Wan. "That was something that I support, but I kind of reminded him that what ultimately makes creepy doll movies creepy is the fact that when you look at them, they still look like dolls, that they're not just a human being sitting there." The creators finally decided to embrace both, resulting in the doll's not-quite-human look. "I think that uncanny valley quality about it is what makes it really, really creepy," Wan enthused.
They achieved that look by casting young actress Amie Donald to perform M3GAN's physical movements. Johnstone calls Donald "a real miracle find," praising the actress for bringing life to the character's actions. But for the doll's voice, Johnstone chose actress and internet personality Jenna Davis. He and the producers chose an older actress to differentiate M3GAN from Cady. "We wanted M3GAN to kind of feel like a bigger sister rather than a friend," reasoned Johnstone. "It was important it felt like a cool big sister that you could buy."
Clearly, the alchemy worked. Online buzz for the movie only grew, helped in part by Blumhouse's viral marketing, which recorded an army of M3GANs walking the streets of New York or taking to the field at a football game. Even better, the movie opened to strong reviews (our own David Crow says M3GAN's "camp impulses place the film shrewdly in the territory between frightening and farce") and the number one spot at the box office, beating out Avatar: The Way of Water. If only all 3AM ideas were this good.