News
Henry Cavill is James Bond in This Intriguing New Deepfake
The Living Daylights and Timothy Dalton's James Bond provides the backdrop for a head-turning Henry Cavill deepfake.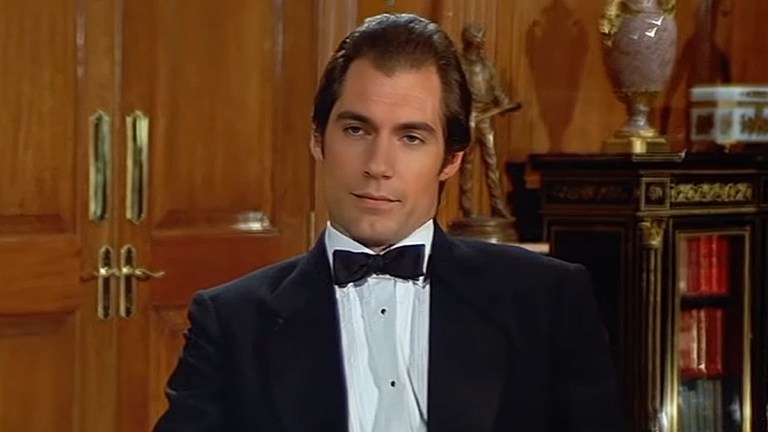 While Daniel Craig's celebrated extended occupancy as star of the James Bond franchise has come to a poetic end with the recent release of No Time to Die, conversations about his replacement are rampant. Yet, with the field of candidates being more demographically open than previous vacancies, speculators might overlook the possibility of a more conventional—white and British—Bond, like, say, superstar Henry Cavill. Thus, the arrival of a deepfake video with Cavill swapped in as Bond is opening some eyes.
Deepfake/VFX artist StryderHD has provided a simulation of sorts for a prospective Henry Cavill James Bond tenure with a new video that places The Witcher and Man of Steel star into 1987 outing The Living Daylights over the countenance of Timothy Dalton. Indeed, the video—which further cements the eerily-realistic nature of shockingly-accessible, rapidly-improving deepfake technology—effectively demonstrates how seamless of an aesthetic transition the role of Bond would be for Cavill.
Check out the alternate-reality-emulating deepfake of Henry Cavill as James Bond in The Living Daylights just below.
Of course, this is hardly a surprising notion, since Cavill, who has long-showcased the necessary suaveness, was actually a candidate for the vacancy that Craig ultimately filled upon his debut in the role for 2006's Casino Royale. Moreover, in 2015, having broken big with his Man of Steel Superman role, Cavill was able to live out that unfulfilled prospect on the big screen with director Guy Ritchie's adaptation of 1960s TV series The Man from U.N.C.L.E., for which he manifested in suave, Bond-like manner—albeit brandishing an American accent—as CIA agent Napoleon Solo, opposite Armie Hammer's KGB operative Illya Kuryakin and Alicia Vikander's mysteriously-targeted Gaby Teller. Consequently, the sight of Cavill's face digitally superimposed over Dalton's in Daylights, surreal as it may be, does bring a slight air of familiarity. Nevertheless, the depth achieved by the deepfake is still intriguing enough to make one wonder if Bond is ahead for Cavill's future.
The choice of The Living Daylights as a deepfake canvas is interesting on a few levels. The film, which hit theaters on Jul. 31, 1987, represented a monumental franchise reboot after 1985's A View to a Kill saw Roger Moore end a twelve-year tenure, turning a major page. In a manner prospectively akin to the gestating next Bond entry, Daylights, directed by John Glen, brought an angrier Bond with Timothy Dalton, a veteran Welsh actor who was best known to mainstream stateside audiences as Prince Barin from 1980's Flash Gordon. In a dramatic departure from Moore's often-comedic perfunctory playboy performances, Dalton's Bond complemented Agent 007's signature whimsical attributes with a gruff demeanor. Thus, he was a James Bond that fit a late-Cold-War era in which the delineation between good and evil was becoming less-defined by flags and governments. While his run would only span two entries, including 1989 follow-up Licence to Kill, Dalton's Bond still has his contingent of supporters.
Yet, as the afterglow of No Time to Die plays out, it does seem clear that the Bond franchise is destined to undergo some serious soul searching when the casting process for the next shaken-not-stirred-sipping headliner purportedly commences in 2022. It's an idea that's seemingly foreshadowed in the film, which brandishes the theme of the heretofore retired Bond returning to action in a changed world in which he stands out as a womanizing blunt instrument anachronism; an aspect resulting from last-minute thematic changes by Phoebe Waller-Bridge to the script by Neal Purvis, Robert Wade and director Cary Fukunaga. Thus, while Daylights had Dalton's Bond irately combating machinations that rapidly contradicted the face of geopolitics, the mystery star of the franchise's still-far-off twenty-sixth official entry could similarly see the next Bond thrust against rapidly changing attitudes about not only the character's intrinsic womanizing nature, but the very idea of British agents running around the world with a Walther PPK and a license to kill.
Of course, The Living Daylights would hardly be the first instance of a new Bond being pit against changing times, especially with the first post-Cold-War entry in 1995's GoldenEye, in which Judi Dench's M famously calls Pierce Brosnan's debuting Bond a "sexist, misogynist dinosaur. A relic of the Cold War, whose boyish charms, though wasted on me, obviously appealed to that young woman I sent out to evaluate you." Despite that canonical call-out, the Bond character—specifically Brosnan's—would unironically regress to that characterization; something that would make Craig's tortured, impactful Bond so refreshing. Indeed, regardless of who is ultimately selected—be it a traditional choice like Cavill or prospective first-person-of-color choices like Idris Elba or Regé-Jean Page—the new Bond will likely face a new existential force wrought by a changing society. In that sense, the casting of a conventional candidate like Cavil could still accommodate an unconventional dynamic; a twist possibly sufficient enough to satisfy the clear expectations of change.
No Time to Die is playing at theaters everywhere. However, Henry Cavill will next be seen in the long-awaited second season of smash Netflix series The Witcher, which will be bingeable on Netflix starting December 17.