News
How Star Wars Deepfake Seriously Improves Luke Skywalker Cameo in The Mandalorian
The YouTuber behind the famous deepfake redo of Luke Skywalker's cameo on The Mandalorian has been hired by Lucasfilm.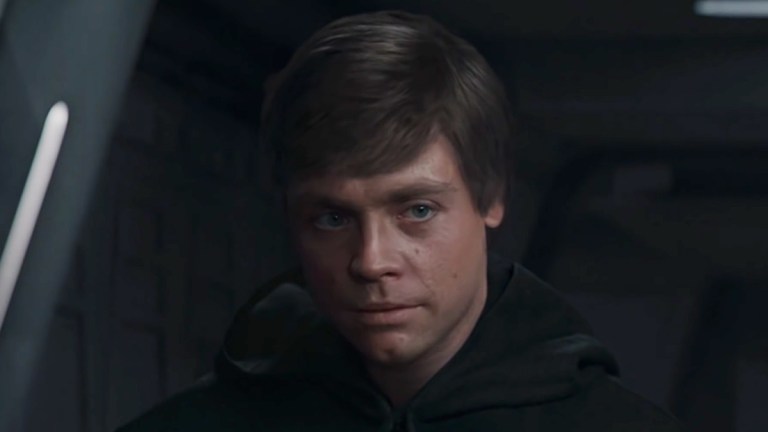 Luke Skywalker's climactic surprise arrival in The Mandalorian season 2 finale delivered an exhilarating moment for Star Wars fans during a saturated era of multimedia offerings. Yet, the scene—conjuring a Return of the Jedi era Mark Hamill—was merely the latest example from Lucasfilm's Industrial Light and Magic of digital de-aging technology, with which it previously wowed moviegoers in 2016's Rogue One: A Star Wars Story.
However, impressive as it may have been, the execution clearly wasn't perfect; a notion subsequently driven home by a YouTuber who created a more impressive deepfake version of the Luke scene. The folks at Lucasfilm seem to agree with that assessment, since they've hired the creator.
The YouTuber, who goes by "Shamook," revealed in a video comment that a mysterious recent drought of content on the channel was attributed to having been hired by the Star Wars studio, stating, "As some of you may already know, I joined ILM/Lucasfilm a few months ago and haven't had the time to work on any new YouTube content." The claim was subsequently confirmed to IndieWire, to whom a Lucasfilm representative sent a statement.
In a refreshing change of practice, rather than the conventional big company method of issuing a petty, creativity-stifling copyright takedown request to hide the perceived embarrassment of being outdone, Lucasfilm instead chose to make the ultimate concession about the deepfake's superiority by adding the YouTuber responsible for its conception to its ranks.
"[Industrial Light and Magic is] always on the lookout for talented artists and have in fact hired the artist that goes by the online persona 'Shamook,'" reads the statement. "Over the past several years ILM has been investing in both machine learning and A.I. as a means to produce compelling visual effects work and it's been terrific to see momentum building in this space as the technology advances."
So, why has Shamook's deepfake been so impactful? Contextually, it was because it offered an improvement on a cultural moment during the absolute height of its celebration. Indeed, the finale for The Mandalorian's second season, "The Rescue," made its Disney+ premiere this past Dec. 18, and immediately created a wave of viral frenzy over its fateful digital cameo. However, as the fandom basked in the afterglow, the deepfake-savvy YouTuber quickly went to work to improve ILM's remarkable—undoubtedly expensive, logistically extensive—presentation. Impressively enough, the task would only take three days to accomplish, at which point a shocking comparison video was posted on the channel, highlighting the at-times-glaring differences between the original and deepfake versions of the Luke cameo. If recent news stories about the dangerous global implications of inherently-accessible deepfake technology didn't scare you enough, this moment had to give you pause.
Said differences between the original and deepfake scene might require some squinting, but they are apparent when focusing on key elements. This is especially the case in the deepfake's closeup shots in which the features of Luke's face appear more organic in its shape, texture, and outlines. It contrasts with the original release, which showcases skin that seems slightly shiny, synthetic, and over-rendered, as if it was copied over from a video game cutscene. Moreover, the deepfake depicts the blue in his eyes in a more striking form, giving them an accentuated realism with reflected light, which represents the most notable difference, since this doesn't even appear at all in the original presentation.
For a regular person with limited resources to match the work of arguably the industry's biggest effects house, ILM, is impressive enough, but to actually top what was released is an accomplishment on an entirely different level. Tellingly, the video has thus far accrued 2.2 million views, standing as a prominent example of the increasingly narrowing divide between commercial and creator content.
Interestingly enough, Luke's Mandalorian cameo wasn't even the first time Shamook showed up ILM, since the YouTuber had already presented a superior take on the franchise's hitherto most-famous example of digital characters, that of the late Peter Cushing. The original Star Wars mastermind, Grand Moff Tarkin, was brought back to life in prequel Rogue One, which also flexed its technological muscle by featuring a de-aged version of Carrie Fisher's Princess Leia in its closing scene. Indeed, while the presence of Cushing's Tarkin in the film was met with resounding praise, and the digital presentation is impressive at a glance, even undiscerning eyes could see the aforementioned artificial, shiny-skin video game cutscene phenomenon represented in the character's onscreen appearances.
The franchise's first under-performing big screen effort, 2018's Solo: A Star Wars Story, was also given the deepfake treatment. Shamook replaced the visage of star Aldren Ehrenreich with that of a young Harrison Ford, manifesting what fans skeptical of the prequel spinoff likely wanted in secret.
Nevertheless, it will be interesting to see if Lucasfilm's hiring of Shamook will lead to a Deepfake Renaissance for the Star Wars franchise—and potentially other franchises under the Disney tentpole, like Marvel. It could very well lead to more retroactive changes to Star Wars films—to Tarkin in Rogue One or maybe even a "Ford Cut" of Solo—that a purist population of fans would actually embrace. Indeed, the apparent ease with which these quality deepfakes were implemented certainly warranted Lucasfilm's attention, especially since they not only represent the prospect of technical improvements, but the expedience of a reduced bottom line in an industry that faces an uncertain future in a post-pandemic world.