News
Hamilton Movie Censors F-Bombs for Disney Plus
To keep the Hamilton movie rated PG-13 (and on Disney Plus), Lin-Manuel Miranda has agreed to censor the use of the word "fuck."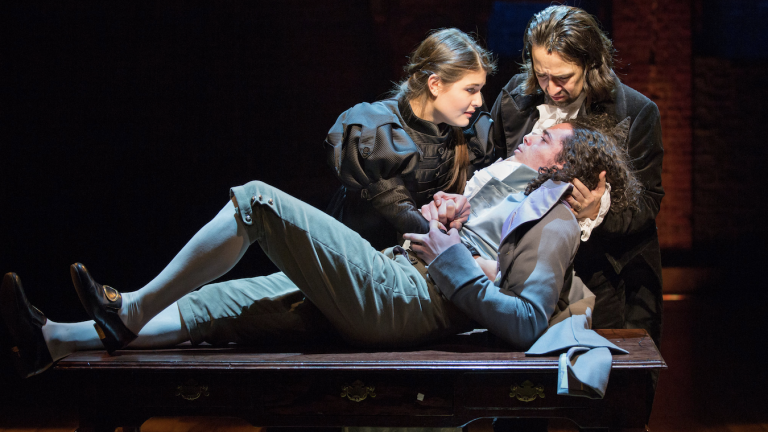 From the beginning, Disney has made clear that Disney+ will be a family friendly affair with nothing above a PG-13 rating appearing on the streaming service. Apparently that rule is so concrete it got even Lin-Manuel Miranda to agree to censoring his own theatrical masterpiece, Hamilton.
Despite being a musical clearly meant for all ages, in addition to displaying a dense lyrical verbosity, Miranda's book and lyrics also drops several F-bombs. Additionally, the words "bastard," "whore," and "damn" also appear in the musical. But it's apparently the F-bombs, and the MPAA's rules about how many of them you can use in a PG-13 rating, which has led to Miranda and Disney cutting some of the show's "fucks."
"LANGUAGE!" Miranda wrote on Twitter, breaking the news himself. "On July 3, you're getting the whole show, every note & scene & a 1-minute countdown clock during intermission (bathroom!)… But MPAA has a hard rule about language: more than 1 utterance of 'Fuck' is an automatic R rating. We have 3 'Fucks' in our show. So… I literally gave two Fucks so the kids could see it: 1. In Yorktown, there's a mute over 'I get the f__ back up again.' 2. "Southern record scratch * kin' Democratic Republicans."
Please correct me if I'm wrong, but I believe the third use of "fuck" is when Alexander Hamilton says in a letter to President John Adams, "Sit down, John, you fat motherfucker!"
On an aesthetic note, it's a particular shame the second one is censored given it provides a visceral sense of how Thomas Jefferson and James Madison's airs can be dropped in an instant, and just how nasty the birth of political parties in the United States was about to become. But beyond that, this censorship underscores the arbitrary nature of the MPAA rating system, as well as Disney's insistence of adhering to it.
Hamilton really is a show for all ages and tends to make history exciting for younger viewers. Censoring it in the only form most people will ever experience it, even if it's just giving "two Fucks," as Miranda wrote, feels far dirtier than any four-letter word. It's also a wee disappointing on Disney's part where they're willing to pay $75 million for the film rights but cringe at presenting it in its full, uncensored form.
Lastly, one wonders if Disney could not have contested over just removing one "fuck" since the MPAA's rules have been bent before to say that two is permissible as long as neither is used to describe the act of sexual intercourse. But if we're splitting hairs at that point, it really does suggest the entire ratings system and this conversation is missing the fucking point.