Features
How the Five Nights at Freddy's Games Became a Movie
Exclusive: Director Emma Tammi takes us inside the next major pixels-to-people transfer that is changing how Hollywood thinks about video game movies: Five Nights at Freddy's.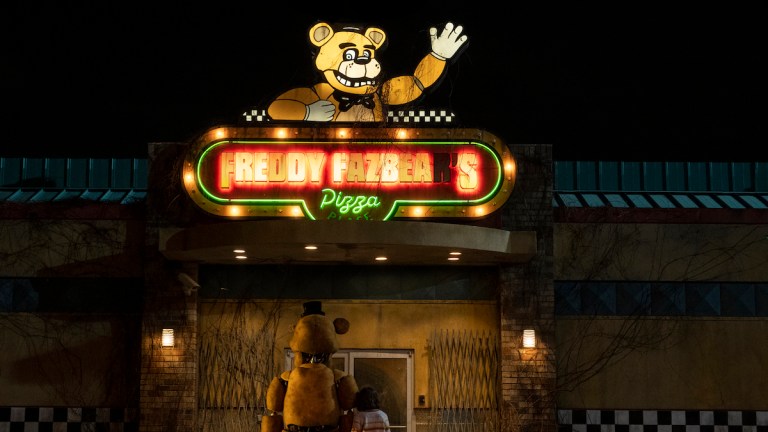 Like almost anyone else who grew up in the past 50 years, film director Emma Tammi has distinct memories of visiting a certain type of children's entertainment restaurant. You know the kind. The place where the arcade games are plentiful, the ball pits are crowded, and the stage is full of animatronic critters who do their best to twitch on key to a prerecorded music jamboree.
There's a universality to Tammi's recollections about such places too. As a child, she had joyous fun playing the games, hearing the songs, and chewing on the pizza. And yet, every once in a while, she might catch a glimpse of a motorized mouse in a tuxedo, and he gave her pause.
"[I would have] so much fun and also feel an eerie presence amongst us," Tammi says now with a laugh. "The animatronic [creature] looking sideways and then straight into your soul is a memory that stuck with me."
Nightmares can be like that. Just ask the Five Nights at Freddy's fan community, which turned what was once the little creepy game that could into a massive multimedia empire. Originally conceived as a simple point-and-click video game by creator Scott Cawthon, the first Five Nights at Freddy's game asked players to step into the shoes of an unlucky security guard who must stand guard for a week at a dilapidated children's entertainment restaurant (think Chuck E. Cheese) where after midnight, the animatronic animals come to life. From that sinister premise, an interconnected universe was built, one that includes games, books, merchandise, and even a community of followers who rabidly share their own FNaF theories, interpretations, and takes on the mythology.
Now, just in time for Halloween, FNaF is finally coming to the big screen, courtesy of Jason Blum's Blumhouse Productions and filmmaker Emma Tammi, who in addition to directing the film also co-wrote the final draft of the screenplay with Seth Cuddeback. And when she stopped by the Den of Geek studio earlier this month ahead of New York Comic Con, Tammi spoke candidly about the project allowing her the chance to become immersed into the wider world of Freddy's.
"I became really familiar with the games as I heard about the project," Tammi says. "… [And the fan community] is so vast. But Scott Cawthon, the creator of the game, was very specific about wanting to link this movie to the first game, and I was getting the direct download from him in terms of what elements of the lore we were going to be folding into our story for this movie. So I did dip into the fan space a little bit, but I also tried to stay focused on the elements that I knew we were diving into."
The idea for a FNaF movie has been a longtime coming, with several studios and filmmakers circling and leaving the project. Yet one constant has been Cawthon's involvement, which may be among the most intimate in video game movie adaptations to date. In addition to being a producer on the film, the game's creator also co-wrote the first several drafts of the screenplay.
"[Cawthon] was a huge asset," Tammi explains. "The fanbase is not just large, it's enormous, and it's also really, really vocal and participatory, and all the things that you would hope and love for a fanbase to be. They've been wanting this movie for a long time, and if we didn't have the expertise of Scott going into that, just knowing the fanbase so well, knowing the lore in and out, it would've been easy to make some missteps. It was really a comfort to know he had eyes on the project throughout."
Nonetheless, it was important Tammi bring her own singular expertise to the material. As the director of the underrated 2018 horror movie, The Wind, the director has a clear cinematic voice, and she used it to finally bring the project to fruition after FNaF had spent more than than half a decade in production limbo.
"Scott had written a draft that was really a blueprint for how the arcs of the characters were going to be shaped, but also in that draft I saw something that could be expanded upon," Tammi explains. "I did want to make it really personal, and that was just locking into the characters as much as possible and really creating complicated backstories and story arcs for them—just making them really three-dimensional and lived-in characters that I think an audience can really empathize with."
In the film, Freddy Fazbear's Pizza is a decrepit pizza parlor that was popular with families in the 1980s… before kids began disappearing. And for some mysterious reason, this old abandoned ghost trap was never torn down. Security guards are even regularly hired to to watch over the cobwebbed animatronics of Freddy and his fellow furry anthropomorphic musicians. But every once in a while, the newest hire, a down-on-his-luck big brother, Mike Schmidt (Josh Hutcherson), notices those old relics are moving. Without electricity.
To bring the creatures to life, the film production turned to the storied Jim Henson's Creature Shop, which used cinematic sleight of hand to make simple inanimate objects into something far more sinister.
"Their level of talent, craftsmanship, and detail is unparalleled," says Tammi. "We had these amazing designs from the games themselves, but they had never been brought to life in a three-dimensional, practical way. So to figure out how we wanted them to feel in terms of the fabric and the textures, and the exact color palettes and dimensions, that was really an exciting process." However, Tammi reveals they relied on more than just animatronics to bring Freddy to life. In fact, the Jim Henson's team created complex puppeteering rigs and even suits that humans could wear.
Says Tammi, "We had puppeteers off-screen doing all different elements of the face, and the arms. We had full animatronic versions of the characters and we had some versions where there were suit performers inside, stunt people who did an amazing job, again bringing more movement to the mix but keeping the authenticity of an animatronic [entity] who is a little broken down."
Tammi even concedes one of the most amusing things about Freddy is how inherently funny it might be to be killed by a giant teddy bear. There is an opportunity for dark humor in the premise, but at the same time, Freddy should still resemble a warm and friendly presence if caught in the right light.
"We've got one character in the film, Abby, who's a 10-year-old girl and she really sees those animatronics through rose-colored glasses and considers them her best friends," Tammi says. "She thinks Freddy's—even in this derelict haunted house-esque state—is like the best place in the world. So we really wanted that child wonderment to come through in the film as well, so we could feel as she feels towards the animatronics."
When Five Nights at Freddy's opens this weekend, it will be the second major video game movie adaptation to dominate the box office in 2023 after the stunning success of The Super Mario Bros. Movie last spring—and the third to conquer the zeitgeist when you also count the rapturous reception for The Last of Us on HBO. After decades of video game movies being treated as disposable junk, films or series released to sheepishly vanish into the ether, it seems the perception of adapting games is changing. Tammi is aware of the conventional assumptions made about game-to-screen transfers, as well as how that's shifting. Still, she had to put it all to the side while making FNaF.
"I didn't take on that pressure too much," Tammi says with a knowing smile, "only because that's a lot. And I knew this movie was very specific. It is impossible not to feel the enormity of game adaptations right now, and really the success of game adaptations this year with The Last of Us and Super Mario, it's incredible. So I feel really excited to be part of this moment with our movie, but I knew we needed to make a movie that was going to land with the fans, and that was Jason Blum's priority, and Scott's as well. So I think we went in with a very specific intention. Maybe some of these other projects from straight out of the gate were really hoping to land with the general audience in a bigger way. If we happen to do that, it'll be amazing, but we really did want to make a movie for the fans."
Five Nights at Freddy's premieres both in theaters and on the streaming service Peacock on Friday, Oct. 27.