Features
Great Horror Movies That Are Secretly Love Stories
Who needs a rom-com when you can have a zom-rom-com? From Dracula to Shaun of the Dead we round up the best romantic horror movies.
It's Valentine's Day but whatever. Or alternatively, it's Valentine's Day! Hooray! Whether you're an old romantic or you're in the 'love sucks' camp, we have such sights for you, in this list of genuinely excellent horror movies which are also love stories. Some are doomed, if that is your bag, but others are actually kind of happy endings if you can live with some corpses on the way.
So why not snuggle up with your loved one/dog/blanket/ice cold heart and check out these romantic chillers? You'll find no Twilight here.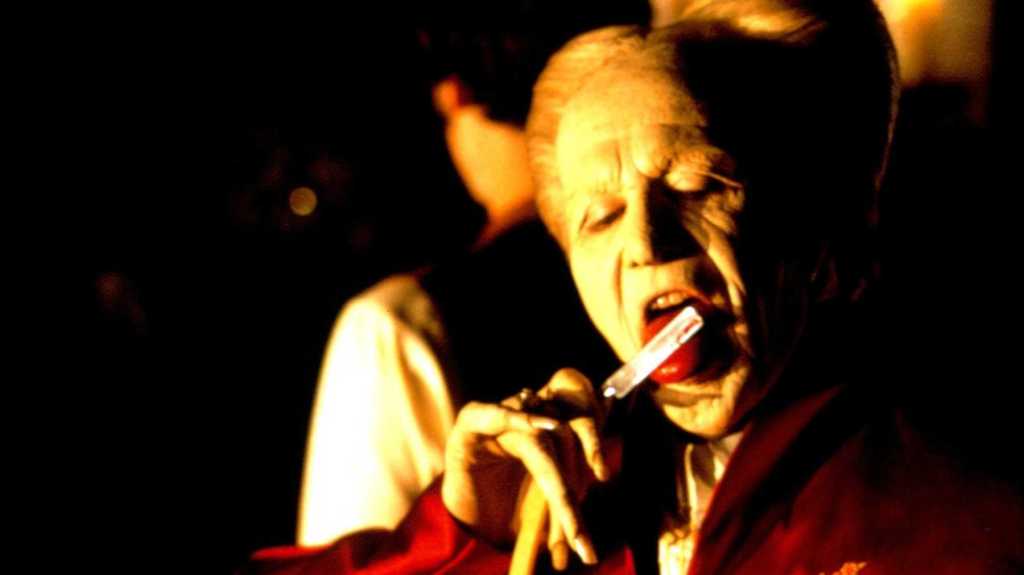 Bram Stoker's Dracula (1992)
The 1931 film Dracula opened on Valentine's Day 1931, after two months of promos from Universal Pictures calling it "The story of the strangest passion the world has ever known" and ads promising "The kiss no woman could resist." Bela Lugosi was a sex symbol on Broadway in the role of a debonair blood-sucking vampire. This was repeated in 1979, when Frank Langella recreated his erotically charged stage role in the film adaptation. Count Dracula was always sexy and there has always been a romantic heart beating in the undead chest of the former Transylvanian warrior. But it is Bram Stoker's Dracula, from 1992, which is best remembered as a lovelorn classic. It has two things going for it: Francis Ford Coppola as a director, and a sad and fateful letter in its prelude.
Long before Jonathan Harker (Keanu Reeves) flipped the unique fixer-upper at Carfax Abbey, Count Dracula (Gary Oldman) had been pining for a love that spanned centuries. While he was in battle against the Turks, his beloved wife Elisabeta was tricked into jumping to her death with false news of his demise. No amount of blood can drown his grief, even as he finally ventures out of his castle to start over in England. He suspects his wife has reincarnated in the body of Mina Harker, and she greets him with "Come to me, my handsome prince." Winona Ryder brings the arc of a full love story to her every response. From the shy and suspicious bride-to-be, promised to Harker, to the carnal longing for an endless love. She outlives her immortal count, and raises the film to romantic tragedy in epic goth fashion. – Tony Sokol
The Phantom of the Opera (2004)
One of the great Gothic horror romances ever conceived for the page, Gaston Leroux's The Phantom of the Opera novel from 1911, lived on to haunt the whole 20th century with various adaptations and chillers. But the best to set hearts aflutter—and then tear them asunder with glorious tragedy—is the rather gaudy 2004 big screen adaptation of the Andrew Lloyd Webber stage musical.
It's not the best film version of this tale (that would likely be the 1925 silent classic starring Lon Chaney Sr.), nor is it technically the best way to experience Webber's music when it's so much more luscious on stage. And yet, Joel Schumacher's sumptuous adaptation for the screen is the most romantic Phantom film, not least of all because it is the first movie to keep Leroux's tragic ending in which a love that cannot be between a disfigured musical genius and his ingenue muse redeems, if not saves, a life. Plus, the songs are still pretty ear-wormy and Emmy Rossum makes a compelling leading lady debut as the young soprano, Christine Daeé. – David Crow
The Fly (1986)
David Cronenberg's The Fly has more Love Story DNA than it does from the 1958 B-Movie classic it is based on. Body-horror has never been more tender, or more effective as an allegory for losing a loved one to terminal illness. Released at the height of the AIDS crisis, the sci-fi horror film is a moving tale of courtship, honeymoon, and tragedy. It begins as a rom-com. Veronica Quaife (Geena Davis) is a reporter for a science journal looking for a story. Seth Brundle (Jeff Goldblum) is a socially awkward scientist who thinks he can change the world. He tries to flirt as best as a scientist can. He brags about his motion sickness, which can cause a nosebleed at the slightest velocity change, shows her his closet of identical suits, and introduces her to his baboon friends.
Finally, he pulls out the big guns, basically inventing the teleporter from Star Trek. He should have watched the episode "The Enemy Within," because soon he is as reliable as a housefly. Seth proposes, by their second date, that Veronica should have exclusive book rights to the mechanism's development, and the characters are on screen together for almost the entire film. Alone with a bottle of champagne and Chinese takeout for two, Seth gets jealous and shoots himself through the telepod. Veronica knows something is different from the first kiss after his breakthrough. Later he picks up a strange woman in a bar and shoots her through the machine. Throughout, Veronica understands and forgives. She loves him as his hair falls out, she loves him as his ears fall off. She loves him when he's manic, and no matter how disgusting it is to watch him eat sugar. Even as he becomes unrecognizable, they never give up on each other. – Tony Sokol
An American Werewolf in London (1981)
John Landis' horror classic is known for being one of the few movies to totally nail it in two genres – it's both very funny and really scary – but it's less often celebrated for also being a moving love story. David Naughton and Griffin Dunne play best buds David and Jack, a couple of US backpackers visiting the Yorkshire Moors, when they are attacked by a mysterious beast, which kills Jack and maims David. Weeks later David wakes up in a hospital in London under the care of pretty nurse Alex (Jenny Agutter), who David soon forms a relationship with. As David begins his full moon transformations and is urged to kill himself by visions of an undead Jack and the rest of David's victims, it's the love between David and Alex that marks the heart of the movie. It's why we care. Werewolf David transforms over two nights of carnage ultimately finding himself trapped in an alleyway, surrounded by police. In a tragic final beat, Alex runs to calm him, telling him she loves him. For a second we wonder if love might truly be able to calm the beast. But it is not to be. The final moments turn the funny, gory, scary werewolf movie into a heartbreaking tragedy. – Rosie Fletcher
Shaun of the Dead (2004)
Simon Pegg wanted to make fun of rom-coms. So, Edgar Wright created the zom-rom-com. Shaun of the Dead is a real, old-style zombie movie, the kind George A. Romero used to make. It shrouds social commentary in horror, saying we are already such zombies, in our day-to-day ruts, we wouldn't notice a zombie invasion. It's also funny as hell boiled over. But the bleeding heart of the film lies in true romance. Shaun is a loser. He likes to drink, plays video games, can't keep promises, and will never get his shit together. He can't even remember where he and his girlfriend Liz (Kate Ashfield) met. All her friends cheer when she packs him off to "live a little." But he comes to life when the undead come to town.
Nothing says "I love you" like a promise not to eat your lover's face when it seems everyone else is doing it. Shaun resists the urge to join the slacker alternative. He fights hordes of the reanimated corpses of his formerly breathing neighbors to be a winner for the first time in his life. He doesn't do it for survival. He does it for love. Shaun knows about love. He loves his best friend Ed (Nick Frost), and not just because he can impersonate an orangutan, which might come in handy in the post-zombie apocalypse world. They two are so tight, when his girlfriend issues the ultimatum, Shaun breaks the news by saying "we broke up with Liz." Ed gives his life so Shaun and Liz can live. Not to sound clichéd, but It's not the end of the world. At least they won't die single. – Tony Sokol
Let the Right One In / Let Me In (2008/2010)
Do you want to watch Let the Right One In (2008) or Let Me In (2010) tonight? To be honest, either way you're going to win, which is a rare thing to say about a foreign language film and its Hollywood remake. Nevertheless, both Tomas Alfredson's original Swedish vampire film and Matt Reeves' more ghoulish American version chill to the bone for different reasons, and each stars strong child actors whose on-screen puppy love hides something darker beneath.
It's a story about a shy boy meeting an enigmatic girl, or in fact boy, depending which version you watch (Reeves' version features future stars Chloe Grace Moretz and Kodi Smit-McPhee as the pair) while hanging out in their dilapidated apartment complex's playground during the 1980s. The closer he gets to the newcomer, however, the stranger things become, and that's before he catches her feasting on the blood of strangers in the building. The love is somewhat sweeter and more innocent in the Swedish film while the horror set-pieces are more gruesome and Hitchcockian in influence in the American alternative. Preferences may vary.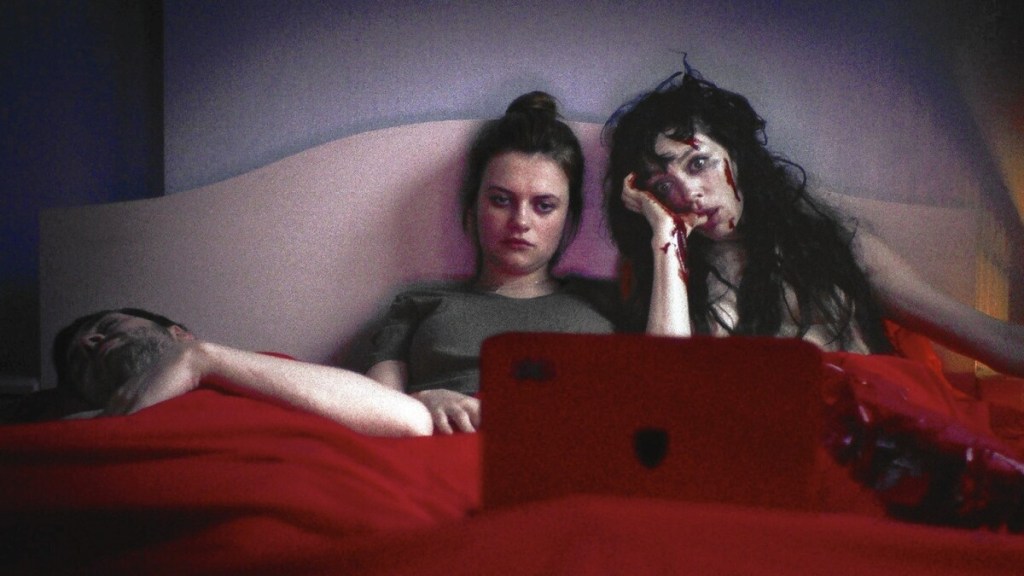 Nina Forever (2015)
This lesser known indie is a horror love story with a much needed vein of humor that might be suitable for only the darkest of couples on Valentine's Day. A zombie story (of sorts) it follows recently bereaved Rob (Cian Barry) whose girlfriend Nina (Fiona O'Shaughnessy) had been killed in a car crash. Rob is deeply depressed and attempts suicide himself, which draws the attention of his co-worker Holly (Abigail Hardingham). The two start dating, but whenever they attempt to sleep together Nina's broken and bloodied body rises up through the mattress to intervene. Though the scenario sounds bleak, it gives space for plenty of absurdity and the excellent cast carry the material well. Yes, it explores the baggage left by grief, but it also looks at what lengths we will go for love. Not a cheerful romance then, but an unusual one that's well worth checking out.