News
Everything Everywhere Directors Defend Star Wars Jump
Everything Everywhere All at Once directors Daniels explain their reason for helming an episode of Star Wars: Skeleton Crew after winning an Oscar.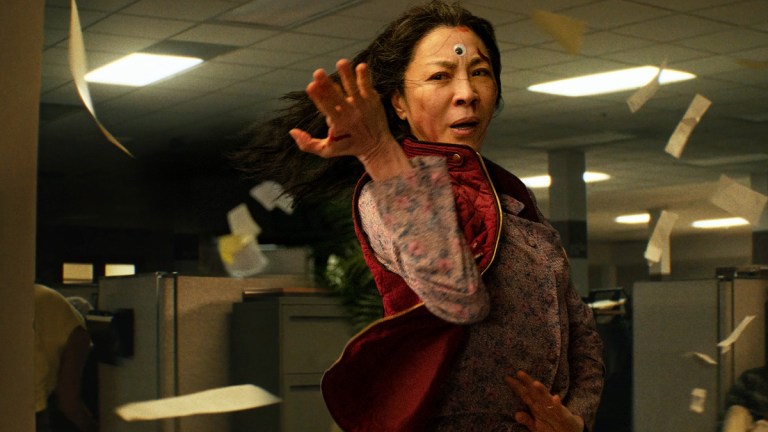 Going to Disneyland may be a perfectly acceptable way for football players to celebrate a big win, but eyebrows raise when film directors say the same thing. At least that's a takeaway from the internet's response to the news that Everything Everywhere All at Once directors Daniels are following their Oscar triumph by working for Disney. The filmmaking duo, consisting of Daniel Kwan and Daniel Scheinert, this week announced that they would be directing an episode of Star Wars: Skeleton Crew, the upcoming series starring Jude Law and created by Spider-Man: No Way Home director John Watts.
The internet responded exactly how you'd expect the internet to respond. Sure, there were some people very excited about the duo bringing their imaginative approach to a Star Wars series about which we know very little. But many others expressed dismay over Daniels' decision. We don't want to call anyone out by sharing specific social media posts, but the gist of the objections ranged from continued Disney control over popular culture, reminders of the disappointing response to Chloe Zhou's Eternals – which she directed for Disney after winning best director in 2020 – to an outright sense of betrayal, claiming the duo had sold out.
To a certain degree, one can understand this frustration. Internet buzz played a key part in the movie's success, and some fans have developed a sense of ownership over it. Furthermore, the mind-bending multiversal adventure of Everything Everywhere was posed against the Disney-owned Doctor Strange in the Multiverse of Madness, which hit theaters only a few months after Daniels' film. In fact, Daniels had met with Marvel executives about directing season one of Loki, choosing instead to make their own multiverse movie.
But amidst all the hysteria, Kwan took to Instagram to urge his fans to "chill" and to provide context. "Don't worry," he wrote. "We aren't working on the whole series, we just guest-directed one episode." In fact, Kwan pointed out that they already shot the episode, before Everything Everywhere even released. He explained that "it was an easy 'yes'" for the duo, for a number of reasons.
"We love Jon, love Star Wars, love learning new tech, we love meeting new cast and crew, and needed the days to keep our healthcare," Kwan wrote, following that last part with "(!!!)". Finally, Kwan closed by assuring fans that he and Scheinert have no intention of sacrificing the off-kilter approach that made Everything Everywhere, and its odd-ball predecessor Swiss Army Man, such beloved hits. "Our next film will be an original daniels project so you can stop worrying (and stop bothering me about it)."
Kwan's Instagram post teaches us a powerful lesson. While something may appear to be a disappointment, locking you in a monotonous world and separating you from the more exciting life you could have (or should have) had, there are in fact a million other decisions that led you to this place. And so you get scared and confused and you fight. But the post shows that seeing the good side of things isn't naïve, it's strategic and necessary. It's how one fights.
If only someone would make a movie about that, maybe some of its fans would be more understanding and kind.