Features
Emma Stone's New Movie Gives the Bride of Frankenstein Her Feminist Due
We have our first teaser of Emma Stone in Yorgos Lanthimos' Poor Things, and it looks like a surrealist reimagining of the Bride of Frankenstein concept.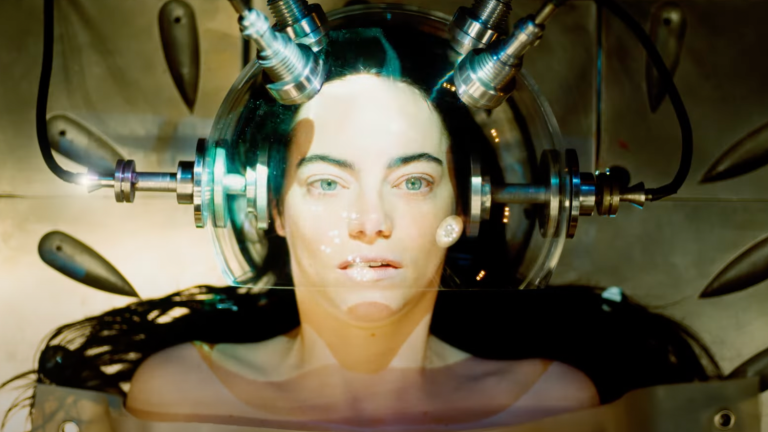 Poor Elsa Lanchester and poor Bride of Frankenstein. Despite being the title character of James Whale's 1935 horror-comedy masterpiece, this ghoulish undead creature only gets about five minutes of proper screen time. Whale's camera certainly basks in her visage, which by design is far more glamorous than makeup artist Jack Pierce's other creature feature designs for the Universal Monsters. Nonetheless, after finally being brought to life, the character, who is almost insultingly dubbed "the Monster's Mate" in the credits, gets to walk once or twice around the lab and is then obliterated—burned to a cinder because she had the audacity to (like everyone else) be repulsed by Boris Karloff's misunderstood monster.
Emma Stone appears poised to change that in what should be one of this year's most intriguing films: Poor Things.
As Lanthimos' first feature since the Oscar-winning The Favourite in 2018, the film is also a reunion for the enigmatic Greek auteur and Stone, who received her third Oscar nomination for playing a deceptively resourceful social climber in that acerbic, period-piece dark comedy. Poor Things looks to continue this mean-spirited and droll streak, even as Poor Things leans more directly into genre storytelling—particularly the sci-fi and horror yarns that sprung from Mary Shelley's original Frankenstein novel of 1818.
Poor Things revisits the Frankenstein myth by way of Bella Baxter (Emma Stone), the young wife of a much older mad scientist named Dr. Godwin Baxter (Willem Dafoe). After apparently disappointing her husband (and trying to escape him?), Bella dies under unclear circumstances. She is then brought back to life by the not-so-good doctor with the blank mind of a newborn child. Under Dr. Baxter's protection, Bella is groomed to be his ideal woman… until she runs off with debauched lawyer Duncan Wedderburn (Mark Ruffalo), who offers to show her the world.
The film is based on a 1992 novel of the same name by Alasdair Gray and not-so-subtly offers a feminist twist on Frankenstein's original story. After all, Mary Shelley was born Mary Wollstonecraft Godwin, whose maiden name came from the philosopher and poet William Godwin (her mother, meanwhile, was the Enlightenment era feminist philosopher and writer, Mary Wollstonecraft). And in Mary's original novel, we were intentionally presented a story wherein a man wants to play God, so he creates life without the aid of a woman.
Yet what does Dr. Victor Frankenstein create but another man? One whom he immediately abandons with repulsion after his birth, leaving the creature to wander a cruel world alone. This is what corrodes his soul until he becomes a true monster. The concept of a Bride or female monster is also in the original 1818 book, although Victor ultimately reneges on his promise to make his creation a mate.
Director James Whale and Universal Pictures finally made good on that idea in The Bride of Frankenstein, but in its own kind of subversion, Lanchester's eponymous Bride is the product of two seemingly gay-coded men wanting to play house without any wives. And after the Bride is born, all of them are flabbergasted that she wouldn't immediately agree to love the original monster. Even Karloff's otherwise sympathetic creature and antihero conforms to the patriarchy, wallowing in self-pity after she rejects him (seemingly for Dr. Frankenstein's favor and protection). The first creature then decides for her that he will end their lives. "We belong dead," he proclaims. Maybe speak for yourself, buddy?
Conversely, Lanthimos' Poor Things is a story told entirely from the point of view of a woman who has been brought back to life, and not just as the third act climax. While the plot synopsis seems to suggest she was brought back to be the mad scientist's mate, instead of that of another creature, she will have the opportunity to make her own choices—for good and ill. And knowing Lanthimos, it will certainly be both.
"I am finding being alive fascinating," Stone's Bella says in the new teaser trailer before slapping Ruffalo's libertine lover. We have a hunch audiences will too.
Poor Things opens on Sept. 8 in the U.S.