News
Scarlett Johansson to Star as Bride of Frankenstein for A24
Scarlett Johansson will star in Sebastián Lelio's Bride, a reimagining of the Frankenstein archetype at A24 and Apple TV+.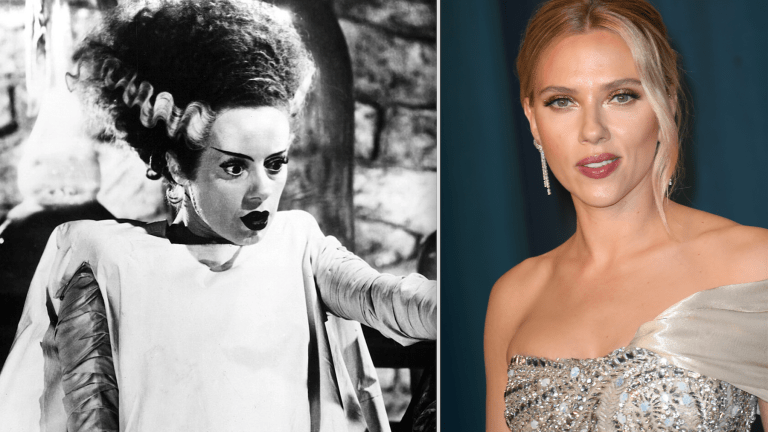 Universal Pictures' dubious attempt to remake Bride of Frankenstein as part of the "Dark Universe" might be dead, but the concept of reimagining the idea of a reanimated "Bride" in the 21st century leads on—with Scarlett Johansson as the lead, no less. The news came late Thursday when A24 and Apple TV+ announced Johansson would star in The Bride, a modern reworking of one of the most potent ideas in Mary Shelley's Frankenstein novel.
The new film, which will be directed by Sebastián Lelo, reimagines the story of the Bride's creation as less the attempt to build a "Monster's Mate"—as she is credited in the 1935 Bride of Frankenstein movie—and more a parable about a woman finding a sense of self-realization in the modern world. It's so modern in fact that her creator will be a wealthy tech CEO who has fastened a lady out of raw materials exclusively for himself. The logline reads as follows:
"A woman created to be an ideal wife—the singular obsession of a brilliant entrepreneur—rejects her creator, and is forced to flee her confined existence, confronting a world that sees her as a monster. It is on the run that she finds her true identity, her surprising power, and the strength to remake herself as her own creation."
The project is obviously a major endeavor for Johansson, who is producing the film alongside Jonathan Lia through their These Pictures banner. She also said in a statement, "It is long overdue for Bride to step out of the shadow of her male counterpart and stand alone… I am extremely excited to emancipate the classic anti-heroine and reanimate her story to reflect the change we see today."
Johansson is of course hardly the first to try and breathe life into the concept. While the title "Bride of Frankenstein" is copyrighted by Universal Pictures, the concept of a female creature was a strong focal point in the narrative of Mary Shelley's 1818 novel. In the book, Victor Frankenstein is pressured under threat of death by his Creature to make a female bride for the new species of reanimated corpses. Victor ultimately refuses at the eleventh hour, but the idea was so potent James Whale unpacked it fully in his 1935 masterpiece wherein Frankenstein (Colin Clive) creates a woman for Boris Karloff's legendary monster.
Things of course do not go as planned, and Elsa Lanchester's iconic turn as the Monster lasts about five minutes before she rejects Karloff's lovelorn Monster, and he in turn condemns them both to a fiery death. Still, the idea of a Bride has lingered in pop culture, with Kenneth Branagh trying to insert her creation into his fascinating failure of an adaptation, Mary Shelley's Frankenstein (1994). The Bride has also starred in her own film before, though not one any person has reason to remember, with Jennifer Beals playing the title role in The Bride (1985). It's a misbegotten '80s attempt at Gothic horror; so '80s, in fact, it cast Sting as Dr. Frankenstein!
Perhaps the most notable attempt at making the Bride her own woman was when Billie Piper played a subversive version of the character in Showtime's underrated Penny Dreadful series. Be that as it may, there's a lot of room to expand here and offer a version as compelling as Lanchester's brief 1935 appearance. At least judging by the logline, Johansson and Lelio are attempting to forgo the male Monster altogether, in which case this allows them to be an even looser (and more liberated) take on the Frankenstein myth. Indeed, one might wonder if the concept sounds like it is building on the final fleeting minutes of Alex Garland's Ex Machina (2015), which concluded with an android killing her tech CEO inventor and striking out into the world.
Not that we'd mind, as Ex Machina is one of the finest science fiction movies of the last 20 years, and a pretty crafty retelling of the Frankenstein passion play. A24 also just so happened to release that film, just as they will be producing Bride alongside Apple TV+, who will premiere the film. A24 and Apple TV+'s first collaboration premieres on the streaming service later this week, with a delightful reunion of Bill Murray and Sofia Coppola in On the Rocks.
Lauren Schuker Blum and Rebecca Angelo will write Bride, following up their work on scripting Blumhouse's upcoming The Wolfman remake, which will star Ryan Gosling.