Features
Does Venom 2 Delay Signal Reshuffle for Other Fall Movies?
Venom: Let There Be Carnage abandoning September is a chilling, if not fatal, sign for the fall movie season calendar.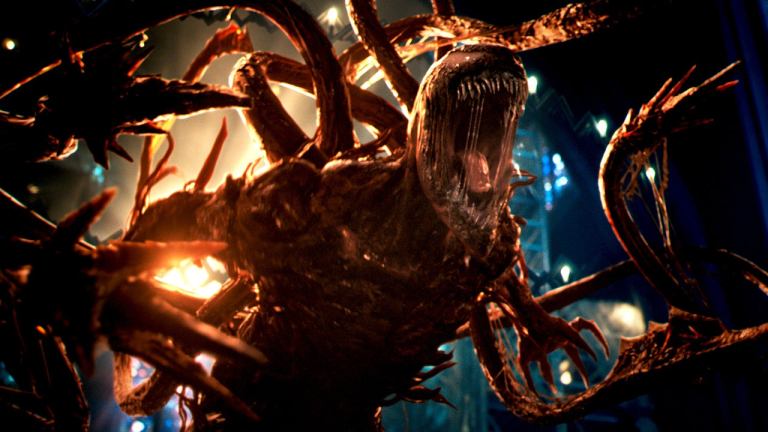 As you've likely heard by now, Venom: Let There Be Carnage will not be opening on Sept. 24. The signs were all there when the newest Venom 2 trailer announced that the movie would be opening "this fall," as opposed to on an exact date. And while under normal circumstances, three weeks is a minor delay in the grand scheme of things, these are not normal circumstances.
Sony's choice to move the Tom Hardy superhero sequel signals a growing skittishness in Hollywood about COVID-19 as infection rates continue to spike in the U.S. due to the Delta variant (and a stubborn number of Americans who refuse to get vaccinated). So while the delay is currently only for three weeks, the question is becoming will it only be for three weeks? And if Venom: Let There Be Carnage has moved to an already crowded October, what else from that month might move in response to COVID, if not Hardy's slimy CGI alter-ego?
According to the National Research Group, confidence in the safety of moviegoing has plummeted from 81 percent during the weekend that Black Widow set a pandemic era record at the box office with an $80.4 million opening to just 66 percent as of earlier this week. Presumably, that number will only dip further as reports of COVID surges throughout the country continue. These trends already caused Paramount Pictures to pull Clifford: The Big Red Dog from its planned world premiere at the Toronto International Film Festival and subsequent Sept. 17 wide release. The film has not been slated with a new date.
Meanwhile Venom's move to October suggests that month will almost certainly see some form of reshuffling. Currently the superhero movie is now due to open on Oct. 15, the same date as Universal's Halloween Kills. While it doesn't necessarily seem like Halloween would go too far afield due to its seasonal subject matter, there is obvious overlap between the teen-skewing audiences of a slasher movie and a superhero flick. Conversely, Sony seems to be banking on the month's biggest theatrical release, James Bond film No Time to Die, not meeting its Oct. 8 release date one week before all this.
So the question is will 007 and others move? Currently, it really is difficult to say. However, the industry takes audience comfort levels with moviegoing as measured by the NRP seriously, particularly for family skewing films or movies that will need parental permission to see. If studios fear families will be reluctant to either take their children to a theater or let their teens go there then we could see a potential mass exodus among at least October releases. Sony's Hotel Transylvania 4, which is still slated for Oct. 1, is currently looking the most dubious.
And yet, whether this might affect adult-skewing entertainment in October and onward is a more nebulous thing. No Time to Die, like Venom, demands a four-quadrant appeal with all demographics in order to become successful. However, smaller speciality films intended for a devoted grown-up audience, like Wes Anderson's The French Dispatch or Edgar Wright's Last Night in Soho, could potentially be more bullish about meeting their dates. And again Universal has few options with Halloween beyond moving the film a weekend or two—or possibly delaying for another year.
Where this leaves the blockbusters beyond Bond is even more complicated. Despite director Denis Villeneuve's now infamous recalcitrance toward Dune being placed on HBO Max the same day as its theatrical release, that hybrid strategy is what will likely keep the science fiction epic firmly planted on its Oct. 24 window. Meanwhile Disney CEO Bob Chapek in a conference call with analysts today has said, emphatically, that Marvel's Shang-Chi and the Legend of the Ten Rings will definitely meet its Sept. 3 release date.
"On Shang-Chi, we actually think it's going to be an interesting experiment for us," Chapek said. "Because it's got only a 45-day window for us. The prospect of being able to take a Marvel title to the service after going theatrical for 45 days will be yet another data point to inform our actions going forward on our titles."
What's telling about Chapek's comment isn't the insistence that Shang-Chi will see a theatrical-only release, but that they view the entire Marvel movie as an experiment to test the viability of a theatrical-only release in the midst of a re-worsening pandemic.
In the same call, Chapek took a not-so-veiled swipe at Scarlett Johansson and her representation, which is suing Disney for an alleged breach of contract by releasing Black Widow day-and-date in theaters and on Disney+.
"We will continue to utilize all available options going forward, learn from insights gained from its release, and innovate, accordingly," Chapek said. "[We are] always doing what we believe is in the best interest of the film, as well as the best interest of its constituents." Notably what Chapek left out was the best interest of its talent—like, say, renegotiating a contract in good faith to recognize that theatrical profit participation should be transferred to streaming if that's the new model going forward.
Be that as it may, Chapek's even-handed corporate-y dismissal of concerns raised by the Johansson lawsuit reveals that Disney is weighing the viability of a Disney+ hybrid release on a film-by-film basis. So while Shang-Chi is an "experiment" for the Mouse House, Disney could keep Marvel's Eternals on its Nov. 5 release date via Premier Access, no matter what the possible state of movie theaters might be.
All of which, again, suggests significant anxiety and uncertainty about the fall movie release schedule in September and beyond. Fans will of course be most concerned about the fate of Venom's Sony stablemate, Spider-Man: No Way Home, and whether it will meet its Dec. 17 release date if Venom is moving to October and possibly later.
Frankly, it's just too early to speculate one way or the other how this will affect Spider-Man. As a Sony release, the web-head will not be making his debut on Disney+ under any circumstances. Which means Sony will only release the movie if they're confident in audience comfort with theatrical attendance. And we do not have the crystal ball necessary to determine how the Delta variant will be shaping the world in December. With that said, the fact Sony has yet to release a trailer, and no longer has an excuse to do so in September, should give you pause.