Features
Edgar Wright's Last Night in Soho Could Be the Giallo Horror We Wanted from Suspiria
Our first good look at Edgar Wright's Last Night in Soho promises the director's first foray into horror will be a devilish throwback.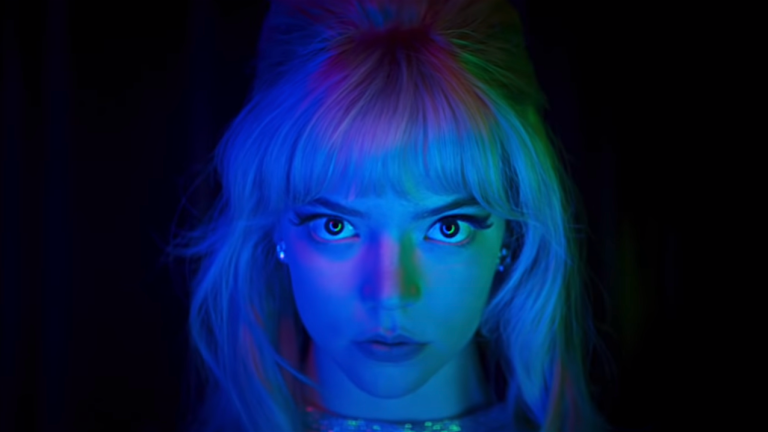 The new trailer for Edgar Wright's Last Night in Soho begins with Thomasin McKenzie staring at a marquee billboard for Sean Connery's fifth James Bond movie, Thunderball. For both her and audiences, it immediately lets us know we've been transported into a distant—and often romanticized—past. Yet instead of Bond, the actual tone of auteur Wright's new film evokes an entirely different style: one as trippy as the fractured image of Anya Taylor-Joy staring back at McKenzie in the mirror.
Last Night in Soho has been the long anticipated and mysterious thriller Wright and Focus Features have been teasing out for years (it was originally intended for release in September 2020 before the pandemic). We've only known that the filmmaker considered it his first real horror film after lightly dabbling in the genre in the otherwise satirical zombie comedy, Shaun of the Dead (2004).
But now that we've had a real sampling of the film via the trailer (which you can watch below), Wright's nightmarish vision takes creepy and tantalizing shape. With its striking color palette and dreamy bending of reality, Last Night in Soho looks to draw liberally on the Italian Giallo horror movement, as well as other psychological mind-benders from the 1960s and '70s.
Giallo is a specific kind of horror which originated in cheap Italian paperback literature in the 20th century. In fact, the term "giallo" stems from the Italian word for yellow (and the color of the brittle paper it was printed on). But on the big screen, these often macabre murder mysteries were given a gory and dreamlike sheen by filmmakers like Dario Argento who redefined Giallo to mean a blurring between reality and fantasy, and often violence and eroticism. While some argue true Giallo is closer to noir, after Argento's Suspiria (1977), the term came to mean for horror fanatics a glossy and lurid fantasia, where fairy tale lyricism can give way to gushing, slasher violence.
Suspiria of course came back into the popular imagination for American moviegoers in the 2010s when Luca Guadagnino remade the basic concept into a sprawling feminist epic that ran at a gargantuan 152 minutes. Described by the director as an attempt to participate in the "elevated horror" renaissance the genre has seen in the last few years (even as many of the other filmmakers refuse to use the term), the Suspiria remake is ambitious… but honestly a bit disappointing in its heavy-handed pretensions and its refusal to revisit the feverish hallucinatory quality that made the '70s film so beloved.
Now, judging by at least the trailer, Last Night in Soho looks to very much pick up that missed opportunity and offer a Hollywood-budgeted modern variation on giallo while also visibly pulling from movies like Repulsion (1965). It should also be noted that the Thunderball poster dates Soho's setting to the same year as Repulsion's release.
What little we know about the film's plot is that McKenzie plays Eloise, a 21st century young woman and aspiring fashion designer who's newly moved to London. She soon becomes obsessed with a 1960s lounge singer from the city's swinging '60s heyday, Sandy (Taylor-Joy)… to dangerous effect. We now know this is because Eloise's time traveling sojourns to the past come by way of inhabiting Sandy's body and living her life—and possibly her bloody death.
We spoke with Taylor-Joy about the film last year when she teased she'd sing "a famous song" from the '60s, which clearly is Petula Clark's "Downtown." She also suggested, as with Wright's Baby Driver, entire sequences of Last Night in Soho were filmed in rhythm to recorded music.
"Something I really appreciate about Edgar is he's very single-minded and gets lost in beats," Taylor-Joy said. "And coming from a dance background myself, I sort of act in beats. So it's fun to be able to collaborate, because I feel like we had enough trust in each other that he would play me a segment of the song and go, 'By this point you need to be over here.' And I would be able to choreograph a little bit of what I wanted to do and if he liked it, it's in the movie."
With other stage performances in the trailer that seem to allude to similar '60s and '70s touchstones, such as Bob Fosse's screen version of Cabaret, there's a lot of history mingled in with the horrifying premise of having your identity supplanted by a ghost. But then that's the menacing appeal of getting lost in the past, right?
Last Night in Soho opens in theaters on Oct. 22, 2021.