News
Spider-Man: No Way Home Costume Art Reveals Doctor Strange's Impact
New promo photos from Spider-Man: No Way Home reveal just how much Peter Parker is learning from Doctor Strange.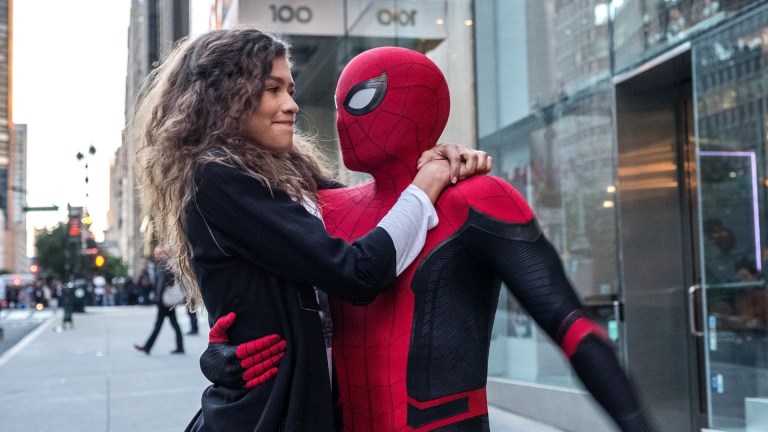 Though the success of the Marvel Cinematic Universe may have changed things, the most recent data on the subject suggests that Spider-Man is the most profitable superhero in the world.
Some of Spidey's financial mastery can be attributed to the many films that he has headlined (with Tobey Maguire first portraying the lead role, then Andrew Garfield, and now Tom Holland in the MCU). But the real secret to his success is all the merchandising. Spider-Man's vibrant red, white, and blue color scheme and charming personality have made him a global market behemoth. How fitting then that the most new information about the upcoming Marvel film Spider-Man: No Way Home comes from retail leaks?
Back in mid-July, the world got its first look at a brand new black and gold Spider-Man costume thanks to a barrage of toy reveals. Now some merchandising material for Spider-Man merchandise has emerged that takes things even further. While Spider-Man's black and gold costume suggested a mingling of Peter Parker's science and Doctor Strange's (Benedict Cumberbatch) magic, these new images confirm them. Take a look below to see what we mean.
Well, it doesn't get more clear cut than that. The first promo image posits (not incorrectly) that "Science + Magic = Awesome". The second one promises a satisfying "Magic with Thwip" experience. Those photos are accompanied by two new posters that feature Spider-Man's iconic logo superimposed over one of Doctor Strange's magical portals, ancient runes and all. Some of the items bearing these images are currently available on Amazon. The Spider-Man: No Way Home News Twitter account uncovered a whole host of revealing merchandise as well. That crop is particularly spoiler-y so we won't embed, but check it out over here if you so choose.
Marvel has long-confirmed that Cumberbatch's Doctor Stephen Strange would be appearing in Spider-Man: No Way Home but these leaks suggest that Strange's role will be far larger than initially let on. Following Tony Stark's death in Avengers: Endgame, Peter Parker is in the market for another mentor and it would appear as though Strange will fulfill that role…likely hesitantly, given everything we know about the Supreme Sorcerer's personality.
It's to the MCU's world-building credit that it is now able to pair one of its premier characters with a magical mentor after years spent with an engineer. It's also to the MCU's credit that it seems to be letting this partnership extend to its natural conclusion: with Spider-Man using some straight up magic.
Spider-Man: No Way Home is set to receive an exclusive theatrical release on December 17, 2021. That date, however, could be jeopardized by the Delta variant of COVID-19 increasing infection rates in the fall and winter. Disney has previously been hesitant to release their Marvel blockbusters on Disney+ in addition to theaters. The only previous time they've done so was with Black Widow this June and the release of that film was promptly followed by a lawsuit from Scarlett Johansson for breach of contract regarding the streaming strategy
Whenever Spider-Man: No Way Home arrives, it is sure to continue the MCU's flirtation with a multiverse. Disney+ streaming properties like WandaVision and Loki have introduced the concept of multiversal storytelling and no one is better suited to confront branching timelines than Doctor Strange. Perhaps that's why he's deputized Peter Parker as his magical little buddy.