News
Spider-Man: No Way Home Set Photo Could Be Teasing Surprise Villain
While Spider-Man: No Way Home doesn't have a trailer yet, a new set photo teases something big for Marvel's next Spidey outing.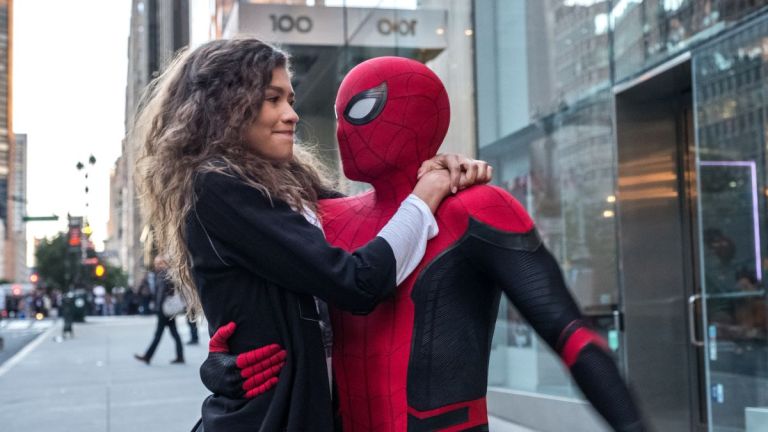 It's long been confirmed that Benedict Cumberbatch's Doctor Strange would appear alongside our friendly neighborhood Tom Holland in Spider-Man: No Way Home. It's one thing to hear that information, however, and another thing entirely to actually see the Sorcerer Supreme alongside Peter Parker in the flesh.
Now, thanks to a revealing new set photo from Spider-Man: No Way Home, we've finally received our first look of Spider-Man and Doctor Strange interacting for the first time since Avengers: Endgame. Take a look below:
Yes, that is Cumberbatch's Doctor Stephen Strange standing in the entryway of his Sanctum Santorum on Bleecker Street. On the street before him is Peter Parker arriving for some sort of meeting. Some rumors (and just general critical thinking) about No Way Home have suggested that Peter will seek out Strange to use his magic to alleviate the situation that Peter finds himself as a publicly wanted murderer of Quentin Beck a.k.a. Mysterio. It's possible that this is the first meeting or merely Peter returning to the Sanctum after running off on some sort of errand for Strange.
There's another notable comic Easter egg in that image, however, and one that has more significant applications for the film's plot than Strange and Peter's meeting. Conspicuously prominent in that set photo is a food truck reading F.E.A.S.T. Trucks adorned with "F.E.A.S.T." has been spotted on the No Way Home set previously, but the positioning of this truck in a scene featuring the film's two leads suggest that the organization will play a bigger role than previously imagined.
In Marvel comics, F.E.A.S.T. is an organization that stands for "Food, Emergency, Aid, Shelter, and Training. (Say what you will about Marvel, but these people really know their way around an acronym.) F.E.A.S.T. seeks to assist the city's homeless and underprivileged citizens. Or at least it's supposed to do that. In reality, the charity is really a front for Spider-Man villain Martin Li a.k.a. Mister Negative.
The F.E.A.S.T. project was eventually shut down but then reopened as a non-evil version by none other than May Parker. Recall that in Spider-Man: Far From Home, the MCU's iteration of Aunt May (Marisa Tomei) has charitable interests and even had Peter don his Spider-Man attire to help her out during a fundraiser. It seems possible that May could get wrapped up in F.E.A.S.T. (whether the benevolent or evil version of it) in No Way Home.
F.E.A.S.T. is also featured in the 2018 PS4 video game Marvel's Spider-Man. In that game, Peter volunteers there and it also just happens to the site of his first encounter with Miles Morales. Given that Miles' cousin Aaron Davis a.k.a. Prowler (Donald Glover) is featured in Spider-Man: Homecoming, a Miles appearance is suddenly very much on the table for No Way Home or future Spidey films.
Due to the presence of Doctor Strange, the incoming Multiverse of Madness, and rumors about Tobey Maguire, Andrew Garfield and other pre-MCU Spidey villains appearing in the film, No Way Home is one of the most theorized about Marvel releases in some time. But when set photos like this arrive that tease a wider storytelling universe, it's hard not to get swept up in all the conjecture.
Spider-Man: No Way Home is set to be released in theaters on December 17.